rom the day that Edmund Drummond Libbey opened the first glass factory in Toledo on the western shore of Lake Erie on the Michigan border, silicon has played a pivotal role in shaping the economy of Northwest Ohio.
These days, thin-film solar cells are changing the landscape of the region, as the Glass City transforms itself into the solar energy research hub of the Upper Midwest.
A quarter century after Harold McMaster, Norm Nitschke and others in Toledo began Glasstech Solar in 1984 and then Solar Cells Inc. in 1987, Toledo has entrenched itself on the map of clean energy. The company began its research efforts in University of Toledo laboratories in collaboration with Professor Alvin Compaan, who led UT's efforts to build expertise in solar energy. Today, the No. 1 manufacturer of photovoltaic cells in the country,
First Solar
, is located in Toledo.
At the center of this transformation is the 137-year-old University of Toledo, whose Science, Technology and Innovation Enterprises initiative is bringing together world-class researchers, venture capitalists, entrepreneurs and public-sector investors to foster and grow a new industry cluster based upon alternative energy. The University selected thin-film photovoltaics as an area of research focus in 2001 and worked to build expertise, laboratories and recognition in this area. Funding to jump-start the region's alternative energy cluster was provided by the National Science Foundation's Partnership in Innovation Program in 2002. The NSF was so impressed by the University's accomplishments, the Foundation asked UT to host the first national workshop on this NSF program.
Photovoltaic cell research, the linchpin of this effort, has attracted significant external funding and has produced a number of innovations that have led to successful startups in the area. But UT President Lloyd Jacobs is looking for more out of one of the city's largest employers. UT recently created a School of Solar and Advanced Renewable Energy and innovation districts that house the knowledge centers and industry-leading companies of the solar sector.
Jacobs' goal? To see the one-time "Auto Parts Capital of the World" become a global leader in harnessing and commercializing the power of the sun, with his own UT Rockets igniting that engine.
"We are designating an entire campus – the Scott Park Campus of Energy and Innovation – as a place to demonstrate clean energy technologies and to house specialized research laboratories," says Jacobs, whose University teaches about 18,000 undergraduates and another 5,000 graduate students. "We have the Clean and Renewable Energy Incubator, multiple LEED-certified buildings and lots of money from federal research grants. We are at $70 million in federal R&D support now. We aim to be at $100 million in the next three or four years."
In addition, there are 232 acres (94 hectares) of shovel-ready sites adjacent to the school's health science campus and they are ready for development, according to the University.
For a metropolitan area of 650,000 people, the investment by UT into solar R&D is paying dividends in a community noted for its intermodal transportation capabilities and history of advanced manufacturing. Startups, spinoffs, upstream and downstream solar suppliers are converging on Toledo like never before. At least five major solar companies have launched directly out of UT.

Gaining a Competitive Edge
Dr. Xunming Deng, founder and CEO of
Xunlight Corp.
, raised more than $40 million in venture capital to build a production facility for his photovoltaic module company. The physics professor from UT is considered one of the world's leading authorities on lightweight, flexible PV modules. His company is housed in a 122,000-sq.-ft. (11,334-sq.-m.) manufacturing plant in Toledo.
"I worked on photovoltaics for 23 years, starting in graduate school at the University of Chicago," Deng tells
Site Selection
. "In 1996, I came to The University of Toledo, took a faculty position and built a strong research program in PV cells. My wife and I started Xunlight. We are a home-grown company."
Deng says Xunlight was created "to commercialize university-developed technologies. The company has an exclusive license from the University to develop this technology, and the University owns a part of the company. It is a win-win situation."
Deng located his firm next to the school "so that the benefit of the technology transfer can be maximized," he notes. "Our competitive edge is that we are making flexible and lightweight product for PV cells. This has many off-grid PV power applications. Our product can be manufactured at an extremely low cost. We develop, design and build our own manufacturing equipment and processes, which were developed at the University."
When asked why he chose to locate his company in Toledo, he said: "It took years of effort to perfect this technology, and the University has played an essential role. The University has identified thin-film PV as an area for strategic investment."
Deng adds that he expects the solar sector to expand rapidly in Northwest Ohio. "Toledo area companies have the leadership for low-cost manufacturing," he says. "These companies will lead the technology and innovation in making solar power into every-day applications."
Ohio's Third Frontier program "directly impacted our ability to ramp up and attract VC funding from all over the world," the professor says, citing $12 million in state research grants plus another $7 million in direct loans from the state to assist in Xunlight's manufacturing set-up.
Dr. Norm Johnston, vice chairman of
Calyxo USA
, is leading another University spinoff that began as Solar Fields LLC in 2003. Today, the company is part of a joint venture with Germany-based Q-Cells and is a global leader in Cadmium telluride (CdTe) thin-film technology.
A former vice president of technology at Libbey-Owens-Ford, Johnston is well versed in Toledo's glass history. But he says that solar energy will make an even larger impact on the region's economy as it changes "from rust to renewable."
"With all the glass technology here, it really lent itself to solar," he says. "In 2003, a group of people got together at the University and said that this has the potential to help the area grow.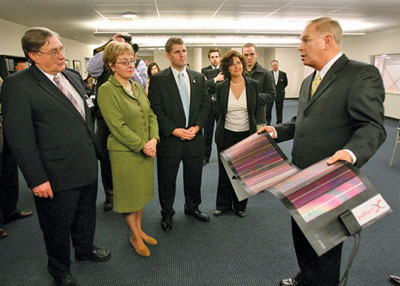 We formed the Northwest Ohio Alternative Energy (NOAE) group and helped the University campaign to get the Wright Center for Photovoltaic Innovation and Commercialization and $18.6 million. We now have over $50 million in funding and we have alternative energy companies being located here."
Johnston says there are many reasons why other alternative energy companies should select Toledo. "We sit on the north-south crossroads of Interstates 75 and 80. We are within 600 miles of 80 percent of the East Coast's population with the convergence of major highway, rail, sea, air and pipeline transportation assets in Northwest Ohio," says Johnston, who is also chairman of Ohio Advanced Energy and CEO of McMaster Energy Enterprises. "We have a lot of industrial experience. With funding made possible through the assistance of Representative Marcy Kaptur, we are building Ohio's largest solar field at the airport, and 90 percent of its content came from Ohio."

Old Sites Become New Again
Johnston also cites the area's large supply of brownfields. "If you are a company in need of a site, you don't need to dig if you come here," he says. "You can convert something that is not currently very valuable into an asset. And Ohio does not seem to have this revulsion to solar fields, probably because Ohio consumes a lot of electricity, and these solar fields are more attractive than what's on the brownfields."
Ohio Gov. Ted Strickland played a key leadership role for the solar industry, Johnston adds, by pushing for passage of Senate Bill 221, which established Ohio's Renewable Portfolio Standard. By 2025, the RPS states, Ohio must glean at least 25 percent of its power from advanced energy sources.
The carve-out for solar energy is 0.5 percent, or the equivalent of 900 megawatts of power by 2025, according to Johnston. "The power outage of August 2003 would not have happened if we had had a couple of large solar fields in Ohio," the Calyxo executive says. "That occurred during a time of peak demand. That is the main advantage of solar. You get peak solar power at the same time as peak demand – when the weather is hot and the sun is shining the brightest."
Lee Fisher, Ohio's lieutenant governor and former top official for economic development, calls the University a deal-closer for the Buckeye State. "When we are negotiating with companies, we often bring in The University of Toledo to demonstrate that we are prepared to deliver partnerships to help a solar company locate near Toledo," he says. "We have tremendous leadership from President Lloyd Jacobs, plus the dedication of the mayor and the entire community of Toledo to solar. Thirdly, we have the state's contribution from the Ohio Department of Development and the Third Frontier. You factor in the proximity to research in the glass industry, and it is no surprise that many solar companies are emerging in Northwest Ohio."
This investment profile was prepared under the auspices of The University of Toledo's Science, Technology and Innovation Enterprises. For more information, contact Mary Jo Waldock, executive director of ST&I Enterprises, at 419-383-6900, or by e-mail at maryjo.waldock@utoledo.edu.
Site Selection Online – The magazine of Corporate Real Estate Strategy and Area Economic Development.
©2009 Conway Data, Inc. All rights reserved. SiteNet data is from many sources and not warranted to be accurate or current.