SPECIAL ADVERTISING SECTION
BUSINESS PARK LOCATIONS
From Site Selection magazine, November 2009
SHARE THIS ON SOCIAL MEDIA
Today's Business Parks:
A Perspective From the Trenches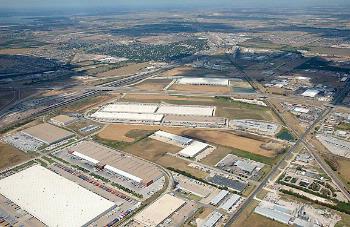 V
alue-add is a common and possibly over-used term in many industries. However, it is the underlying premise behind the business park. The purpose in the design, implementation and growth of each business park is to add value to those who own and/or operate within its borders. The term "business parks" is often comprehensive of office parks, industrial parks and parks supporting both product types.
As someone who spends extensive time in a four-wheeled office, up and down the streets of business parks across this vast world, perhaps I can offer an objective, industry-diverse view of the current business park environment.
There have been many trends over the years such as multi-modal transportation, dual electric service, green building construction and many other design-related aspects. But the prevailing trend in the current environment is tightened financial markets, which are affecting the creation of new business parks, the expansion of existing parks and the ability to create ground-up construction on fully developed sites.
The Basics
The true basics of a business park are to integrate into the community and all modes of transportation in a seamless and efficient manner. The fundamental principles of each and every business park are to:
Provide codes, covenants and restrictions (CCRs) to drive consistency in product type, uses, and architectural standards. This protects long-term property values and ensures site utilization consistent with the infrastructure of the park;
Develop land with scale which will drive the unit or per-site costs down. Roads, rail lines, bridges, utilities, high-end communication cables, mass grading, incentive negotiation and uniform zoning are categories that benefit from this large-scale pricing and coordination structure;
Attract new business with an integrated structure;
Separate from urban areas to reduce environmental and social impact;
Obtain governmental controls specific to the park.
Pre-Recession Environment
Prior to entering the recession in December 2007, business park development was operating under the "build it and they will come" mantra from the 1970s and 1980s. Demand from corporate America was reasonably predictable, and capital in both the equity and debt markets was chasing commercial real estate on a very competitive basis. Economic development organizations were armed with well-capitalized municipalities eager to invest. In this growth environment, less emphasis was placed on the flexibility of the structures and the sites on which they were constructed for exit purposes. Construction prices were increasing, but overall occupancy costs were driven down by low cost of capital. Many developers could pull out the golden checkbook and make a user's facility needs become reality in short order with a short-cycled approval process.
Today's Business Parks
For now, times have changed. The business park today is faced with a very tough environment in which to operate. For existing parks, many of the up-front improvement and infrastructure investments were forecasting a pre-recessionary growth and absorption rate that is not being met. This pressure requires the private, public or joint private/public ownership entity to have enough staying power to attract industry at a slower rate. This comes at a time when the specific physical demands from end users are continuing to expand in scope and complexity, along with the desire for financing mechanisms such as municipal financing and up-front cash for jobs and/or tax base creation.
It is at this point where an interesting paradigm exists. Municipal tax bases are dropping due to the reduced valuation in residential and commercially property values. This leaves a bit of a shortfall in many cases, with tight operating budgets and less internal resources. Additionally, private developers who typically step in and facilitate development projects have downsized to meet the diminished demands of the economy.
Here are some other factors to consider affecting demand:
Some manufacturing is shifting back to the United States.
Always consider your region's natural resources and how they may play a role in developing technology for new products.
Study current population shifts and the areas with the highest growth potential. For example, for office-specific population growth in the United States, areas such as Washington D.C.; Houston, Texas; Miami/Fort Lauderdale, Fla.; Riverside, Calif.; and Dallas, Texas are the top five growth markets.
Intermodal rail is down 16.5 percent from 246,280 units by this time in 2008 to 205,627 units in 2009, and rail, excluding intermodal, is down 17.1 percent for this same time period. Prior to this recent slowdown, this has been an industry with steady annual growth.
Gas prices will continue to experience volatility, which will
drive each site's competitive advantage.
Vacant land within a business park, considered a non-income producing asset, becomes more difficult to carry.
There is upside and opportunity in this environment that is global in its coverage and available to each and every company regardless of size. This is a time to act upon opportunities in existing business parks and, if absorption forecasts warrant it, commence the design of new parks in anticipation of the next cycle of growth. A slight change from "build and they will come" to "when they come we will fund" should be a recipe for success.
Trey Fricke is a managing principal in the Dallas, Texas, office of Lee & Associates Commercial Real Estate. For more, visit www.lee-associates.com.