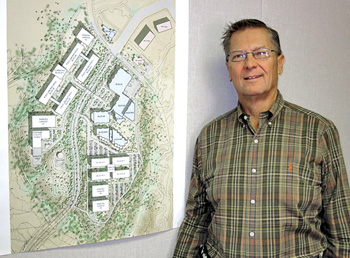 hen Swiss pharmaceutical and diagnostics giant
Roche
completed its acquisition of Tucson-based
Ventana Medical Systems
in February 2008, some wondered how – or where – the maker of tissue-based diagnostics systems would maintain its gazelle-like growth rate. They need not have worried. Even with all the area's solar energy industry investment, Ventana is turning into a major Tucson-area employer that will soon cross the 1,000-employee mark. Not bad for a start-up launched outside the traditional biotech clusters.
Roche bought the company, founded in 1985 by University of Arizona pathologist Dr. Thomas Grogan, to fill a gap in its line of personalized healthcare offerings. Ventana had pioneered an automated method of cell staining for cancer testing and personalized treatment, and was the market leader in that niche at the time of its acquisition.

What Recession?
Today, with parent Roche's blessing, Ventana is in the midst of an ambitious expansion at its 60-acre (24-hectare) headquarters campus in Oro Valley, northwest of Tucson.
"We have a master plan that takes us out 10 years plus," says Gregg Forszt, director, facilities. "We have six buildings at about 350,000 square feet [32,500 sq. m.] today, and this plan would take our expansion up to as many as 14 buildings with a central utility plant and parking garages.
"All of this is predicated on our continuing to be successful in our marketplace and on being successful worldwide within the Roche group," he adds.
Both of which are a safe bet.
"Our growth plans are fairly aggressive," Forszt explains. "We see our bottom line growing at a rate of about 20 percent per year, and we are planning headcount growth of approximately 10 percent per year." About 900 people work at the Oro Valley campus right now; 80 positions were open in mid-August, and the company plans to bring on about 100 more within the next year.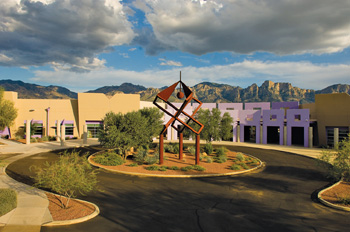 Phase 1 of the master plan is now getting under way, and involves a 115,000-sq.-ft. (10,680-sq.-m.) R&D facility, a parking garage and a central utility plant. Ventana's current footprint occupies just 22 acres (9 hectares) of the total parcel, so there's plenty of room to expand, notes Forszt, adding that the Tucson area, with a population of about 1 million, can supply most of the work force needed.
"For some of the very technical positions, we recruit in the San Diego and Boston areas," he relates, but Tucson is not a hard sell to out-of-towners. "It's a slower pace of life than in Phoenix, and it's six or seven degrees cooler, too. There's a lot to be said for Tucson."