I
've visited Malaysia three times in the past couple of years and must say that it's rapidly becoming one of my favorite places on earth.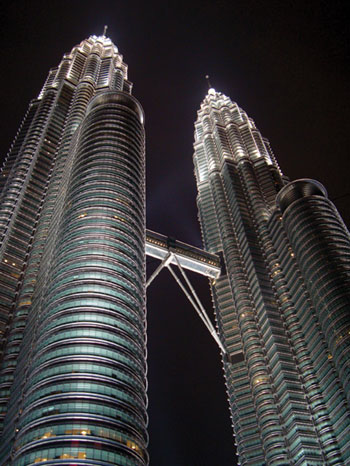 Certainly, Malaysia offers spectacular landscapes and beaches for tourists, but I've visited with an eye toward other attractions: What's the country like as an investment location for Western corporate executives? I confess to having been surprised and impressed from the outset.
Most of us have heard of Malaysia, but what do we really know about it? Not many of us are aware that Malaysia's cost of living is 67 percent lower than in Singapore, the country's rich, developed, micro-neighbor to the south. And many an executive has been delighted to learn that Malaysia doesn't tax remittances by ex-pats, making the comparative cost of living even more attractive.
Kuala Lumpur is a culturally diverse, booming capital, laced through with modern infrastructure and transportation systems, starting with one of the world's newest and best organized international airports. In the country as a whole, infrastructure is
designed to serve the business community
. It sports one of the best telecommunications networks in Asia, as well as five international airports (all with air-cargo facilities), well-maintained highways and seven international seaports.
Johor Baru, Malaysia's southernmost and second-largest city, is a beautiful, robust, master-planned city nestled amongst rainforests, with palm-lined promenades and exciting new developments focused on attracting foreign investment. I toured the development of Nusajaya, in Johor Baru, and commented on the luxurious homes they were building within a "live and work" community. My guide dismissed them, saying "those are just the villas – the nice homes are further on." They put my own humble house to shame, extravagant proof of the lifestyle afforded by the low cost of living.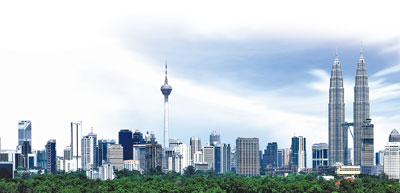 Malaysia has been affected by the global recession, of course, but aggressive action and planning by the government have helped the country to weather the storm far better than most of its neighbors. GDP is expected to contract by 1 percent in 2009, compared to an expected contraction of 8.8 percent in Singapore and 7.1 percent in Thailand.
In 2003, to bolster Malaysia's investment climate, the decidedly pro-business government liberalized equity holdings in all manufacturing projects. This liberalization allows foreign investors to hold 100 percent of the equity in all investments in new projects, including expansions of existing operations, irrespective of the level of exports and without any product/activity excluded. Non-residents may invest in Malaysia freely – there are no restrictions on the repatriation of capital, profits and income earned from Malaysia, including salaries, wages, royalties, commissions, fees, rentals, interest, profits or dividends.
In April 2009, the government announced the liberalization of 27 sub-sectors within the services sector, including health and social service, tourism, transport, business services and computer-related services. Additional liberalization measures were announced by the Prime Minister on June 30, 2009. De-regulation of Foreign Investment Committee guidelines for fund management and stock brokering were also central to this plan.
Says Rob Denman, CEO of London-based Pathfinder Business, "Any impression that Malaysia is not open to investment and business would be shattered on the drive in from the international airport. As you pass gleaming glass buildings topped with some of the biggest global brand names, you would understand that it may be new for you, but not new for all."
Malaysia today is home to more than 5,000 foreign companies from over 40 countries, and many of these success stories from the U.S., Europe, Asia and Australia have over the years expanded and diversified their operations. Some of the government's key industry targets include high-end electronic products, biotechnology, aerospace and aviation services, machinery and equipment, medical devices, pharmaceuticals and alternative energy sources.
Besides attracting direct manufacturing facilities, Malaysia is also actively promoting related activities such as regional hubs, which include operational headquarters, international procurement centers, regional distribution centers, regional offices and representative offices. And Malaysia is fast becoming an important location for foreign companies in the oil and gas industry to establish their regional headquarters.
The workforce in Malaysia tends to be multi-lingual – most people speak three or more languages, with English being the common thread. The Department of Skills Development (DSD), which replaced the National Vocational Training Council (NVTC) in September of 2006, was established to coordinate Malaysia's vocational and industrial training strategy in keeping with the country's technological and economic development needs. The DSD coordinates all public and private training institutions and identifies future vocational and industrial training needs with an eye towards maintaining a highly-skilled work force able to adapt to an increasingly competitive marketplace. Access to skilled labor always ranks as one of the chief concerns for corporate site selectors, and the Malaysian government, keenly aware of this, has taken the appropriate steps to ensure their workers have the necessary skills to compete in the global marketplace.
The number of languages spoken by the average Malaysian has always humbled me a bit (the cab drivers in Malaysia speak better English than the ones in New York!). That English is so commonly spoken is a testament, I believe, to the success of the government programs. A friend of mine, Wan Hashim, a Director with the Malaysian Industrial Development Authority (MIDA), once said to me, "It's simple – if we want to compete globally, we have to speak English. It's the standard language of business."
Rob Denman points out that Malaysia is focused on "improving the corporate governance environment so more of the systems you may expect in your home market are in place. It has 13 universities so the challenge of talent is also being addressed, and the country is open to discussions on developing the right work force for any major investor." He goes on to add, "Indonesia has a larger internal market but lags far behind in infrastructure development, the Philippines has a strong U.S. link through history but has no land corridor to China, and Thailand is still struggling to find stability, so if you are looking for a business environment in Southeast Asia where you can access the benefits without too many risks then Malaysia is worth considering."
My job with
Site Selection
takes me all over the world. I have seen places of unimaginable beauty and places scary enough to convince me my boss was punishing me for something. Malaysia ranks among the former, and it's a genuine pleasure to visit each and every time. If Malaysia isn't already on your short-list of prospective investment locales, I suggest you pay a visit. You may come away quite pleased. You will certainly come away surprised.
Adam Jones-Kelley is vice president of
Site Selection
magazine
.