E
ntrepreneur Len Dickinson is a risk-taker by nature, but that doesn't mean he wants to tempt fate when running his business.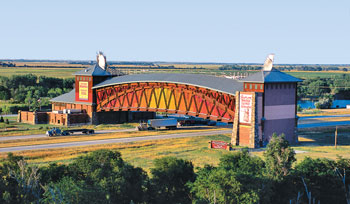 When Len and his wife Jule Goeller founded
Sand Creek Post & Beam
five years ago in Wayne, Neb., they were looking for a way to turn a profit in a niche no one else was targeting: building and selling pre-cut, pre-engineered kits for authentic post-and-beam barns and outbuildings.
What they found was a community, work force and business climate that enabled their firm to thrive beyond their expectations, says Dickinson.
"When we started our business in 2004, we were very modest. We built our first barn or two on the driveway of our home," Dickinson says. "The nice people of the Wayne Area Economic Development organization invited us to lunch one day and offered us some assistance to start our business, and before long we found that we were expanding pretty quickly."
Demand for Sand Creek's product has been so strong that, since 2007, the firm has tripled the size of its manufacturing plant to 27,000 sq. ft. (2,508 sq. m.) and doubled the size of its office space, resulting in a total capital investment of $2.5 million into facilities.
"We took over an abandoned bank building last year and remodeled it into our corporate offices," says Dickinson. "Our payroll is just over $1 million a year. We have about 30 employees in Wayne and seven at a plant in Cleveland, Georgia. Our work force in Wayne is very talented. Their work ethic is great. They know how to fix things."
They are also highly educated. "One third of our people have master's degrees," notes Dickinson. "Wayne State College has a construction management program that lends itself to our product. There are many enthusiastic college students in Wayne, and we have had success in putting them to work for us."
The story of Sand Creek is not unusual in Nebraska. Companies large and small are bucking the national tide of recession by expanding their work forces and their facilities in the 1.8-million-resident Cornhusker State.
Since the beginning of 2007, more than 140 companies have announced significant investments in new or expanded corporate facilities in Nebraska, according to the Conway Data New Plant Database, the official project tracking service of
Site Selection
magazine. These projects have ranged from a $1-million factory expansion for
Little Bear Wood Products
in Fremont in Dodge County to a $750-million ethanol and processing plant for ADM in Columbus in Platte County.
According to a series of interviews conducted with business executives and government officials throughout the state, the current wave of projects sweeping Nebraska is due primarily to one factor: the opportunity to find certainty in an uncertain business climate. The desire to minimize business risk, while maximizing the potential to earn profits, is driving corporate site selectors to choose facility locations in Nebraska.
"When we first came here, we had only a handful of customers. We are in 43 states now," says Dickinson. "We get almost all of our wood from several mills near Spearfish, South Dakota. A plant in Western Nebraska provides our cedar. Ninety percent of what we sell is wood. We find that we can get virtually all of the raw materials we need here in the region."
He says he wouldn't locate his business anywhere else. "We really like Wayne. The synergy with the community works," he adds. "We are proud of where we have come, and we are pleased to have done it in a community that is so supportive."
The next step for Sand Creek is more growth, Dickinson says. "We are planning an addition to our office space right now. We are growing very fast," he says. "We plan to move into some high-growth sectors like barn homes and windmill towers. We will make them out of wood. We are diversifying."
So are other firms. While many companies start out in Nebraska to fulfill one business plan, they soon find that this leads to growth opportunities in other markets.

Taking 'Prudent Risks'
A case in point is
Fiserv Inc.
What began in 1976 over a kitchen table in Lincoln as Information Technology Inc. has grown into a global business empire that today employs more than 22,000 people around the world.
"Fiserv began 25 years ago as a series of data centers to deliver services," says Tom Cypher, president of the company's Bank Solutions Group in Lincoln. "ITI was the provider of the software for those data centers. They became one organization in 1995."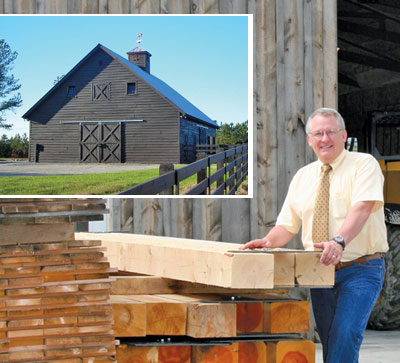 That organization has not stopped growing since. On July 8, Fiserv dedicated the fourth building on its capital city campus. The 70,000-sq.-ft. (6,503-sq.-m.) facility can accommodate 285 of the 720 workers that Fiserv employs in Lincoln.
Fiserv provides the software that runs about 60 percent of the banks in the U.S. The Lincoln complex, now covering more than 200,000 sq. ft. (18,580 sq. m.), focuses on banks and thrifts, notes Cypher.
"Our growth has been exponential in the last three or four years," he says. "The team in Lincoln is remarkable. It is a very talented group. They are so genuinely focused on making sure we are doing the right thing for our clients. That is what's making us grow."
Cypher, who was named Fiserv Business Unit Executive of the Year in 2008, describes the local work force as having "a good work ethic and high integrity. We have people who are not afraid to take prudent risks to succeed in business, and we have people who are honest," he says. "The education system here is terrific. We work closely with the institutions to prepare our future employees."
Cypher cites the area's relatively low cost of living as a key business advantage. "Wages are reasonable in our market compared with the rest of the industry," he notes. "And the university is a great institution. They go out of their way to work with local businesses. They understand their role in preparing people for the work world. It bolsters the economy of Nebraska."
Fiserv works closely with the University of Nebraska, Doane College, Union College and Southeast Community College to train workers.
Cypher also credits state and local economic developers with providing critical support. "They were superb," he says of their efforts in helping Fiserv expand. "There was some concern initially over traffic patterns in the immediate area of the campus, and our expansion was put on hold. The economic development teams got involved at both the state and local levels. The governor and the mayor were both very supportive, and we got past those hurdles. They made it easier for us to grow our business."
In fact, Cypher adds, Fiserv is growing so rapidly that it may need to expand again soon, just to accommodate the jobs the firm is creating in Lincoln.
"This is an ideal location," he says. "When it comes to work ethic, integrity, level of education and the cost of doing business, I'm not sure there is a place that could be any better."
Gov. Dave Heineman welcomes those words, but he stresses that Nebraska will not rest on its laurels. "We must continue to lower taxes and make sure that we are changing our tax climate into a pro-investment, pro-growth economy," he tells
Site Selection
.
Under the leadership of the Falls City native and West Point graduate, Nebraska has lowered its tax rates on businesses four years in a row while rolling out an aggressive array of incentives under the Nebraska Advantage program.
"We modernized our incentives program. We controlled our spending, and we lowered taxes," Heineman says. "We don't spend money that we don't have. We have the lowest unemployment rate, tied with South Dakota, in the whole country, and we have achieved this by taking a steady, responsible, fiscally disciplined approach."
Nebraska's jobless rate of 4.4 percent in April was half that of the country's. From May 2007 to May 2008, the state's non-farm job growth rate was 1.1 percent, 12th best in the nation. In clean energy jobs, Nebraska grew at the second-fastest rate in the U.S. from 1998 to 2007 – 9.1 percent.
Some large projects in 2008 contributed to these totals.
OTC Holdings Corp.
added 610 jobs in financial services in Omaha;
Cabela's Inc.
created 300 positions at a warehouse in Sidney; and
Apogee Retail
hired 300 workers at a call center in Columbus.
"We are trying to transform our economy in the areas of innovation and entrepreneurship," the governor says.

Biotech, Wind Propel Economy
Two industries being shaped by innovation in Nebraska are life sciences and wind energy; recent corporate projects in both sectors signal a new era for a state long associated with crops and cattle.
Tennessee-based
Vireo Resources
opened its new biomedical plant in Plattsmouth on April 22. The company processes and packages human nutritional products and animal health-care products developed at the University of Nebraska Medical Center (UNMC).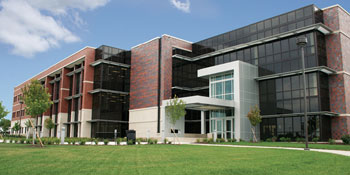 The high-end, 2,000-sq.-ft. (186-sq.-m.) clean-room facility will be used to prepare products that are "natural alternatives to traditional pain management medications," says Mark Faulkner, owner and president of Vireo. "We are working with UNMC to develop products that have very defensible and provable efficacy behind them. Most popular pain relievers have toxic side effects that can cause problems with the liver, kidney and stomach. We have designed a line of pain management compounds that actually work without any of those side effects. And we have good science that proves they work."
Deal-closers in favor of Nebraska, he says, were the ongoing research partnership with UNMC, the fact that "Nebraska has been able to offer attractive incentives," the highly motivated work force in the local area, "very attractive leasing rates" and the "tenacious and persistent efforts of the state Department of Economic Development."
Faulkner says the deal would not have happened without the leadership of Darrell Ullman of the state DED. "Darrell was absolutely critical in putting together all of the key players and putting me in touch with them," says Faulkner. "Gov. Heineman's Diplomat Program really helped. The ambassadorship of companies in Nebraska played a big role in convincing me to locate this operation in Plattsmouth."
Richard Baier, director of the DED, notes that Vireo is one of many growing life-science firms in Nebraska. "We have strength in a couple of areas – animal health and bio-manufacturing," he says. "Companies like Schering Plough and Pfizer develop products for animal health here, and firms like Novartis and Becton Dickinson do bio-manufacturing in Nebraska. We stepped up our public and private support for research at the University of Nebraska Medical Center."
Faulkner says the work in Plattsmouth is progressing so well that "the Nebraska facility will probably be growing faster and larger in the near future. I can see us going from one shift to three shifts a day and doubling our space soon," he adds. "Managing from afar in Tennessee, I have to have a lot of confidence in the managers and employees that I have on site in Nebraska. I was confident that I could find a good work force with that great Midwestern work ethic, and it has turned out to be the truth."
Companies in wind energy have discovered the same.
Katana Summit LLC
, a joint venture of Sumitomo Corp. of Tokyo and Katana Industries of Ephrata, Wash., recently opened a wind tower assembly plant in Columbus, Neb. The 75-acre (30-hectare) complex employs 204 workers in 250,000 sq. ft. (23,225 sq. m.) of manufacturing space. The plant's goal is to produce 600 windmill towers per year.
"We bought a small plant and added to it," says Darrell Lehmann, president and CEO of Katana Summit. "The price of the property was good. The business climate and work force in the area were very good, and the economic development group was very aggressive in helping us locate here."
Lehmann says he wasn't sure what to expect at first. "Relocating from Washington, I wasn't sure what I would find in the Midwest, but I have to admit that this town is phenomenal," he says. "There are a lot of skilled craftsmen here."
Incentives from the Nebraska Advantage program expedited the deal. "I have never seen a greenfield project happen this quickly," adds Lehmann. "We broke ground in June 2007 and started making towers in May 2008."
According to the Nebraska Public Power District, Nebraska has the sixth highest potential for wind energy generation in the country. An estimated 868 billion kilowatt-hours could be produced from wind in the state, NPPD states.
Seen on the Plains: Developers Share Snapshots From the Field
Low-Cost Electricity Delivers Key Advantage
This investment profile was prepared under the auspices of the Nebraska Department of Economic Development and its participating partners. For more information on Nebraska, contact Patty Wood at 1-800-426-6505 or by e-mail at patty.wood@nebraska.gov.
Site Selection Online – The magazine of Corporate Real Estate Strategy and Area Economic Development.
©2009 Conway Data, Inc. All rights reserved. SiteNet data is from many sources and not warranted to be accurate or current.