C
all it the Foothills Data Center Corridor. Maybe the Hwy 321 Data Center Corridor. Or perhaps the Apple-Google Corridor. Whatever nickname eventually sticks, the region north of Charlotte stretching to the base of the Blue Ridge
Mountains is evolving from its traditional textile-furniture manufacturing roots. The emerging data center cluster got its northern anchor with the opening of a $600-million Google server farm in Lenoir in 2008. Now, another iconic name,
Apple
, is rapidly moving toward construction of a data center in Maiden, about 30 miles (48 km.) south.
Apple plans to invest $1 billion over 10 years in a 500,000-sq.-ft. (46,450-sq.-m.) data center that will employ about 50. Maiden was selected following nearly a year of searching that had Apple looking at other N.C. sites and a location in southern Virginia. Maiden, a town of about 3,300 people in the southern end of Catawba County, was once anchored by the textile industry. Carolina Mills, a major yarn manufacturer, was a leading employer for 78 years before closing all of its mills in 2006.
"A project like this is just going to put life back into the Town of Maiden," says Bob Smyre, Maiden's long-time mayor. "We've needed something like this for years."
While Apple's facility will bring just 50 jobs, it is a step in the right direction for the Hickory-Lenoir-Morganton metropolitan area, which had an unemployment rate of 15.4 percent in June, the highest of the state's MSAs. The state's jobless rate receded slightly, to 11 percent from 11.1 percent, in May.
The Town of Maiden and Catawba County, during a joint meeting on July 6, approved $20.7 million in incentives over a 10-year period. That followed a bill passed by the N.C. Legislature in May that will reduce Apple's tax bill by $46 million during the same period. On July 20, Maiden approved a voluntary annexation of the 183-acre (74-hectare) site.
Moving fast, Apple closed on the property and began grading on the site on Aug. 14, says Todd Herms, Maiden's town manager. Apple has hired Holder Construction as general contractor for the project and the company's Charlotte office will be in charge, he says. Holder is a specialist in data center construction, having built more than 90 facilities over the past decade, according to the company's Web site.
Apple has not officially announced the purpose of the new data center, but speculation is that because of its large size, it could be used for a cloud computing operation. Herms says an official groundbreaking for the project will be held in late September or early October.
"Apple is very excited to be in North Carolina," Mike Foulkes, Apple's director for state and local government affairs, told the overflow crowd at the July 6 meeting. Foulkes credited Gov. Beverly Perdue and Secretary of Commerce Keith Crisco as being "instrumental" in Apple's decision.

'The Next Quincy'
The Catawba County Economic Development Corp. booted up its data center recruiting effort in 2006 as a follow-up to inquiries by Duke Energy and the Charlotte Regional Partnership regarding data center potential. A multi-pronged effort began that included a special Web site, membership in a data center organization and familiarization tours that included a site the county was assembling at the corner of Hwy. 321 and Startown Road. The site had the infrastructure data centers require, such as plentiful power and water and fiber-optic connectivity.
"We started thinking about this park and the potential it had for data centers," says Scott Milar, president of the Catawba County EDC. "We had a number of different lookers, and it was with the thinking that we would have three to five data centers on the site."
Apple's emergence changed all that. The Catawba-Apple connection developed during one of the tours, as Milar and his organization became acquainted with T5 Partners, an Atlanta-based data center development and real estate firm. T5 helped convince Apple that North Carolina was one of the best total-cost locations for data centers in the U.S. T5 has developed two potential data center sites in Maiden and Kings Mountain, N.C. Pete Marin, president of T5, formerly headed the Staubach Company's data center practice.
"When we took on our first site, we presented it to a number of companies, one of which was Apple, and through those discussions, we acted to bring Apple to North Carolina." Marin says. "We were involved early on as a consultant to show them the pros and cons as to why to choose North Carolina over another location. Apple saw the same things we saw. They like the low cost of power, of which almost 50 percent comes from nuclear. They like the favorable business climate and, ultimately, the favorable incentives. A North Carolina location allows them to serve the East Coast and ultimately go international."
T5's site in Maiden is a former Carolina Mills manufacturing facility. Apple looked at the site, but ultimately deemed it too small and moved its attention to the Startown Road location.
Marin believes the Foothills region is poised to become a major data center cluster.
"We've seen it happen over the years and we've heard references to the area as the next Quincy, Washington," Marin says, referring to a region that attracted Microsoft and Yahoo server farms a few years ago. "After the first two or three in, there's a herd to follow. There's a herd mentality for a number of reasons. By the time the third or fourth guy goes there, there's such an infrastructure from the power and vendor standpoint that you do see a data center cluster."
Marin says some megatrends — such as cloud computing, applications on personal devices and music and video storage — are driving data center demand.
"Apple is a great example. The success of their products has driven data center demand. They did not think they would need this much data space."
Marin says Duke Energy has been "fantastic" in the development of North Carolina's data center infrastructure. Power availability, the cost of that power, and the source of its generation are key considerations in siting a data center, and Duke delivers on all counts, he says.
"Duke delivers the first substation on site at no cost to the user," he explains, "and for these big projects where you need a 45- or 100-megawatt substation, Duke will deliver it on site."
Marin says there is strong interest in both of T5's data center sites.
"There are other Apples we are chasing and talking to, and we have proposals out on our sites."
Milar hopes Catawba County can build on the momentum Apple brings to the region.
"We intend to develop more park property, probably this year," he says.

Perdue Preaches Perseverance
North Carolina continues to be a state in transition from traditional industries to high-tech sectors. The pain of that transition shows up in the state's jobless figures, making a tough recession even tougher. The banking crisis hit the state's financial center, Charlotte, particularly hard. All have served to make for a challenging first year for Gov. Beverly Perdue, who became the state's first female governor in January 2009. Perdue served eight years as North Carolina's lieutenant governor following terms in the State House and Senate.
Perdue says the state's current unemployment rate is unacceptable.
"North Carolina had been successful in creating new jobs and up until about 18 months ago, no one worried about unemployment," Perdue says. "We had biotech and pharmaceutical companies coming here and we had retired people coming here in droves. We were red hot. North Carolina was one of the last states to see the economic crisis in the housing and commercial development industry.
"We didn't seem to be hurt by it all, and then all of a sudden in late fall the numbers became obvious. By early winter we saw this backwash roll across North Carolina, and for the first time we have had challenges in all sectors. We are hard hit, one of the top tier of states hit hard by the recession. The good news is that we have in place the best community college system for job force training."
Perdue says projects like Apple will help turn things around.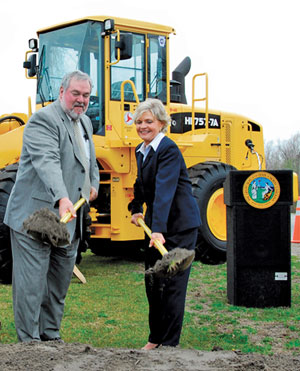 "The 50 jobs aren't many, but the fact that they are making a huge infrastructure investment, and the fact that we might get a second facility, is big news for the state. Down the road, we may see thousands of jobs come into the state.
"Right after I became governor, I had the opportunity to meet some of the Apple executives that were looking at sites. When Apple indicated we were on their list, we told them to talk turkey with us, and I gave them my personal telephone number."
Perdue signed into law in June an incentives bill worth $46 million that targeted Apple. She says Maiden is a prime example of how hard the transition to globalization has been for the state.
Aerospace is another sector that will help revive the state's economy, Perdue says. She estimates North Carolina currently has about 17,000 people working in the aerospace sector, and she has ambitious goals for its growth.
"I want to create an aerospace-military sector in North Carolina unlike any we have ever imagined," Perdue says. "We intend to be a major global player in aerospace manufacturing and service."
Perdue cites
Spirit Aerosystems
, which landed at Kinston's Global Transpark, and
Honda Jet's
decision to locate in Greensboro, as major sector wins for the state. The Spirit project began as a result of contacts made at the Paris Air Show. She has directed the N.C. Commerce Dept. to continue to attend the annual show.
"There are at least two more [aerospace companies] we are working with now," Perdue says. "We know where we are going. I am a bit of a risk taker and we won't win them all, but taking risks is how we will recover quicker from this recession."
Site Selection Online – The magazine of Corporate Real Estate Strategy and Area Economic Development.
©2009 Conway Data, Inc. All rights reserved. SiteNet data is from many sources and not warranted to be accurate or current.