E
ven when your plate's full, it's good to know where the next meal is coming from.
That may be the best way to justify and even expand the important economic development work accomplished by utilities. Such work remains essential even as their parent organizations also wrestle with such issues as future power generation planning, governments' renewable portfolio requirements, transmission and "smart grid" investment, and the lower demand and lower pricing that have recently come on the scene, courtesy of recession-induced cutbacks by businesses and a customer focus on energy efficiency.
"Prospect companies' awareness regarding energy-price fluctuations and the multiple factors that contribute to all-in energy rates has risen dramatically in the past two years as a result of substantial energy-cost fluctuations of fossil-fuel-based power supplies," says Andy Mace, principal consultant, supply chain consulting for
Cushman & Wakefield
of PA, Inc. (
www.cushwake.com
), based in York, Pa. "Investor companies seek additional layers of due diligence regarding past and projected energy costs, along with visibility of the role renewable energy sources may play in a given location versus another. The utility companies need to be responsive and transparent in responding to these requests."
Efficiency is taking on a driving role as well. In fact, the Building Energy Efficient Codes Network (BEECN), which calls itself "a diverse and even unlikely new coalition" of utilities, the building and manufacturing industries, regional and national energy efficiency organizations and others, in June 2009 launched a campaign to strengthen codes in order to reduce energy use in home and in commercial buildings. Among its goals: net-zero-energy buildings by 2030 and establishment of a federal "backstop" energy code.
"I believe that the most successful economies in the future will be the most energy efficient," said Jim Rogers, chairman, president and CEO of Duke Energy, one of this year's Top Utilities.
Energy efficiency programs in the United States could realistically reduce the rate of growth for electricity consumption by 22 percent over the next two decades if key barriers can be addressed, according to an analysis released in early 2009 by the Electric Power Research Institute (EPRI, at www.epri.com), Palo Alto, Calif. The potential energy savings in 2030 would be 236 billion kilowatt-hours, equivalent to the annual electricity consumption of 14 New York Cities.

You Win, We Win
Mace says utility economic development teams can be critically important to a location's competitiveness for new industrial investment.
"This is especially true for proposed facilities with utility costs comprising a substantial portion of recurring costs – 20 percent or more – or with unique service and capacity requirements such as dual-feed power supply or high short circuit capacity," he says.
"I have had a chance to work with each of these electric utilities and they all seem to understand that economic development is a worthwhile investment," says Brent A. Pollina, vice president of
Pollina Corporate Real Estate
(www.pollina.com), Park Ridge, Ill., and one of several corporate advisors and end users who submitted a confidential list of their top utilities in the field of economic development. "By participating in economic development, they are not only benefiting themselves by increasing power sales, but they are also benefiting the state by creating jobs and tax revenue. This win-win symbiotic relationship has been at the core of economic development in the past and will likely continue into the future."
Indeed, the wins have still been coming in fits and starts, helping some utilities and their communities to good times even amidst roiling economic seas.
"Last year was the best year OPPD has had since I started doing this in 1995," says Devin Meisinger, economic development coordinator for Omaha Public Power District, one of this year's Honorable Mention Top Utilities. "Between Novozymes and Yahoo's data center we will receive approximately $13 million in revenue annually, even with our average industrial rates near 4 cents per kilowatt-hour." At the same time OPPD is using more renewable energy and offering customers more energy-efficiency programs – efforts they say could help delay the need for a new generating plant for more than 10 years.
Our annual selection of the Top Utilities in Economic Development was based on a combination of Conway Data New Plant project data for 2008; survey responses of corporate end users and independent corporate real estate advisors; evaluation of utilities' economic development program results, innovation, Web site tools and data functionality; and the utilities' own investment trends in new generation, renewable energy and transmission.
"Utilities' economic development teams have the capability to make unique contributions to investment-attraction efforts beyond providing infrastructure and rate data," says Mace. "As non-governmental entities, they can supply resources and support to complement state and local economic development teams, including site-condition testing, recommendations for local and regional experts, site tour logistics support, as well as permitting and site development expertise."
Below are the Top Utilities, presented in alphabetical order. In all cases, there is evidence of going above and beyond.
"I consider it a special honor for Entergy to be recognized by Site Selection," says Entergy Corp Group President Gary Taylor. Capturing the ethos of many in utility economic development, he continues, "We've had a long-term commitment to the development of our region, and we think it's simply good business to invest in the communities we serve."
I
n 2008, Alabama Power worked with NKF Consulting to evaluate ED initiatives of 10 communities within its service territory.
With the help of the Alabama Development Office, PowerSouth, the Economic Development Partnership of Alabama and Troy University, the utility also launched its 14-county Alabama Existing Industry Initiative, to support what Greg Barker calls "the lifeblood of industrial growth." A report was due to be shared with political, civic and community leaders in August 2009.
The utility helped foster $2.1 billion in new corporate investment in 2008, creating 4,629 jobs. Major projects in 2008 included facilities and expansions from
Austal
,
EADS
CASA North America
,
Brookwood Pharmaceuticals
,
Heritage Plastics
,
Kamtek
and
U.S. Steel
.

American Electric Power
Columbus, Ohio
www.aeped.com
Arkansas, Louisiana, Northeast Texas: Frank Crockett, CEcD, Manager; Indiana, Michigan: Jill P. Korte, CEcD, Manager; Kentucky: Ronn Robinson, Manager, Communications; Central and Southern Ohio: Martin L. Walsh, CEcD, Manager; Northern and Eastern Ohio: Charles W. Corbitt, Manager; Oklahoma: Janet P. Smith, Manager; Tennessee: R. Daniel Carson, VP External Affairs; Texas (other than Northeast): E. Ray Covey, Manager
A
EP's sprawling territory is covered ably by a top-notch team of professional economic developers, supported by an array of technical tools, including the ProCure site and building database system that AEP developed itself. AEP has been contributing to the economic development of its 11-state territory since 1907. How embedded is AEP in its territories' economic development? Joe Hamrock, AEP Ohio's COO, was featured in the Ohio Business Development Coalition's popular "Work:Life Balance" ad campaign.
Top Utilities in Economic Development 2009
AEP invested $2.3 billion in its transmission system between 2001 and 2007. In the past few years, it has adopted a leading role in pushing for a nationwide interstate transmission system modeled after the national interstate highway network. Unveiled in 2006, the "I-765" project is named after the 765-kilovolt transmission technology AEP proposes to use for the system. In 2008, it launched a joint venture with Duke Energy to build $1 billion worth of transmission infrastructure in Indiana.
While AEP has exercised caution and restrained spending on projects due to the recession, it plans to bring its renewable energy portfolio to more than 2,600 MW by the end of 2011. That includes a proposal to build a system to connect wind farms in the High Plains with the Chicago regional marketplace.

Duke Energy
Plainfield, Ind., and Charlotte, N.C.
www.LocationDukeEnergy.com
Duke Energy Carolinas: Clark Gillespy, VP, Econ. Dev., Business Dev. and Territorial Strategies; Duke Energy Ohio/Kentucky: David O. Smith, Dir., Econ. Dev.; Duke Energy Indiana: Marie-Christine Pence, CEcD, Dir., Econ. Dev.
F
rom its poles in the Carolinas and the Midwest, Duke operates one of the most comprehensive sets of economic development programs in the nation. The team's efforts contributed to the creation of 12,164 new jobs in 2008, associated with more than $2.9 billion in corporate capital investment. The long list of projects includes major expansions from
BMW
in South Carolina,
Celgard
in North Carolina,
GE Aviation
in Ohio,
ZF Steering Systems
in Kentucky and
Steel Dynamics
in Indiana.
A menu of economic development riders serves business customers in all five states Duke serves. Due to the continued success of the Site Readiness Program in the Carolinas (assessing 60 industrial sites and five potential mega-sites since 2005), counties have submitted 11 new sites for evaluation in 2009.
Duke is partnering with GM and other utilities to lay the groundwork for the large-scale launch of plug-in electric vehicles, and with AREVA to develop biopower plants using wood waste. Equipment for the company's new integrated gasification combined-cycle plant in Indiana began arriving on site in summer 2009.
Duke Energy Ohio was named "Ohio Business of the Year 2007" in 2008 by Green Energy Ohio. In July 2009, David O. Smith, director of economic development for Duke's Ohio/Kentucky region, was elected president of the Utility Economic Development Association.

Entergy Corporation
New Orleans, La.
www.entergy.com/our_community/economic_development.aspx
Entergy Arkansas: Mike Maulden, Dir., External Affairs; Entergy Louisiana and Entergy Gulf States Louisiana: Shelley MacNary, Dir.; Entergy Mississippi: John Turner, Dir.; Entergy New Orleans: Gary Silbert, Dir. of Econ. Dev.; Entergy Texas: Michael Barnhill, Dir. of Econ. Dev. and Real Estate
I
n 2008, Teamwork Arkansas launched a domestic corporate headquarters visitation program, available to up to four community economic developers.The year also saw the certification of Entergy's first "Select Site" mega-site, a 2,045-acre (828-hectare) parcel in Saline County. In Mississippi, the utility's eight-person team held a recruiting and marketing "boot camp" and hosted an automotive industry supplier conference. In Louisiana, the utility worked with a site selector and the Northeast Louisiana Economic Alliance to evaluate 10 sites, worked with Southeastern University on work force training and hosted its 20th annual Team City Conference.
Projects included
America's Choice Products
' $8-million, 425-job investment in Newport, Ark.; investments from
Evergreen Packaging
,
Stant Manufacturing
and
Pine Bluff Poultry
in Pine Bluff, Ark.; Mississippi projects from
Brown Bottling Group
in Rankin County and
Denbury Resources
in Natchez; the
Shaw Group
project in Lake Charles, known as "Project Sonoma;" and a new testing center for EA Sports on the campus of LSU in Baton Rouge, known by the not-so-secretive code name of "Project Madden."
In 2009, Teamwork Arkansas launched the Arkansas Site Selection Center at ArkansasSiteSelection.com, and Entergy Louisiana has teamed with Louisiana Economic Development to launch their own Site Selection Center, at LousianaSiteSelection.com/LED.
I
n 2008 the FirstEnergy team helped cultivate more than $3.7 billion in corporate facility investment, expected to create more than 10,960 jobs.
FirstEnergy participated in trade missions to Canada and Mexico that led to 48 qualified leads for participating companies. It also partnered with Ohio at the Hanover Trade Fair in Germany, meeting with more than 360 companies there. Other promotional efforts involved life sciences in New Jersey and promoting Ohio as a food processing location at Pack Expo 2008 in Chicago.
2008 projects included a 100-job investment from
Bookmasters
and a 200-job investment from
Mustang Dynamometer in Ohio
, and investments from pharma firms
Mallinckrodt Baker
and
Novartis
($25 million) in New Jersey. Since 2008, the utility has signed hundreds of new supply agreements with customers in ComEd and Ameren territories, the result of entering the Illinois market in 2008.
Among the sustainability measures FirstEnergy is pursuing is the retrofit of its coal-fired R.E. Burger plant in Ohio to generate electricity principally from biomass. It will join a renewable generation portfolio that includes 451 MW of pumped-storage hydro and 376 MW of wind power.

Georgia Power
Atlanta, Ga.
selectgeorgia.net
J. Kevin Fletcher, VP, Community & Econ. Dev
O
ne of three Southern Co. utilities to be honored this year, Georgia Power's economic development team worked to bring corporate investment of $1.8 billion from 84 companies to its state, with the potential to create more than 8,400 jobs.
Projects included those from three Kia suppliers in west Georgia,
Oldcastle Materials
in Camak,
Suniva
in Norcross,
Whirlpool
in McDonough and
Home Depot
in Valdosta.
In its most significant technology upgrade in two decades, the utility's community and economic development organization launched
SelectGeorgia
(
www.SelectGeorgia.net
). In addition to offering a panoply of cutting-edge functions and data, the site has resulted in a 75-percent reduction in related software maintenance and a 70-percent reduction in the department's technology maintenance labor. Concurrent with the project, Georgia Power's continuing internal data quality project ("Project DQ") kicked off in August 2008, and had helped to update data on 154 sites by year end.
The department also made major upgrades to its Georgia Resource Center, an executive meeting facility used for conferences and prospect visits; produced a new metro Atlanta map and Atlanta overview publications as well as new region-specific brochures, and created a new Web portal to aid potential Volkswagen suppliers looking at northwest Georgia, near VW's new plant now under construction in Chattanooga, Tenn.
H
ydro-Québec has played a major role in bringing to fruition major investments from such companies as
REC Silicon
in Bécancour. Mentioned on prominent site selectors' lists of favorites, the utility also seems to be pleasing the larger universe of its major customers, with a gradual improvement in overall satisfaction since 2001.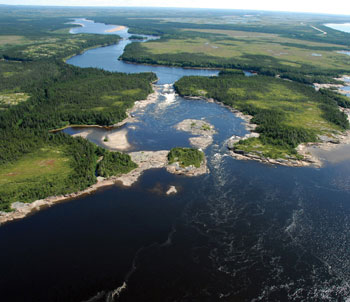 Low cost is quite satisfying: Every year, Hydro-Québec carries out a comparative analysis of electricity prices in 20 major North American cities. Its home region is inevitably among the top three in low cost, if not the outright leader.
Hydro-Québec generates its own economic development too. In 2008 alone, Hydro-Québec équipement carried out C$2.4 billion in generation and transmission work across Québec. In fact, the utility was pursuing no fewer than 18 different generation projects in the province, as of mid-July 2009, in addition to seven transmission projects currently under construction and another 10 under study.
They include what is being described as the largest construction project in Canada: a new 1,550-MW, four-plant hydroelectric complex on the Romaine River in Havre-Saint-Pierre that has been in development for decades. Construction of the plants and a permanent 93-mile (150-km.) road will cost an estimated C$6.5 billion (US$5.9 billion). Average annual production at the complex is anticipated to be 8 terawatt-hours, enough to power more than 450,000 households or the cities of Québec, Saguenay, and Longueuil combined. The utility is also engaged with New England utilities in developing a transmission project that will cross the border and replace some of that region's expensive gas-fired generation with low-cost hydropower.
N
ational Grid saw a healthy number of projects come to its territory in 2008. It also was concerned with the health and well-being of its customers and citizens, as it pursued new energy efficiency and a smart grid project now seeking $200 million in federal stimulus funding. The utility, along with Empire State Development, also holds the distinction of having helped promulgate the term "shovel ready" in association with the state's site development program well before it became a byword of the Obama administration.
Major corporate projects in the region served by National Grid include the
GlobalFoundries
semiconductor complex in Malta, N.Y. Others of recent vintage include
Dresser-Rand
's technology center in Olean,
API Heat
Transfer in Cheektowaga, and
Metro Paper Industries
in Watertown. Helping projects consider Upstate New York is the state's popular Empire Zone program – utilities offer special rates for projects within the zones.
Among National Grid's resources is a "Best Practices Library," which includes presentation materials from an energy efficiency conference the utility convened in early 2009. Its own best practices include extensive community involvement throughout its multi-state Northeast territory, such as the June investment of $250,000 in the University at Buffalo School of Engineering and Applied Sciences to create and enhance programs that encourage Buffalo Public School students to pursue education and careers in science and engineering. In May 2009, it opened a new New England corporate office in Waltham, Mass., that is destined for LEED-Gold certification. That same month, in response to new state legislation, it joined with eight other Massachusetts utilities to unveil a three-year plan to deliver services to residents and businesses that will ultimately net more than $4 billion in energy savings.
I
n early 2009, Progress Energy achieved the highest rank for its region in satisfying electric utility business customers, according to the J.D. Power and Associates 2009 Electric Utility Business Customer Satisfaction Study. Any questions?
If there are, the economic development team at Progress is ready to answer them. Among innovative programs Progress pursued in 2008 were a media relations seminar for economic development professionals, a mock RFP exercise and its continuing investment in new infrastructure grants in South Carolina, pursuant to that state's license fee credit program. The utility's executives continue to serve prominently in state and regional economic development organizations.
Success stories in 2008 included projects from
GE-Hitachi Nuclear Energy
in Wilmington, N.C.;
International Knife & Saw
in Florence, S.C.; and
Draper Labs
in St. Petersburg, Fla. All told, the utility helped foster more than $2.5 billion in corporate investment, attached to the eventual creation of more than 8,340 jobs.
The utility's plans to build two nuclear reactors in Florida moved forward in early August 2009 with the state's approval of its plan for a Levy County facility – the first approval of a nuclear plant project in Florida in 30 years. Back in its home territory of Raleigh, Progress is planning to purchase electricity from a new solar farm being built by a Durham company in Roxboro.
T
he perennial leader in utility economic development helped create 41,600 jobs and $5.5 billion in corporate investment in its seven-state territory in 2008 – an impressive staying of the course compared to 45,000 jobs and $5.6 billion in 2007.
Projects included
VW
and
SAIC
in Tennessee,
Wabash National
in Kentucky and
RTI International Metals
in Mississippi.
Among the ongoing offerings TVA makes available to prospects and to community economic developers, its
TVAed.com
Web site leads the way, followed closely by its standard-setting Megasite certification program it's offered in concert with McCallum Sweeney Consulting since 2004. In 2008 the utility's services to communities included Web site evaluations and instruction in finance.
In May 2009, TVA announced its participation in a solar energy-based economic development program that also involves the State of Tennessee, the University of Tennessee and Oak Ridge National Laboratory. TVA is even getting in on the solar action itself, by installing a 5-MW solar farm on its Megasite in Hollywood County in western Tennessee.
Xcel Offers a Different Model
---
Site Selection Online – The magazine of Corporate Real Estate Strategy and Area Economic Development.
©2009 Conway Data, Inc. All rights reserved. SiteNet data is from many sources and not warranted to be accurate or current.