FROM SITE SELECTION MAGAZINE SEPTEMBER 2019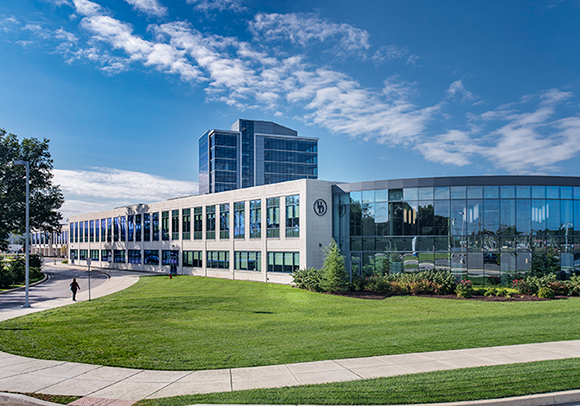 BIOTECH LOCATIONS
NIIMBL in Delaware aims to help biotech move — you guessed it — faster and more effectively.
CONWAY ANALYTICS SNAPSHOT
The American Council for an Energy-Efficient Economy (ACEEE) earlier this month released its 13th annual State Energy Efficiency Scorecard, finding that Massachusetts and California still lead the pack; Maryland is the most improved; Kentucky lost some ground; and North Dakota and Wyoming still lag. Nevada, New Mexico, Washington, New York and Maine passed 100% clean energy goals, along with plans to increase efficiency investment. A record number of states adopted new efficiency standards for a variety of products and equipment, "some in direct response to the federal rollback of standards for light bulbs," the ACEEE reported. States have also countered the federal plan to weaken vehicle efficiency by promoting electric vehicles and adopting California's vehicle emissions standards.
The Scorecard awards a total of 50 points based on 33 metrics tracking state policies and programs in six areas: utilities, buildings, transportation, state government, combined heat and power, and appliance standards. In addition to the 2019 State Energy Efficiency Scorecard, ACEEE has individual state one-pagers and an interactive state and local policy database.
How well do the most energy-efficient states perform when it comes to corporate project attraction? Based on Conway Analytics data, Site Selection's annual Governors Cup rankings find only one state — California — appearing in both the Top 10 in energy efficiency and Top 10 in either total or per-capita project attraction. However, Illinois, tied for 11th in ACEEE's scorecard, appears in both the cumulative and per-capita Top 10s in Site Selection's tallies.
SOUTH AFRICA
This month Toyota announced that it will invest $30.6 million in an expansion to the company's Prospection Plant in Durban, KwaZulu-Natal, South Africa. The company will now assemble the Hiace Ses'fikile minibus in the plant, creating 80 jobs. As a result of the expansion, components for the minibus will be made locally rather than imported from Japan.
USA
Manufacturing company JMA Wireless, based in the Syracuse-area municipality of Liverpool, New York, has announced that it will bring 5G manufacturing to Syracuse. The company will invest $25 million to refurbish the historic Coyne Building, south of downtown Syracuse, where Coyne Textile shut down operations in 2015, costing the area 90 jobs. The 5G manufacturing campus will employ 100, and will be the inception spot for the world's first indoor 5G millimeter wave radio system.
— Compiled by Olivia Vener, Consultant, Conway Advisory
SITE SELECTION RECOMMENDS
If you're involved with location intelligence and are not connected to data and news from the U.S. Census Bureau, you're already behind. Earlier this month, the Bureau released the remaining profiles and tables for the 2018 American Community Survey (ACS) 1-year estimates. The data release includes a metro area commute to work map (an interactive tool that shows mean travel time to work for metro areas across the country) as well as new business formation statistics by state.
Site Selection Editor in Chief Mark Arend recently made this photo of Salón Las Cariátides at the National Palace in Santo Domingo, Dominican Republic. Designed by Italian architect Guido D 'Alessandro and inaugurated in August 1947, "the building that serves as the headquarters of the Government of the Dominican Republic is a work that is conceptually inserted in the middle of the cultural, multi-racial, ethnic and linguistic Caribbean," says the government's official website, "reflecting with its presence all the powerful load of influences and political stories inherited from Europe."