COVID-19: VOICES WORTH HEEDING
As the COVID-19 pandemic has engulfed the world, Site Selection editors and Conway staff are gleaning business intelligence, provocative insights, valuable data and practical guidance from across our global network. In this first installment of a series that, like the pandemic, has no defined end point, Ron Starner listens to one of those voices in our home state of Georgia. Watch for more in the coming weeks and in the forthcoming issues of Site Selection. From our research, journalism and conversations with stakeholders across a global braintrust 66 years in the making, we sift out the chatter to uncover original and useful insights that help you get things done during a turbulent and tenuous time. You will also find more than a few morsels of hope and inspiration along the way. — Adam Bruns, Managing Editor, Site Selection
FROM SITE SELECTION MAGAZINE MARCH 2020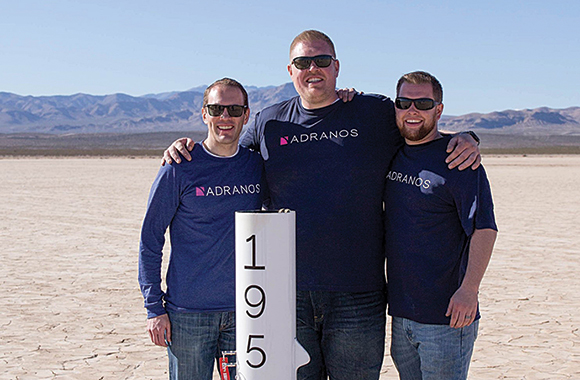 INDIANA
From biomedical R&D to rocket science, this isn't your parents' Midwest.
CONWAY ANALYTICS SNAPSHOT
As Jewish faithful celebrate the Passover holiday, we're reminded that the deep resources of the Conway Analytics database include a keyword capability that can crawl through the text of our backup documentation to find specific words such as "kosher." A search for that word turns up more than half a dozen facility projects over the past several years in countries such as Russia, the U.S., Zambia, Germany, Malaysia and Australia, where Garlo's meat pies has grown its business in Sydney. A search for "halal" turns up several dozen facility investments over the past five years, as do searches by more secular dietary terms such as GMO, gluten-free and organic.
Among the investors with kosher and halal capabilities is Russia's Damate Group, which in early 2019 launched a project for the production of kosher products with a capacity of 70,000 tons of turkey products per year in the Kamensky district of the Penza region. The new plant is scheduled to be commissioned in 2021 and will employ 450.
The main purpose of Damate's new plant in Russia will be to "produce products in accordance with religious canons for further sale to the final consumer and processors."

Image courtesy of Damate Group
UNITED KINGDOM
As reported by Bracknell News, among others, Indiana-based Eli Lilly & Co. is moving non-lab research center work from Surrey to new space in Bracknell, located in Berkshire in the far western portion of the Greater London metro area. According to the publication, it's the biggest lease in Bracknell since 2013. When Lilly personnel get there, they may find time for a break and a stroll at Lily Hill Park (named for the flower, not the company), an award-winning 57-acre public open space located near Bracknell town center and Ascot, "with excellent road and rail links to London."
COLORADO
After originally opening a Denver office in November 2018, Facebook this week announced it will double its footprint there, adding 23,000 sq. ft. by leasing the sixth floor of a building where it already occupies the floor above. The new space will allow for the addition of 90 to 100 jobs at a site where the company already employs around 100. When the site opened in 2018, Steve Politis, the on-site lead for the new office, told the Denver Post that Facebook "was attracted by the area's 'huge foundation' of telecommunications companies and talented network engineers and network security and software engineers."
SITE SELECTION RECOMMENDS
London based citizenship planning and residence consultancy Henley & Partners this week released its 2020 Henley Passport Index, noting its "disturbing insight into the indiscriminate havoc" caused by the COVID-19 pandemic.
"Since its inception in 2006, the index has provided the authoritative annual ranking of global passport strength," Henley said. "Travel freedom has increased dramatically over the period — in 2006, a citizen could travel to 58 destinations on average without a visa from the host nation; 14 years later, this number has almost doubled to 107. The first ranking of the new decade published in January this year conclusively confirmed that overall, people were the most globally mobile than we had ever been in the history of humankind, with the top-ranking passport (Japan) offering its holders access to a record-breaking 191 destinations without requiring a visa in advance. Just three months later, the picture looks very different indeed," with 3.5 billion people, nearly half the global population, presently living in voluntary or mandatory confinement.
Among other findings, based on data from the International Air Transport Association (IATA), the UAE has seen the biggest increase in travel freedom over the past 10 years. In 2010, the country was ranked No. 65 worldwide, with a visa-free/visa-on-arrival score of 64. It is now ranked No. 18, with a score of 171 — which means the country has added 107 visa-free travel destinations over that period.
Dr. Parag Khanna, founder and managing partner of FutureMap, said, "This may seem ironic given today's widespread border closures and standstill in global transportation, but as the curtain lifts, people will seek to move from poorly governed and ill-prepared 'red zones' to 'green zones' or places with better medical care. Alternatively, people may relocate to places where involuntary quarantine, whenever it strikes next, is less torturous. In the U.S., both domestic and international migration were surging before the pandemic, with Gen-Xers and millennials shifting to cheaper, second-tier cities in the Sun Belt or abroad to Latin America and Asia in search of an affordable life. Once quarantines lift and airline prices stand at rock bottom, expect more people across the globe to gather their belongings and buy one-way tickets to countries affordable enough to start fresh."
Henley Passport Index Global Ranking 2020
"Talk about a #TeamKentucky moment," writes Jack Mazurak, communications director for the Kentucky Cabinet for Economic Development. "At the Kentucky Cabinet for Economic Development in the state capital of Frankfort this week, staff members called on a construction crew from Frei Mechanical to help unload 3,500 printed copies of the new 2020 Team Kentucky Economic Development Guide on Tuesday afternoon. The crew is installing a new HVAC system in Kentucky's Old State Capitol Building, next door to the Cabinet's office. Due to the positioning of the historic buildings, semi trucks can't access the parking lot and ramp."
The magazines were written, designed and produced by Conway Custom Content and printed by LSC Communications at its Publishers Press facility in Lebanon Junction, Kentucky, south of Louisville, one of three facilities LSC operates in the Commonwealth. As they have for several years, Cabinet staff will use the Conway-produced publication "to help promote Kentucky as they help rebuild the state and national economy post-COVID-19," says Mazurak.