FROM SITE SELECTION MAGAZINE, JULY 2020 ISSUE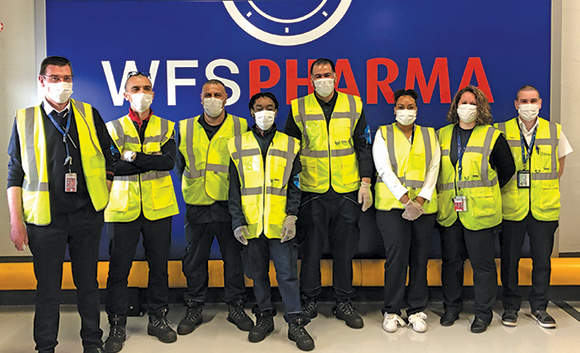 COVID-19 SPECIAL REPORT: LOGISTICS SITES & SERVICES
As e-commerce surges in step with the virus, so does cold chain. Insights and location news from Pfizer, Paris-based Worldwide Flight Services, CBRE and Hillwood President Mike Berry paint a picture of what's happening and what's still to come. (Watch for more logistics coverage in the annual infrastructure issue of Site Selection.)
OKLAHOMA
This U.S.-Spanish aerospace company developing renewably powered aircraft for defense and commercial industries announced on June 30 the establishment of their corporate headquarters and engineering operations in Oklahoma City and testing and integration in Ardmore, Oklahoma. Skydweller plans to increase operations to 120 aerospace engineering and field technician jobs in Oklahoma by 2024. Founded in 2017, Skydweller closed a Series A funding round in September 2019. The company — which has offices in the Washington, D.C. area, Madrid and Valdepeñas, Spain — will be recruiting top-tier aerospace and software engineering talent to further the development and deployment of their ultra-persistent, unmanned aircraft in both Oklahoma locations. "We are honored to be moving our corporate headquarters to Oklahoma, following in the footsteps of Oklahoma aviation titans like Wiley Post," said Skydweller CEO Dr. Robert Miller. "Oklahoma's inspired and dedicated engineering talent will help make our vision a reality."
COLOMBIA
Following on an announcement last year, this Winnipeg-based global customer care and technology company is opening its 17th contact center in Bogota, adding to a site portfolio that includes operations in the U.S., Canada, Guatemala, Jamaica and the Philippines. The contact center industry employs over 200,000 people in Colombia. "We are very excited to continue growing our nearshore operations by expanding into Colombia," said Greg Fettes, CEO & co-founder of 24-7 Intouch, last summer. "Colombia has become a business services hub for companies around the world due to our strategic geographic location, quality workforce, favorable business environment and the access to diversified and growing markets," said Flavia Santoro, president of ProColombia.
SITE SELECTION RECOMMENDS
Whether you've been trying to view the Neowise comet or following the return of astronauts to Earth, space debris is a current topic and nagging issue. One company tackling it is LeoLabs, Inc., a commercial provider of low Earth orbit (LEO) mapping and Space Situational Awareness (SSA) services, which announced July 22 that Costa Rica will be the site for its next space radar. "We are delighted to be working with an incredible team in Costa Rica, and proud to bring the first commercial phased-array radar to the equatorial region," said Mike Nicolls, LeoLabs' chief technology officer and co-founder. "This improves our coverage of equatorial and low inclination orbits, filling a critical gap for tracking satellites and space debris." LeoLabs' Costa Rica radar will be capable of tracking small debris down to 2 cm. and work in concert with LeoLabs' other radars."
One reason behind the location is the longstanding relationship between two former NASA astronauts: LeoLabs Executive and Co-founder Dr. Edward Lu and Ad Astra CEO and Co-founder Dr. Franklin Chang Díaz.  We talked to Ad Astra Operations Director Juan Del Valle last year about the visionary company's growth in Costa Rica's Guanacaste region.
A veteran of seven space shuttle missions, Ad Astra CEO and Co-founder Dr. Franklin Chang Díaz logged more than 1,600 hours in space, including 19 hours and 31 minutes in three spacewalks.

Photos courtesy of Ad Astra
Photo courtesy of NASA/Bill Ingalls
Do we have a theme going here? You bet we do. This NASA photo by Bill Ingalls shows the SpaceX Crew Dragon Endeavour spacecraft as it lands with NASA astronauts Robert Behnken and Douglas Hurley onboard in the Gulf of Mexico off the coast of Pensacola, Florida, on Sunday. The Demo-2 test flight for NASA's Commercial Crew Program was the first to deliver astronauts to the International Space Station and return them safely to Earth onboard a commercially built and operated spacecraft. Behnken and Hurley spent 64 days in space.