FROM SITE SELECTION MAGAZINE, JULY 2020 ISSUE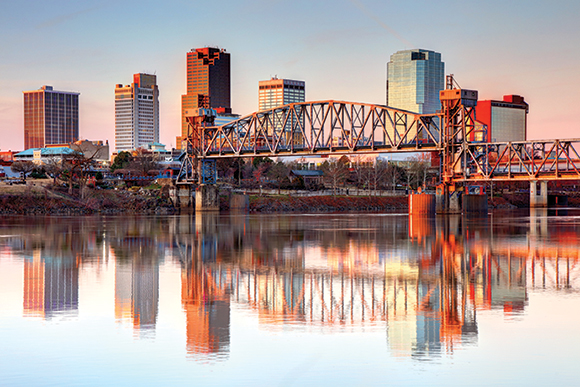 ARKANSAS
A measured, data-driven approach guides the state's COVID-19 response, says Clint O'Neal of the Arkansas Economic Development Commission.
CONWAY ANALYTICS SNAPSHOT
Publix Super Markets is by far the nation's largest employee-owned company, with 202,000 employees.

Photo courtesy of Publix
The National Center for Employee Ownership in July released their annual list of the 100 largest majority employee-owned companies in the United States. Nearly all of them are at least 50% owned by an employee stock ownership plan (ESOP). We sliced and diced the data to find:
Illinois leads the nation large employee-owned companies with 10, employing a collective total of 36,650 people. The state's biggest ESOP is Chicago-based industrial component firm Amsted Industries (employing 18,000 and 100% employee-owned), followed by Chicago-based S&C Electric (2,600 employees). California is No. 2 with nine, led by engineering and construction giant Parsons (16,000), San Jose–based Rosendin Electric (7,000) and San Francisco–based Gensler (6,000). Missouri comes in third with eight large ESOPs, led by Springfield-based staffing firm Penmac (28,000 employees), St. Louis–based Graybar Electric (8,700) and Kansas City–based architecture and engineering firm Burns & McDonnell.
If there seems to be a service provider trend here, you're not wrong: Among the 100 largest employee-owned companies in the nation, 25 are AEC firms (architecture, engineering and construction). The next largest category is supermarkets (11), led by Florida-based Publix, which leads all employee-owned firms nationwide by employing 202,000. The rest of the rankings are dotted with other companies in such fields as consulting and contract manufacturing.
Site Selection's archives are full of mentions of these companies, whose histories are often as compelling as their excellence. See Ron Starner's interview of Publix Senior Real Estate Manager Brad Crenshaw and profile of the company's logistics expansion from September 2018. A scan of Conway Analytics' database of corporate facility projects reveals that these 100 companies have accounted for 49 projects since 2015. — Adam Bruns and Daniel Boyer
States with Highest Number of 100 Largest Employee-Owned Companies
1. Illinois: 10
2. California: 9
3. Missouri: 8
4. Texas: 7
T5. Wisconsin: 5
T5. Michigan: 5
ARIZONA
Nikola Motors finally broke ground in late July on its $600 million manufacturing facility for hydrogen-powered big rigs on a 460-acre parcel in Coolidge, Arizona. Site Selection Senior Editor Gary Daughters interviewed Nikola Founder and Executive Chairman Trevor Milton in 2018 about the company's origins and location decisions. "We started in our basement six years ago and now we are kicking off this 1 million-square-foot manufacturing facility," Milton said in July. "The residents of Coolidge will be a huge part of the Nikola story and without the help of Governor Ducey and the Arizona economic development teams, this project would not have been possible in Arizona." The area was chosen after an 18-month site search. The first phase of construction is scheduled for completion in late 2021, with the second phase projected to be complete within the following 12-18 months. However, the first Nikola trucks will be produced in Ulm, Germany, through a partnership with IVECO.
ONTARIO
Among the projects Conway has tracked in Canada over the past year is a multimillion-dollar expansion at ATS Automation Tooling Systems' Cambridge headquarters that will add 122,000 sq. ft., including 67,000 sq. ft. of new manufacturing space and a new innovation center. The expansion is adding 120 positions to a company that already employed 1,270 as of last fall. "Founded in 1978, ATS Automation has about 4,400 employees around the world and had revenues of $1.25 billion in its most recent fiscal year," Waterloo EDC reported last fall. The company's automation solutions are used in a wide variety of applications, including food and consumer products, transportation, energy and more. This expansion at the company's headquarters is part of a $60 million initiative that will see investments in ATS Automation's assets around the world."
SITE SELECTION RECOMMENDS
California-based Teletrac Navman, a software-as-a-service provider that leverages location-based technology and services for managing mobile assets, in late July issued the new Teletrac Navman Commute Index (TNC Index), which takes the 50 most populous cities in the nation and applies seven key factors, including commuter volume, commute time, accident rates and road quality to provide a commute quality rating. The TNC Index found the overall worst commutes to be in the following metro areas:
Washington, D.C.
Baltimore
Los Angeles
Boston
San Francisco
Philadelphia
New York City
San Jose
Providence
Chicago
Compare and contrast the new index's findings with the longstanding barometer of traffic congestion maintained by the urban mobility experts at the Texas A&M Transportation Institute, who have been studying traffic gridlock since 1982. Since that time, their report found last summer, the number of hours per commuter lost to traffic delay has nearly tripled, climbing to 54 hours a year; and the amount of fuel wasted in stalled traffic also has more than tripled, to 3.3 billion gallons a year.
Located in Metro Phoenix's flourishing West Valley, Avondale's Health-Tech Corridor offers state-of-the-art facilities and a collection of intellectual talent. This specialty corridor is currently home to Phoenix Children's Hospital, Akos Medical Campus, Integrated Medical Services, Arizona Center for Cancer Care, and others. Investment opportunities include prominent sites along the I-10 including Phase II of the Akos Medical Campus with availability in its 68,000 SF Cass A medical office building and also a 60,000 SF medical office building concept.
Avondale is one of the fastest growing communities in the nation and 40% of the county's growth over the next 10 years will happen in the region. In addition to this population surge, Avondale boasts a skilled labor force with 40,900 healthcare workers within a 25-minute commute. With its prime sites, explosive growth and skilled workforce, Avondale's Health-Tech Corridor is the location-of-choice for forward thinking investors.
Contact the Avondale EDGE team today to locate in this burgeoning corridor.
Photo by Hufton+Crow courtesy of v2com
This eerily prescient photograph was made inside Beijing Daxing International Airport, whose design by Zaha Hadid Architects this week was among the winners of the 8th Annual Architizer A+Awards. The $17.5 billion mega-airport opened last fall and today is gradually adding dozens of flights. It is expected to handle up to 45 million passengers per year by 2021 and reach 100 million eventually. Site Selection readers will recall an exterior rendering of this airport graced the cover of our September 2019 Global Infrastructure issue. Work on this year's September issue — featuring the Global Groundwork Index, Top Utilities, Canada's Best Locations and reports on transit, eds & meds and logistics— is ongoing: Place your ad now.