FROM SITE SELECTION MAGAZINE, NOVEMBER 2020 ISSUE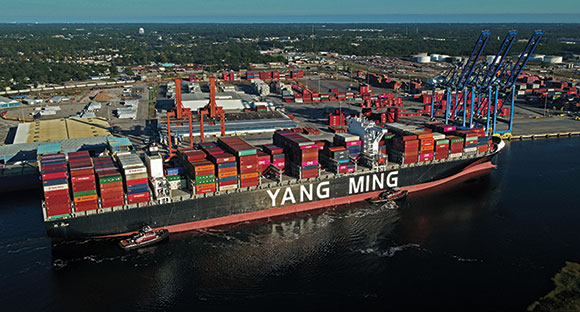 PORTS & FREE TRADE ZONES
Three rankings shed light on the power of economic zones to catalyze economic growth and commerce. And don't miss our annual directory of ports and free trade zones.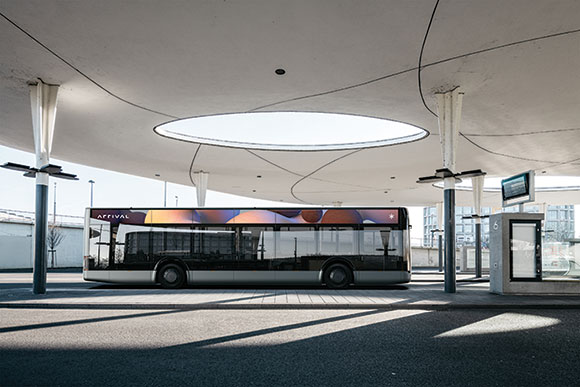 FDI IN AMERICA
The data reveal some intriguing insights about which states and metros are attracting the most foreign direct investment, and where that FDI is coming from.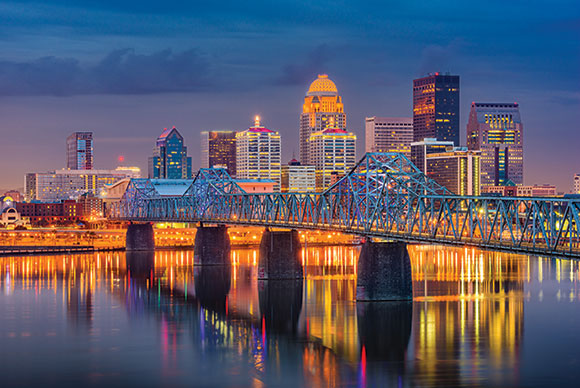 OHIO RIVER CORRIDOR
In a year more turbulent than the river it overlooks, metro Louisville leads our rankings of metro areas along the Ohio River's entire length. A CBRE analyst ponders the rising value of mid-size cities in the region.
CONWAY ANALYTICS SNAPSHOT
In an article for his Heartland Intelligence publication, Aaron Renn (you'll remember him from his "Put Me In, Coach" contribution earlier this year) references a June 2020 paper by Robert Manduca that breaks down current central business district (CBD) employment in the largest 100 U.S. metro areas. "Manduca utilizes an algorithm to delineate CBDs as areas of contiguous job density," Renn writes. "This creates a standardized calculation of downtowns that allows comparisons across regions. This is very useful because there is no standardized definition of downtowns."
Manduca specifically uses data based on unemployment insurance records "to show that employment in U.S. metropolitan areas is not centralized but is spatially concentrated," he writes in a summary. "Unlike residents, who form a continuous surface covering most parts of each metropolitan area, jobs have a bimodal spatial distribution, with most blocks containing no jobs whatsoever and a small number having extremely high employment densities. Across the 100 largest Metropolitan Statistical Areas, about 75% of jobs are located on the 6.5% of built land in Census blocks with at least twice as many jobs as people."
Broken down by total CBD employment, the usual suspects rise to the top: New York, Chicago, D.C., San Francisco and Los Angeles are the top five. Break them down by highest CBD jobs percentage of overall MSA jobs, however, and you get the following list. See how metros you're evaluating for expansion measure up by downloading Manduca's spreadsheet of 2014 data from not only those 100 metros, but more than 800 others, ultimately derived from the U.S. Census Bureau's very useful LODES Workplace Area Characteristics data sets.
Top 10 Metros By CBD Percentage of MSA Employment
| | | | | | |
| --- | --- | --- | --- | --- | --- |
| MSA | CBD Jobs | MSA Jobs | CBD Jobs % | CBD Type | Area in sq. km. |
| Springfield, IL | 39281 | 123232 | 0.318756492 | core | 2.074691 |
| Urban Honolulu, HI | 97459.5 | 346022 | 0.281656947 | core | 5.219715 |
| Rochester, MN | 27262 | 101312.5 | 0.269088217 | core | 0.71136 |
| Ann Arbor, MI | 36966.5 | 152716.5 | 0.242059633 | core | 1.268088 |
| Cape Coral-Fort Myers, FL | 47856 | 200457 | 0.238734492 | suburb | 16.773228 |
| Topeka, KS | 21580 | 105320 | 0.204899354 | core | 1.796144 |
| Duluth, MN-WI | 24554 | 122643 | 0.200207105 | core | 1.341491 |
| Palm Bay-Melbourne-Titusville, FL | 35089 | 177907 | 0.197232262 | suburb | 23.758873 |
| Syracuse, NY | 53911.5 | 274967 | 0.196065346 | suburb | 7.911482 |
| Nashville-Davidson--Murfreesboro--Franklin, TN | 154834.5 | 800398.5 | 0.193446764 | core | 13.327656 |
Business districts in the New York MSA.

Image courtesy of Robert Manduca's analysis of LODES and Decennial Census data. Background map ©Google 2017
HUNGARY
According to the Hungarian Investment Promotion Agency (HIOPA and numerous South Korean media reports, Doosan Solus is building a second plant in Hungary in order to strengthen its footprint in Europe. By the time of project completion in 2022, the company will increase its production capacity of copper thin foil for batteries by 250% and is expected to create 200 more jobs. The first factory just opened earlier this year. "Since the decision was made on the first factory, there has been a steadily growing market demand for electric vehicles and batteries," said HIPA. "Keeping pace with this trend, Doosan has decided to build a second European plant in order to strengthen its market position. After examining the possible locations, the company chose Hungary again, as the presence of a well-trained workforce, the adequate infrastructure, the developed business environment and the safe supply chain all made the choice easier."
NORTH DAKOTA
As first reported by the "Mighty 790" KFGO AM station in Fargo and corroborated by other reports based on planning documents, Amazon is continuing to populate its fulfillment center portfolio with a new facility in north Fargo expected to create as many as 500 initial jobs and receive an investment between $100 million and $120 million. Officials finally made a formal announcement about the 1.3-million-sq.-ft. project last Friday, when Amazon's regional director Mike Flannery was presented via virtual press conference an official North Dakota State University Bison jersey. No incentives were requested for the project code-named "Project Force."
SITE SELECTION RECOMMENDS
Members of the Microsoft Project Natick team wash algae and barnacles from their Northern Isles data center retrieved in September from the sea floor off the Orkney Islands in Scotland.

Photo courtesy of Microsoft
In July 2018 we documented how Microsoft was headed underwater to help solve grid strain issues for data centers in western Europe, submerging a data center into the cold waters off the Scotland coast. They pulled it back up in September, confirming their thesis that a sealed container on the ocean floor could provide ways to improve the overall reliability of data centers. Moreover, says the company, "the proven reliability of underwater data centers has prompted discussions with a Microsoft team in Azure that's looking to serve customers who need to deploy and operate tactical and critical datacenters anywhere in the world."
"We are populating the globe with edge devices, large and small," said William Chappell, vice president of mission systems for Azure. "To learn how to make data centers reliable enough not to need human touch is a dream of ours."
Albuquerque offers the complete economic development package at high value amid one of the most culturally diverse populations in the country. With the establishment of 14 Opportunity Zones, City leaders are focused on helping interested parties discover which local opportunities best align with their portfolio profile, social responsibility values, and vision for economic impact.
Our Opportunity Zone prospectus, which can be viewed here, provides information about the distinct personalities and advantages of each zone and showcases Albuquerque's most competitive assets. An interactive map showcasing all available incentives can be found here.
We look forward to new conversations and partnerships that can lead to transformative local change. We are confident that we can bridge the connections necessary to realize a range of projects – from housing, to tech, to community spaces. We are ready to take action, with an unwavering eye toward the ultimate goal of injecting vibrancy into our communities and improving the quality of life for all.
Come see us today to find out for yourself why Albuquerque is the place to invest and why Albuquerque is Opportunity.
Photo courtesy of TopTenRealEstateDeals.com
The world mourned the death of Scottish-born actor Sir Sean Connery last Saturday at the age of 90. But his real estate lives on, and in some cases looks like it came right from a James Bond film. On Tuesday, the website TopTenRealEstateDeals.com confirmed that one home actually did. His long-time house in the South of France was recently for sale at $33.87 million. "Still referred to by locals as 'Sean's place,' Connery's former home is one of the French Riviera's prettiest and well-located villas with views overlooking Nice and the Mediterranean Sea," says the website. "Adding a touch of reality to his English-spy roles, the home was used in several scenes of his Bond movie 'Never Say Never Again' when it was filmed in Nice and Monaco."