FROM SITE SELECTION MAGAZINE, JANUARY 2021 ISSUE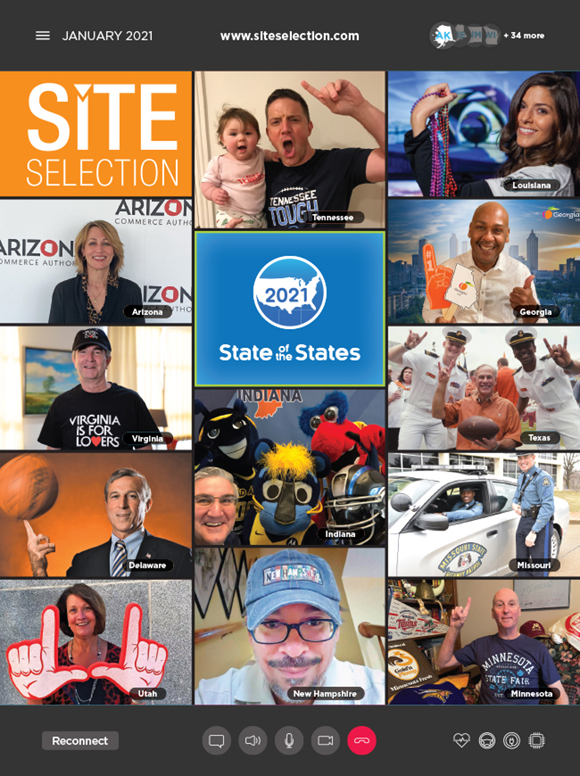 COVER STORY
Building our readers' knowledge and capabilities is the purpose of State of the States 2021, Site Selection's painstakingly assembled annual compendium of data that matter to global corporate location decision-makers. In this year's edition, demographic, workforce and legislative updates are supplemented by information about state-level pandemic response and recovery.
FRANCE
Huawei may be anathema in the U.S., but that doesn't prevent the company from expanding its footprint abroad. After initially announcing in 2019 that a factory would be coming to France, the Chinese electronics and telecommunications giant in mid-December announced it has chosen Brumath Business Park in the Grand-Est region (in the Bas-Rhin department) to build a new European production facility to "manufacture technological solutions for mobile networks for Huawei customers in Europe." Located close to the French-German border, the site "further enriches Huawei's presence in Europe, where the company already has 23 R&D centers, partnerships with over 100 universities, and a highly performant supply chain including 3,100 companies," Huawei stated. "We are very happy with this cooperation with the Haguenau Urban Community and the Grand-Est Region, which strengthens our commitment to France," said Abraham Liu, Huawei's chief representative to the EU Institutions.
OHIO
This print-on-demand (POD) apparel and fulfillment services company based in Northeast Ohio is in growth mode since Stakes, founded in 2012, acquired the POD division of Jakprints in summer 2019. This newest expansion was one of 16 projects approved for incentives at the December meeting of the Ohio Tax Credit Authority. Collectively, the projects are projected to create 4,138 new jobs and retain 1,051 jobs, with $240 million in new payroll and $864 million in investments.
SITE SELECTION RECOMMENDS
Site Selection in July 2005 documented U.S. Steel's efforts to reposition its Keystone Industrial Port Complex site.
Fifteen years after Site Selection reported on U.S. Steel's efforts to reposition its Keystone Industrial Port Complex (KIPC), the company on December 23 closed on the sale of the asset in Fairless Hills, Pennsylvania, for $160 million. "The proceeds from this transaction further enhance our strong cash position, supporting our decision to fund the purchase of the remaining Big River Steel equity with cash on hand," U. S. Steel President and CEO David B. Burritt said of the company's ongoing investment in the Big River Steel complex in Arkansas.
NP Falls Township Industrial, LLC, an affiliate of NorthPoint Development, LLC, acquired the KIPC, including approximately 1.4 million square feet of industrial space and approximately 1,800 acres of land, an inland deep-water port and other logistics infrastructure, including rail and heavy power. U. S. Steel will continue to operate its hot dipped galvanizing line at the site. Kansas City–based NorthPoint, meanwhile, plans to develop what it calls the "largest e-commerce, logistics, and multimodal industrial project on the East Coast." Named Keystone Trade Center, the project could add 15 million sq. ft. of warehouse space (up to 20 spec buildings) with a total investment of $1.5 billion. "NorthPoint expects 5,000-10,000 jobs to be created at Keystone Trade Center," the firm said in a December 2020 overview of its plans.
Mike Mills and his daughter Amy

Photo courtesy of 17th Street Barbecue
Global barbecue legend Mike Mills, founder of 17th Street Barbecue in Murphysboro, Illinois, passed away December 29 at the age of 79. "His impact on the worldwide culture of barbecue and on the Southern Illinois region he was proud to call home will be long lasting," his daughter Amy wrote in delivering the news on Facebook." As Site Selection Managing Editor Adam Bruns learned over a delicious lunch with Mike and Amy five years ago, Mills was a walking, talking billboard for all that's good about his region. The only barbecuer with top-security clearance to board Air Force One (an urgent delivery for President Bill Clinton), Mills and his team won barbecue championship trophies worldwide and founded an internationally renowned barbecue school in Murphysboro — one of several institutions creating dozens of jobs in the community. He and daughter Amy also authored "Peace, Love and Barbecue," a 2006 James Beard Foundation award nominee. Among his favorite maxims: "Life is too short for a half rack."