FROM SITE SELECTION MAGAZINE, MARCH 2021 ISSUE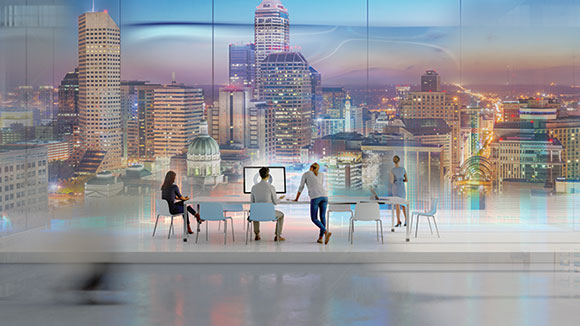 INDIANA
A new strategic alignment aimed at talent development is just one way Indiana is building on four consecutive record-breaking years for economic development. Also: March Madness may be over, but there is plenty afoot in downtown Indy at GE's new smart manufacturing hub and Elanco Animal Health's new global HQ.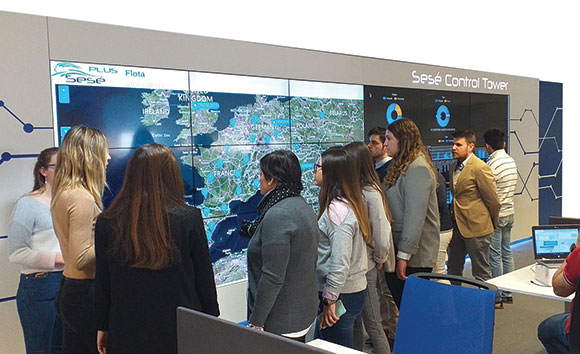 NEWS DIGEST
Quick reads inform us about Amazon's tech boost in Boston; a Spanish axle supplier in Chattanooga; Canada's new work permit program for international students; state property tax rankings; and the PGA Tour's new headquarters in Florida.
CONWAY ANALYTICS SNAPSHOT
Turbines operate in heavy seas in this DOE archival photo of the first official U.S. offshore wind farm at Block Island off the coast of Rhode Island, whose former governor Gina Raimondo, now U.S. Commerce Secretary, is leading the charge for offshore wind.

Photo courtesy of DOE
As the Biden administration unveils its plan to power 10 million homes with wind power generated off the East Coast, we wondered what the data tell us about the current direction of the wind. The U.S. Wind Turbine Database operated by the U.S. Geological Survey, Berkeley National Laboratory and American Clean Power reported 67,814 turbines in action as of January 2021, with a total rated capacity of 111,351 MW. Guess where you can find 16,292 of them? Texas, whose turbine tally comes to 24% of the entire nation's total.
"The U.S. offshore wind pipeline grew from 25,824 MW in 2018 to 28,521 MW by the end of 2019," reports the U.S. DOE Office of Energy Efficiency & Renewable Energy (EERE). "In March 2020, the amount of offshore wind capacity under federal and state permitting with a signed offtake agreement was 6,439 MW — more than triple the capacity reported the previous year."
The American Clean Power Association's Q4 2020 market report provides even more promising findings. Among them:
The U.S. wind industry installed 10,593 MW of new wind power capacity in the fourth quarter of 2020, the highest quarter on record and actually higher than any other total year except 2012.
Developers commissioned 16,913 MW in 2020, an 85% increase over 2019.
Project owners commissioned 54 new projects across 20 states in the fourth quarter. Texas led with 2,197 MW installed, followed by Wyoming (895 MW), Oklahoma (866), Iowa (861 MW), and Missouri (786 MW).
There are currently 10 states with over 1,000 MW in the near-term pipeline. Federal waters host 26% of the total development pipeline, followed by Texas (13%), Wyoming (10%), Oklahoma (7%), and Kansas (5%).
The U.S. Commerce Department, Department of the Interior and Department of Energy are announcing a shared goal to deploy 30 gigawatts (GW) of offshore wind in the United States by 2030, while protecting biodiversity and promoting ocean co-use. "Meeting this target will trigger more than $12 billion per year in capital investment in projects on both U.S. coasts," the agencies project, "create tens of thousands of good-paying, union jobs, with more than 44,000 workers employed in offshore wind by 2030 and nearly 33,000 additional jobs in communities supported by offshore wind activity."
— Adam Bruns
International Ranking of Cumulative Wind Power Capacity in 2019
Graph courtesy of U.S. DOE Office of Energy Efficiency & Renewable Energy (EERE)
DOMINICAN REPUBLIC
Jabil Inc. in February announced the expansion of its healthcare manufacturing operations outside the Dominican Republic capital city of Santo Domingo. The new facility is in Bajos de Haina's PIISA Industrial Park, part of the area's fast-growing free trade zone. Current employment of 140 is expected to grow to more than 500 in the coming quarter. Jabil's DR operations support Jabil Healthcare, a division providing expertise in manufacturing and supply chain solutions, engineering and design capabilities to develop product solutions across a broad range of medical devices. Jabil employs more than 260,000 across 100 locations in 30 countries.
MEXICO
Walmart de Mexico, known to many as Walmex, located this distribution center in Mexicali to support robust business in the region and in Mexico overall, where the company operates 2,580 stores and employs more than 200,000 people. The Baja California facility is the company's 19th distribution center in Mexico. Last year saw the retail giant also open distribution centers in Tepotzotlán in Yucatan, Mexico City, Merida and Ciudad Chihuahua.
SITE SELECTION RECOMMENDS
The U.S. leads the way again when it comes to FDI in France.

Infographic courtesy of Business France
Business France's 2020 "Foreign Investments in France Annual Report," released earlier this week, says 1,215 investment projects were set up last year, creating or maintaining 34,567 jobs. It was a 17% drop in projects from 2019, while Europe overall dropped by 19%, reports the organization. >"Among these projects, 52% were new setups, 504 projects extended existing structures and 74 projects were acquisitions, a testimony to foreign investors' trust in the country's capacity to perform even in the toughest conditions," says Business France. Of particular note: Health care saw a 40% rise in projects, and renewable energy grew by 13%.
The United States was the No. 1 investor, with 204 projects (17% of the total). In 2020, France attracted 18% of all U.S. FDI projects in Europe, behind the United Kingdom (21%), but ahead of Germany (13%), says Business France. "From start-ups to international groups, there are over 4,400 American companies operating in France, employing 400,000 people."
NEW JERSEY: STATE OF INNOVATION

TECHNOLOGY
New Jersey is riding its flair for innovation into the digital age. Just take a look at Audible's "Innovation Cathedral" in Newark for proof.

QUALITY OF LIFE
Six great reasons to live and grow in New Jersey.
East Metropolitan Center
Rankin First Economic Development Authority has listed the East Metropolitan Center industrial site in Rankin County, Mississippi. This 883-acre site is located at Mississippi 18 and Marquette Road in Brandon, near Interstate 20.
The site is in an industrial park and is within a Foreign Trade Zone. The primary airport is Jackson-Medgar Wiley Evers International, which is less than four miles away, and I-20, the east-west interstate, is one mile from the site; while the north-south Interstate 55 is eight miles away.

Adjacent to the site is Kansas City Southern Railway, and the Port of Vicksburg is 50 miles west on I-20. The capital city of Jackson has a population of more than 526,000 and a labor force of 258,000. Other large employers in the area include Nissan, Eaton Aerospace, Colorbox (Georgia Pacific), Johnson Controls, Nucor Steel, Siemens and Vertex Aerospace. For more information, go to rankinfirst.com.

Photographer Rafael Kaup's photograph of sunrise at the Bonneville Dam near Portland, Oregon, captured first place in the overall hydropower category two years ago this month in the "Make a Splash" photo contest sponsored by the U.S. Department of Energy's Water Power Technologies Office. Congress created the Bonneville Power Administration (BPA) in 1937 to deliver and sell the power from Bonneville Dam, which had been constructed pursuant to a 1932 campaign promise by Franklin Roosevelt that "the next great federal hydroelectric project would be built on the Columbia River to prevent extortion against the public by the giant electric utility holding companies then dominant in the region," according to the BPA.