FROM SITE SELECTION MAGAZINE, JULY 2021 ISSUE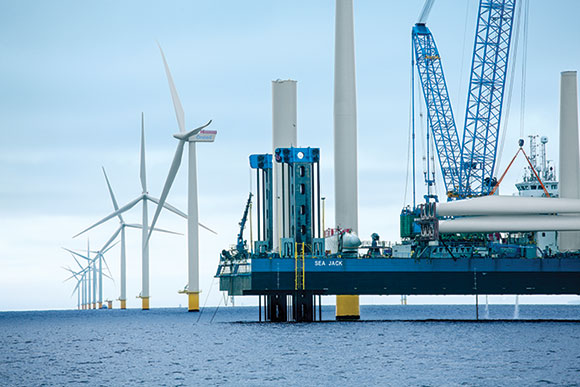 NEW JERSEY
The Garden State is off to a good start on its way toward a goal of 7,500 megawatts of offshore wind power generation by 2035.
CONWAY ANALYTICS SNAPSHOT
Top 10 States with Job Growth in Natural Gas Electric Power Generation, 2016-2019
Last year, the National Association of State Energy Officials (NASEO) and the Energy Futures Initiative (EFI) together with BW Research Partnership (BWRP) produced the 2020 U.S. Energy and Employment Report. It's based on a survey that covers direct employment in 53 different energy, energy efficiency and motor vehicle technologies across 186 NAICS codes located in seven broad industrial classifications. A supplement on energy-sector wages was published earlier this year.
At the end of 2019, the five major energy technology sectors — Electric Power Generation; Fuels; Transmission, Distribution, and Storage; Energy Efficiency; and Motor Vehicles — employed more than 8.27 million workers, accounting for 5.4% of all U.S. jobs, said the report. Between 2015 and 2019, these sectors created about 915,000 new jobs (almost 11% of employment growth in the nation) at a median hourly wage of $25.60.
The Conway Data Projects Database doesn't count utility projects such as power plants, but does count facility investments by utility companies that involve end uses such as manufacturing, office, R&D, etc. Since January 2016, we've logged 130 such projects, including Tokamak Energy's new HQ in Oxford, England;  a recently announced R&D center and HQ from Hanley Energy in Ashburn, Virginia; and Blink Charging Co.'s HQ in Miami Beach, Florida. By foreign country, the most projects have occurred in Canada, followed by the United Kingdom and Germany. By U.S. state, Texas is the far-and-away leader with 32 projects, followed by Ohio with nine. Among the biggest recent job generators is Hamilton, Ontario–based Alectra Utilities' new 400-job sustainable operations center in Brampton, Ontario. Watch for Site Selection's Top Utilities in Economic Development and Canada's Best Locations lists in the publication's September issue. — Adam Bruns
MISSISSIPPI DEVELOPMENT GUIDE 2021

FOOD PRODUCTION
Mars Food North America is transforming. Mississippi is the place the company has chosen to transform in the process.
SITE SELECTION RECOMMENDS
If you didn't hear it here last week, you've heard it from somewhere by now: The U.S. Economic Development Administration is ready to administer $3 billion in funding from the American Rescue Plan signed into law in March. An overall webinar was held earlier this week, and five more are rolling out over the next week, including one devoted to coal communities today at 2 p.m. EST.
SPAIN
Vodafone Spain announced in May it will create at least 600 jobs at an R&D&I (for Innovation) center in Málaga in the country's Andalucia region, with a focus on 5G and Internet of Things. According to Invest in Spain, seven cities from five countries vied for the project, as the company "took into account a number of criteria including lifestyle, the availability of talent with the required technical knowledge, working conditions, transport, public subsidies and discounts, connections with universities and the appeal of each place for people with talent." "This Vodafone Business European Center is a great opportunity for the city of Málaga, not just because of the jobs for highly qualified personnel that it will create, but also because it will foster activity within the city and the digital ecosystem that has been developed in recent years," said Colman Deegan, CEO of Vodafone Spain.
MINNESOTA
As reported in North Wright County Today earlier this year, the Albertville City Council approved zoning and development applications for this new plant at the new 33-acre Albertville Business Park for the manufacture of multifamily housing component units. The industrial park site was once destined to be a "mall of entertainment." The company has requested tax increment financing and Minnesota Department of Economic Development Job Creation Grants for the project. Albertville is a Twin Cities suburb located northwest of the core metro area along I-94 in Wright County, one of 13 counties in the Minneapolis-St. Paul metro area.
Photo © Giorgio Bianchi - Comune di Bologna, courtesy of UNESCO
New data from the United Nations Educational, Scientific and Cultural Organization (UNESCO) informs us that Italy is home to the largest number of UNESCO World Heritage sites in the world, with 58. China is next with 56, followed by Germany with 51. Among the newest additions to Italy's list are the porticoes, or sheltered walkways, of Bologna, which cover some 62 km. (mile) throughout the city, with some dating back to the 12th century.