From Site Selection magazine, March 2000
---
M A N A G E M E N T S T R A T E G Y
Industry Alliance Hammers Out
A New Portfolio Management Model
b y M A R K A R E N D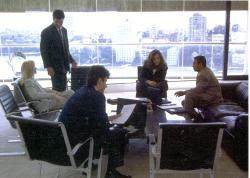 A team of corporate real estate executives, leading academics and service providers met regularly through late 1998 and much of 1999 to craft a new portfolio management model that recognizes corporate real estate as a strategic organizational asset.
What exactly is portfolio management in the corporate real estate context? Unless the concept is given some substance, or definition, those charged with managing real estate assets might well wonder how effective they really are. Dispersing some of that ambiguity was the challenge before a group of corporate real estate executives, service provider representatives, academics and consultants known as the Corporate Real Estate Portfolio Alliance.
The alliance was organized by The McMahan Group, a San Francisco-based strategic consulting firm specializing in corporate real estate. Tom Bomba, senior principal, served as alliance director. "We had to define what portfolio management was, because we found that everyone had their own definition," says Bomba, "ranging from portfolio management in the investment or financial sense to facilities management of the entire portfolio, and everyone differed on what the definition might be."
Who the Players Are
Corporations participating in the alliance, which got under way in September 1998 and concluded in mid-1999, were BellSouth Telecommunications, Boeing Realty Corp., Fidelity Investments, Florida Power & Light, Microsoft Corp., Pacific Gas & Electric Co., State Farm Insurance Co., Sun Microsystems, the U.S. General Services Administration, U.S. West and Washington Mutual. "We wanted to go across different industries so we could get a breadth of viewpoints and enable some cross-learning," says Bomba. "And we tried to get a couple of companies from each industry so there would be some basis for comparison."
Several service providers and academic institutions also participated in the alliance. Experts from the Zell/Lurie Real Estate Center at Wharton Business School, Harvard Graduate School of Design, the Univ. of California Berkeley Fisher Center for Real Estate, CB Richard Ellis, Johnson Controls, TriNet Corporate Realty Trust, International Centre for Facilities and The McMahan Group focused their energies on specific aspects of portfolio management as well as contributing to the overall success of the project. The corporate and service provider members funded the alliance project.
In short, the alliance developed a two-tiered portfolio management model to put flesh on the bones of an important concept to forward-thinking organizations. On one level, the model defines corporate real estate portfolio management as the function serving as the direct interface between organizational strategy and the operations of the corporate real estate department. The second level of the model is concerned with the relationships between five key components: demand forecasting, functional analysis, financial analysis, performance measurement and information technology.
"The portfolio management definition we came up with is that it is not asset management, which is management of single properties or clusters of assets," says Bomba. "And it's not strategy, which is a whole issue unto itself. It sits in between the two," allowing the organization to realize more benefit -- or value -- from the real estate assets than is possible by simply rolling up the individual assets and viewing the portfolio in one context or another.
Continue to next page