From Site Selection magazine, May 2000
---
T O P G R O U P S
Consummate Customer Service:
Site Selection's 1999 Top 10 Development Groups
b y T I M V E N A B L E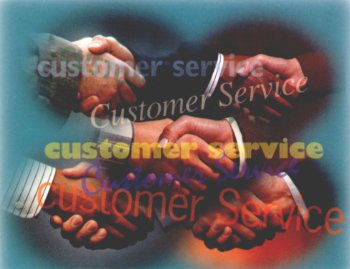 The customer is king in today's hotly competitive environment, and expansion-minded corporate clients across the country received royal treatment from Site Selection's 1999 top development groups. Those organizations parlayed customer commitment into impressive bottom-line results, attracting an average of US$461 million in capital investments and 3,002 new jobs last year.
Taking care of the customer determines winners and losers in the corporate world every day. It's the same with economic development organizations. The most successful groups -- the crème de la crème -- have learned to do more than just make a quick sale, then move on. They've become true partners with their corporate clients.
Consider this observation by Joseph W. Sprouls, division head of corporate realty services for Citigroup, which has built a solid presence in the Tampa, Fla., area in recent years.
"Citigroup views the Tampa Committee of 100 as a strategic, long-term partner -- one that doesn't stop providing a high level of service once the sale is complete, but rather redoubles its efforts to maintain the highest level of client satisfaction. We look forward to many, many years of continued satisfaction through our partnership with the Tampa Committee of 100."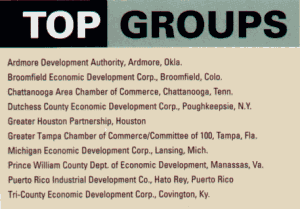 Adds John D. Zutter Jr., managing director of Chase Manhattan Bank, which, like Citigroup, has continued to tap Tampa for major facilities: "Robin Ronne (the Tampa Committee of 100's director of economic development) was key in helping to develop groundbreaking approaches to impact fees, tax credits and other crucial matters. Robin and his team . . . were consistently ready to suggest creative solutions, which added value to (our) projects. And even after the announcements have been made, the Committee of 100 continues to assist with myriad implementation challenges."
Now that's customer service. And it helped propel the Tampa Chamber of Commerce's Committee of 100 into this year's Site Selection top 10 economic development organizations. Like the other winners, Ronne and his staff offer corporate clients the kind of teamwork, problem-solving and long-term perspective that's a hallmark of today's most successful development groups. Indeed, this year's group of top-performing development organizations, located from New York to Oklahoma and Colorado to Puerto Rico, attracted an average of $461 million in corporate capital investments and 3,002 new jobs in 1999.
To evaluate the numerous nominations received this year for the top development groups honor, Site Selection considered new corporate capital investment and new jobs, plus per-capita capital investment and per-capita jobs. The per-capita measures were used to provide a balanced perspective on the accomplishments of development organizations serving smaller service areas, such as a single city or county.
But we considered more than sheer numbers in our evaluation process. We also reviewed nominations for outstanding customer service, both before and after the sale, and for leadership, innovation and new value-adding programs and services. Here, then, are this year's 10 high-achieving organizations: Site Selection's 1999 top development groups.

Ardmore Development Authority
Ardmore, Okla.
$78 million, 700 jobs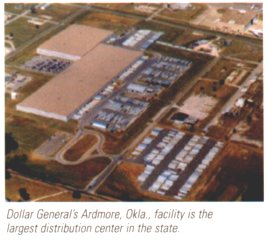 For the Ardmore Development Authority (ADA), customer service isn't just something that's emphasized in trying to attract a new company. It's a linchpin of the organization's philosophy in working with existing firms after the sale is made.
That approach made 1999 a very successful year for business expansion in Ardmore. In fact, the ADA helped lure some $78 million in corporate capital investments and 700 new jobs to the city of Ardmore, Okla., its service area of 60,000.
"Many companies ask early on what we're going to do for them in terms of incentives," says ADA President Wes Stucky. "Our first response is that we will do more for you after you come here than we will do to get you here. I think that's clearly evident in some of the things you see in our local industry, and those companies will attest to that." The ADA, though, also takes care of every detail for new companies coming to Ardmore, right down to building new facilities.
"We have 35 buildings, and we currently have 2 million sq. ft. (185,800 sq. m.) under lease," Stucky explains. "Those are buildings that we own and manage. After visiting with a client for 30 minutes to an hour, and getting the parameters of the project, I can provide a guaranteed lease rate on a new building. We have served as developer and general contractor on all the buildings we own, and we have constructed buildings from as small as 10,000 sq. ft. (929 sq. m.) to as large as 500,000 sq. ft. (46,451 sq. m.). You don't have to go anywhere else. Just stop right here."
Several new firms pulled into Ardmore last year, including East Jordan Iron Works. The company is building a $35 million foundry that will recycle tons of junk ferrous metal into such products as manhole frames and covers. New high-tech activity includes Southwest Silicon, a wafer reclamation firm that employs 75 in its 20,000-sq.-ft. (1,858-sq.-m.) facility.
But Stucky says expansions of three local Michelin facilities are probably his organization's biggest 1999 successes. "Michelin has 30-something plants around North America, and it was a very competitive process to secure these expansions," he reports.
Looking ahead, one of the ADA's top priorities is boosting Ardmore's work-force training offerings. "I think the big emphasis is going to be developing apprenticeship training programs for local industry," Stucky says. "We have some pretty good training programs in place now, but we really need to get into the pure apprenticeship programs. Those will be developed and implemented in 2000."

Broomfield Economic Development Corp.
Broomfield, Colo.
$457 million investment, 2,847 jobs
You think you're busy. Consider the rushed economic development executive who's fielded 12 new corporate inquiries since yesterday at noon, and 60 in just the past two weeks.
But mind you, Don Dunshee isn't complaining about the level of interest in his community. The president and CEO of the Broomfield (Colo.) Economic Development Corp. (BEDC) is highly enthusiastic about his city's success in attracting corporate facilities.
"1999 produced all-time highs in both new jobs (2,847) and capital investment ($457 million)," he says. Broomfield (pop. 40,000), just north of Denver, is rapidly becoming one of the country's high-tech meccas.
Level 3 Communications and Sun Microsystems, two of Broomfield's high-tech titans, continue to expand. "Level 3 took out permits for another 428,884 sq. ft. (39,845 sq. m.) of space last year," Dunshee says. "They are up to about 885,000 sq. ft. (82,200 sq. m.), either done or under construction." Another big '99 project is Sun Microsystems' $35 million, 203,000-sq.-ft. (18,859-sq.-m.) facility, part of the computing giant's second phase of construction at its sprawling complex in the Interlocken business park.
Those major projects are now generating spinoff activity. "High-tech and software companies are relocating to Broomfield to be near Level 3 and Sun," Dunshee reports. Global Commerce Systems, a developer of e-commerce software, recently moved into a 115,000-sq.-ft. (10,684-sq.-m.) office in the Mountain View Corporate Center. In another major development, computer giant Gateway Corp. has invested $25 million in eSoft, a Broomfield-based software firm.
A keen appreciation of the time constraints companies operate under is a key component in the BEDC's focus on customer service.
"In this business, time is money," Dunshee explains. "The longer a community waits to provide information to a prospective company, the more it costs that company, and the less interest it will have in doing the project. As a result, companies will get a prompt response from us. They don't have to sit and wait. The attitude of the city staff and elected officials here is always very positive. It's 'What do we have to do to make this deal happen?' "

Chattanooga Area Chamber of Commerce
Chattanooga, Tenn.
$469 million, 3,157 jobs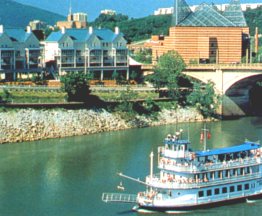 The Chattanooga Area Chamber of Commerce (CACC) had a superlative year in 1999. But it didn't really get rolling until March, when Walter C. Sprouse Jr. left North Carolina to take the reins of the organization's development effort.
"We are very excited about what we did in a short amount of time last year," says the CACC's vice president of economic development. "In fact, we didn't have a full staff in place until May. But once we got cranked up and started letting people know what we have here, things started happening."
And happen they did -- with a flourish. The organization's efforts last year helped attract some $469 million in corporate capital investments and 3,157 jobs to the city of Chattanooga and Hamilton County, its service area of 301,500.
Expansions loom large in the CACC's biggest '99 projects, including Signal Mountain Cement ($120 million), Seaboard Farms ($44 million), American Materials Technology ($20 million, 150 jobs) and Komatsu ($9 million, 45 jobs).
A more aggressive approach is one of the reasons behind the CACC's renewed success in luring facilities. "In the past, (this organization) was not proactive," Sprouse says. "When I arrived in March, I realized that we were very reactionary. A lot of people did not know who we were, and they did not know all the progress that's been made here."
That's another factor fueling Chattanooga's upward trend in business-location success. Progress has been made on numerous fronts. Now there's a determined effort to make sure site seekers know the real Chattanooga.
"A lot of people have a mental image of Chattanooga that's not quite accurate," Sprouse claims.
"First, they think we are a high union town. But we're not. Our union percentage is lower than every major metro area in the Southeast. Second, people tend to think we're just a bunch of steel mills. And we do have a lot of metalworking industry. But we actually have a very diversified economy, and we're known more for our baked goods than for metalworking."
Chattanooga has also cleaned up its environmental act, something that many people aren't aware of. "While it's true that air pollution was bad here in the late 1960s, U.S. News & World Report now says we're one of the cleanest cities in the country. And yet our environmental regulations are no stricter than anybody else's," the development veteran says.
Chattanooga's rebirth has been so complete that hardly a week goes by without a government official from another city paying a visit to see the progress firsthand. "People are very interested in seeing how we do things now, especially in connection with downtown and the riverfront, which we've reclaimed," Sprouse reports. "The city is now in the process of finishing up a 22-mile (35-km.) river park. We have a very dynamic and active city and a very vibrant riverfront community."

Dutchess County Economic Development Corp.
Poughkeepsie, N.Y.
$328 million investment, 2,811 jobs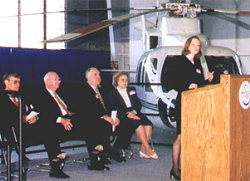 "Ours really is a multi-year story. Some of the drama comes from looking at how far we've come back."
So says Kathleen Sullivan Norat, president of the Dutchess County Economic Development Corp. (DCEDC). Norat knows a thing or two about economic comebacks. In 1999, the DCEDC helped lure $328 million in capital investments and 2,811 jobs to Dutchess County, N.Y., its service area of 262,000.
Compare that to the not-so-long-ago days of the early and mid-1990s, when draconian downsizing at IBM's large facilities had the county on the ropes.
"We've been literally to the precipice and back again," Norat says. "Between 1990 and 1994, we lost 20,000 jobs -- 20 percent of our jobs base. We had an unemployment rate of 11 percent. But since 1995, we've added back 10,000 jobs and, impressively, many of those are high-wage, high-tech manufacturing and high-end service jobs. We didn't settle for just any job. We really set our sights on replacing the job losses with high-wage, high-tech jobs."
But the best part of Dutchess County's recovery story is IBM, she explains. "It downsized in 1992 and 1993, contributing to the bulk of the county's job losses. But IBM is, and has been, a leading player in our recovery. This community never lost its confidence in IBM. There was always a strong belief in the product and technology and service strengths of IBM, and they've proven us right. IBM has added back 1,200 jobs."
1999 saw several other major corporations choose the county, including Sikorsky Aircraft, a subsidiary of United Technologies Corp. Sikorsky has launched a fractional helicopter facility at Dutchess County Airport.
"Sikorsky took over two hangars of 60,000 sq. ft. (5,574 sq. m.), and it's selling fractional shares in high-end helicopters to corporations," Norat says. "So the Dutchess County Airport has become a hub of activity to transport CEOs who are coming into the (New York) metro area to conduct business on to their final destinations. Not only does this make life easy for that CEO, it exposes executives to the assets and attributes of Dutchess County."
Another significant win for the county is CHEP's new 250,000-sq.-ft. (23,225-sq.-m.) pallet pooling facility. The company, which guarantees that its pallets will never be found in a landfill, controls more than 110 million pallets in 30 countries on six continents.
Work is moving along on the county's first major distribution center, where Gap's $160 million first-phase construction will cover 1.5 million sq. ft. (139,355 sq. m.) in three buildings. The project is on schedule, and it will begin operation on Oct. 1, 2000, with some 700 employees.
But last year Gap decided to accelerate its second-phase construction, which had been planned for 2001, to begin this year. "That will be another 870,000 sq. ft. (80,826 sq. m.), a $60 million investment, and it will bring the job count up to 1,500," Norat says. "By full build-out, the project will cover 2.5 million sq. ft. (232,258 sq. m.). To put that in perspective, that's a footprint of 58 acres (23 hectares)."
That's a big facility. But then again, Dutchess County has grown accustomed to doing big things.

Greater Houston Partnership
Houston
$3.1 billion investment, 6,652 jobs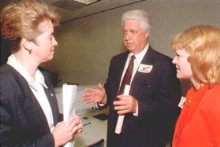 Superb teamwork is perhaps the key driver behind the Greater Houston Partnership's outstanding '99 economic development results. The GHP and its broad-based group of allies helped lure approximately $3.1 billion in capital investments and more than 6,600 jobs to the Houston metro area, the organization's service area of 4.4 million.
"We are really blessed in the Houston area to have a lot of varied allies," says Pamela House Lovett, the GHP's president of economic development. "Our board is made up of CEOs, the top local officials at their companies, and our board members are active in helping us. We also have a strong economic development team at the utility here, and we have really good collaboration with the city of Houston, Harris County, our educational institutions and the commercial real estate community. All of those players together give us a very broad view of the market and the resources on which to draw to assist companies."
Houston is actually a much more international, cosmopolitan area than many people think, with a significantly more diversified economy. Adding to the region's traditional economic strengths has been a top GHP priority for years, and '99's facilities take was a page straight out of the diversification playbook.
"We had everything from software to manufacturing to call centers, and those projects show the diversity and strength of the Houston economy," Lovett explains. "For instance, there was a major investment by BMC, a global software company. It had the opportunity to consider various places, and it chose to make a big investment in the Houston area." BMC's $250 million mainframe software facility will be built in two phases, totaling 2 million sq. ft. (185,800 sq. m.). It could create as many as 4,750 jobs (see top deals feature).
Another big win is a $100 million joint venture between Consumers Packaging and Anheuser-Busch Packaging Group to acquire and re-open the Houston glass manufacturing plant owned by Anchor Glass Container Corp. The 300-employee facility will supply bottles to Anheuser-Busch's Houston brewery under a long-term contract.
"We understand from company officials that this is the first glass bottling plant to open in the United States since the 1980s," Lovett reports. "It's very exciting to have the reuse of that property."
Big call center moves include Chase Com (600 jobs), MemberWorks (350 jobs), Nationwide Credit (350 jobs), ICM (225 jobs) and The Associates (200 jobs). Responding to the Houston area's robust call center growth, the GHP in 1999 organized the Houston Call Center Manager's Council -- a forum for call center operators to network and deal with common issues.
Work-force development has been a GHP priority in recent months, and that will continue. "We are working on an information technology (IT) certification initiative, and we have broad backing for it," Lovett says. "We expect to see our first certification graduate in December."

Greater Tampa Chamber Of Commerce, Committee of 100
Tampa, Fla.
$465 million investment, 7,118 jobs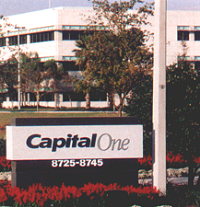 If there's anyplace where economic development customer service has been honed and polished to a brighter shine than in sunny Tampa and Hillsborough County, Fla., it would be hard to find.
Serving the client is job No. 1 for Robin Ronne and his staff at the Greater Tampa Chamber of Commerce Committee of 100 (GTCC), and it shows. The GTCC worked projects that brought more than $465 million in capital investments and some 7,118 jobs last year to its service area of 939,000. Several of the biggest investments came from firms that put down roots in the area several years ago, then continued to invest and expand as they discovered a true partner in the GTCC, Tampa Mayor Dick Greco and a solid team of other area elected officials and development allies.
"We believe in staying the course, and continuing to enhance and maintain the long-term relationships that we have with our clients, both existing clients and new ones coming on board," Ronne says. "The satisfied client is one that you can grow a relationship with. It's an overriding philosophy of never forgetting who the client is. They're the reason we're here to do business. We have been fortunate to have the support of our investors and our partners who all believe in the same philosophy."
The GTCC's recent success in convincing financial giant Chase Manhattan -- a company that's been in the Tampa area for 13 years -- to invest $148 million and add more than 2,100 jobs is grounded in that philosophy, mission and focus, Ronne says (see top deals feature).
Citigroup (formerly Citibank) is another company that has continued to expand in the Tampa area. "Citibank Center Tampa (a 700,000-sq.-ft./65,032-sq.-m. facility) is another recent project that we're proud of," Ronne says. "We believe in taking care of the companies who are already here. If they're not happy, you won't have the chance to compete for new business opportunities that arise. In the corporate world, people talk. Your reputation as a community rides the line every time they are speaking about how happy or unhappy they are in a given location. You must maintain the mentality that says the corporate client is the single most important reason we come into the office every day."
One of the Tampa area's largest new corporate citizens is General Motors, which chose NetPark @ Tampa Bay (the former Eastlake Square Mall) for a call center that eventually will employ 600. "This was a great alternative reuse," Ronne says.
Although the GTCC is highly focused on addressing the needs of existing firms, it still plans to do a lot of recruitment work in the months ahead. Financial services, health and biomedical and microelectronics are top priorities.

Michigan Economic Development Corp.
Lansing, Mich.
$11.2 billion investment, 23,163 jobs
Wow. Approximately $11 billion in new investment, and more than 23,000 new jobs -- scattered among an amazing 2,174 new and expanded corporate facilities.
Those are big numbers for any economic development organization, even for a state group like the Michigan Economic Development Corp. (MEDC). But they're the staggering totals MEDC posted last year, part of Michigan's 1999 'threepeat' in Site Selection's annual state tally of new and expanded facilities (see the March issue for more details, or visit www.siteselection.com).
Anyone who's followed Michigan's economic renaissance in recent years knows that Gov. John Engler's leadership, tax cuts, a friendlier regulatory environment and competitive financial incentives have all played a key role in bringing new business investment to the state. But MEDC President and CEO Doug Rothwell points to other factors as well.
"Historically, we've tried to take a really customer-oriented approach to our business, and by that not only have we offered one-stop shopping, but we've operated in a consulting style in which we assess companies' needs and customize our resources to their needs," he says. Teamwork is essential to success in most any endeavor, and it's certainly true of economic development. But the MEDC's teamwork strategy is probably unique, Rothwell says.
"We have formalized, by contract, the relationship that both the state and local governments have in economic development by giving local government a seat on our board that actually governs the agency. The reason we did that is that we think economic development really is a team sport, and it requires both state and local participation. We formalized that relationship in the establishment of our Michigan Economic Development Corp. To my knowledge, we are the only state-local partnership agency in the nation that's done it."
The biggest MEDC win last year is General Motors Corp.'s announcement of plans to build a $500 million factory in Lansing. "It's for the Cadillac Catera, currently built in Germany," Rothwell says. "It represents GM's first new auto plant in 16 years. The fact that they were bringing back a product that's now built in Europe is very important, and it also shows that Michigan can be a very competitive place for auto manufacturing, even today."
Another highly significant project is Webvan Group's decision to build a next-generation distribution and customer-care facility in metro Detroit. The privately held Internet company operates an online grocery and drug megastore. "The symbolism here is that Detroit was picked by one of the best-financed retailers on the market for the next wave of e-retailing," Rothwell explains. "This shows that not only are we attracting distribution centers, but in this case an e-retailer. You don't normally think of Michigan as a place to base those."
The MEDC, though, isn't satisfied with its past successes. It's looking to attract even larger numbers of companies, boosted by new initiatives in work-force availability and incentives.
"We're going to be putting a big push on people retention and recruitment," Rothwell explains. "We're going to be spending as much time on that as we are on business retention and attraction. We think it's critical to build the businesses we have, and the way to do that is to get people to move here and get people to stay. Secondly, we're going to be introducing legislation to level the playing field for manufacturing and technology companies. We want technology companies to be able to get tax abatements and other incentives that currently only manufacturers get."

Prince William County Dept. of Economic Development
Manassas, Va.
$603 million investment, 2,392 jobs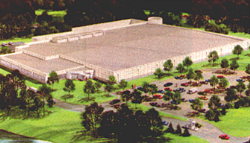 If your company's revenue this year rose to a level 15 percent higher than its combined revenue from the past five years, you'd be more than pleased. You'd be ecstatic.
Imagine, then, the wide smiles and happy celebrations last year in Northern Virginia, where the Prince William County Dept. of Economic Development (PWC) helped attract some 2,392 jobs -- nearly three times its jobs total in 1998 and 15 percent higher than during the past five years combined.
The 26 targeted firms creating those jobs (mostly of the high-tech ilk) also announced plans to invest a staggering $603 million in Prince William County (pop. 287,000). Accounting for the majority of that investment is America Online, which chose the county for a $520 million, 220,000-sq.-ft. (20,439-sq.-m.) data technology center. The facility is the biggest private-sector investment in the county's history, and the fourth-largest ever in Virginia.
"AOL looked at all 48 contiguous states," says PWC Executive Director Martin J. Briley. "The search was narrowed to 15 metro areas: Charlotte, N.C., Atlanta and here in Northern Virginia. We had tremendous support from Gov. Gilmore and Secretary Barry DuVal, as well as the Virginia Economic Development Partnership. In fact, we had about 100 people on our team at one time or another."
Another high-profile success story is Santa Clara, Calif.-based Covad Communications Group, a leading national provider of high-speed digital communication services. The firm is building a $35 million national technical center at the INNOVATION Technology Park, a facility that is expected to create about 1,000 jobs.
Joining Covad in that high-tech business park is New York-based Avenir, which is building a 23,000-sq.-ft. (2,137-sq.-m.) software development office. "We were very pleased to get a software company," Briley says.
Prince William County's ample available labor and cutting-edge telecom infrastructure have played key roles in landing those high-tech projects. But a key tax cut a few years ago also helped open the floodgates.
"We noticed our taxation on programmable computers was very high," Briley recalls. "We slashed it by 65 percent for both new and existing companies, and it's now the lowest in Northern Virginia, and competitive with anybody else in Virginia." He adds that county officials are now considering a property tax reduction as well.
Looking back on the PWC's superlative year, Briley sums up the keys to success this way. "Pay attention to the market, listen to companies' needs and then address them. And do it fast!"

Puerto Rico Industrial Development Co.
Hato Rey, Puerto Rico
$400 million investment, 7,972 jobs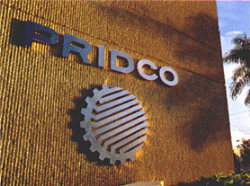 Sometimes corporate reorganizations achieve their objective. And sometimes they don't.
In the case of the Puerto Rico Industrial Development Co. (PRIDCO), though, its recent restructuring, which consolidated some divisions and created new ones to make the organization more competitive, was a decidedly good move. "We're leaner, meaner and more focused," reports Executive Director Xavier Romeu. And the proof is in the pudding: PRIDCO helped attract some $400 million and almost 8,000 jobs to Puerto Rico in 1999 -- the organization's best year in the past decade.
"We have revamped the internal permitting process for manufacturing and services," Romeu says. "Puerto Rico now has the fastest permit issuance process in all the United States. We take no more than 30 days to issue a permit, from the time of application to the time of grant. And even if there is a finding that there would be an environmental impact, we issue permits within 130 days. This makes Puerto Rico very competitive, because time is money."
Electronics and pharmaceuticals are particular strengths for Puerto Rico, and they're reflected in some of the island's biggest '99 facility investments. Major projects include Pharmacia & Upjohn Caribe ($162 million, 140 jobs), DuPont ($60 million), Sara Lee Corp. ($45 million, 2,000 jobs), Allergan ($10 million, 150 jobs) and Sensormatic Electronics Corp. ($66 million, 400 jobs).
In another big move, World-Wide Solutions is expanding its truck driving school facility, creating more than 2,500 jobs.
"People should look to Puerto Rico not only because of its tax treatment," says Romeu, "though we do offer a flat tax of between 2 percent and 7 percent. We simply believe we're more competitive than any jurisdiction in the world. Puerto Rico is the place to be!"
The PRIDCO chief says Puerto Rico offers a bicultural society, with close social and business ties to Latin America, while also having the benefits of being part of the United States, such as the stability of the U.S. dollar and access to the U.S. market. When a major port expansion and several other key projects come on line, Romeu says, "we will make Puerto Rico the bridge between these two areas that it has been capable of being."

Tri-County Economic Development Corp.
Covington, Ky.
$317 million investment, 2,246 jobs
Good things continue to happen in northern Kentucky, where the Tri-County Economic Development Corp. (TCEDC) had another banner year. The TCEDC, led by President Danny G. Fore, helped attract almost $317 million in new investment and 2,246 jobs to Boone, Campbell and Kenton counties -- its service area of 303,000.
"We do have an excellent thing going here," agrees Fore. "We've continued to have the same sort of investment occurring in the area, and it's the result of a lot of hard work in putting together a good foundation and our policy board allowing the staff to execute the program. One of our advantages is that we are highly focused. We have undertaken several market studies, and we try to focus on those types of companies that most reasonably fit in our community."
The Cincinnati/Northern Kentucky International Airport continues to be a key factor in the TCEDC's success (see airports feature for more details). "Besides transportation access, just the general quality of life here is a strength for us, and the reasonable operating costs," Fore explains. "We're not an inexpensive market, but we're a reasonably priced market. We have all the quality-of-life assets that come with being next to a big city like Cincinnati. Of course, we work very closely with the Partnership for Greater Cincinnati in promoting the entire area, and we reap a lot of benefits from that promotional effort."
The TCEDC's biggest '99 win was landing Lafarge Corp.'s $100 million, 500,000-sq.-ft. (46,452-sq.-m.) gypsum wallboard facility, expected to employ about 100 to 120. "That's very consistent with what we are seeking here," Fore says. "We want high capital investment and relatively low employment. Like every other major growth community in the country, we have limitations on our labor supply now."
Other recent corporate investors include GATX Logistics, Fidelity Investments, British foam manufacturer Zotefoams and Toyota Motor Manufacturing North America, which expanded its facilities. "Many people think Toyota is out of Georgetown, Ky., where the manufacturing plant is, but the company is actually headquartered here in northern Kentucky," Fore says.
The TCEDC formalized its existing industry program last year, and Fore says it's the organization's biggest recent improvement. "It's the service side of economic development," he says. "Everybody thinks about economic development from a sales aspect, but there's a very important service side that often gets overlooked."
Another valuable service for area firms is the TCEDC's work-force recruitment initiatives, which will receive even more attention and resources in the months ahead. "We'll actually have teams on college campuses and in areas where there have been plant closings, attempting to convince individuals that northern Kentucky would be a nice place to come and work and live," Fore explains.