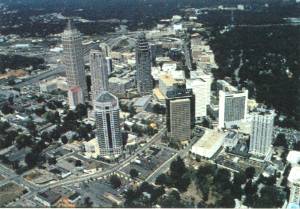 Turner Properties' Full Plate:
$1.2 Billion in
Atlanta Expansions


b y J A C K L Y N E

The workplace plate just got very, very full for Turner Properties, which manages the multifaceted real estate empire of Atlanta-based Turner Broadcasting System (TBS at www.turner.com). TBS has announced that it's spend US$1.2 billion over the next five years on Atlanta projects that will accommodate 3,800 new employees.

Those 3,800 new jobs represent a whopping 63 percent increase in headcount for TBS -- whose far-ranging domain includes a stable of news and entertainment networks, plus Atlanta's major-league baseball, basketball and hockey franchises.
---
ABOVE: Part of the Atlanta area where Turner Properties will bring $1.2 billion in new projects to life.
---
Turner Properties, however, will be building more than enough space to house the new employees. The new properties, says Turner Properties President Powell Fraser, should also be capable of handling future expansions. TBS's total headcount should hit some 10,000 by 2005, growing by 5 percent annually thereafter, he explains.


Office, Hotel Towers Planned

The $1.2 billion in expansions will further bulk up the already substantial TBS presence that Turner Properties handles in Georgia's capital city.

In downtown Atlanta, TBS currently occupies 750,000 sq. ft. (67,500 sq. m.) at CNN Center, plus 250,000 sq. ft. (22,500 sq. m.) at Centennial Tower. Another 350,000 sq. ft. (31,500 sq. m.) of space is already online in Midtown Atlanta's Techwood campus, where CNN and the TBS "Superstation" moved into a refurbished former civic club in 1980.

Turner Properties' bevy of new projects includes:
ZZ The $140 million, 25-story, 600,000-sq.-ft. (54,000-sq.-m.) Turner Tower, with construction slated to begin in late 2002 and ending in 2004. ZZ A new $100 million, 593-room hotel tower adjacent to CNN Center and to TBS's existing 15-story Omni Hotel, which will also undergo a $100 million renovation and expansion. ZZ Two Techwood campus facilities with a combined capital expenditure of $140 million and spanning 330,000 sq. ft. (29,700 sq. m.), which will house future business units for TBS subsidiary Turner Entertainment Group.
Even before those announcements, Turner Properties had begun construction on two other Techwood facilities with a combined capital expenditure of $160 million. Officials expect the two projects to be complete in 2001.

Promoting Cohesive Development
TBS's downtown projects will likely boost the development envisioned when the 21-acre (8.4-ha.) Centennial Olympic Park was created for the 1996 Atlanta Olympic Games.
Turner Properties, in fact, is taking a proactive tack in ensuring that its new projects are a productive part of downtown. The group is discussing its downtown expansion plans with other major players that have interests in neighboring properties, including Cousins Properties and the Georgia World Congress Center. The goal, says Fraser, is "an integrated, commonsense structure."
A long-time supporter of cohesive downtown growth, Turner Properties serves on the board of the Centennial Olympic Park Area, a nonprofit corporation created to facilitate development around the park.
Atlanta Mayor Bill Campbell, speaking at the new projects' unveiling, praised TBS founder Ted Turner for "his unwavering commitment to downtown."

Major Dot.Com Growth
The new Atlanta jobs will have a definite high-tech flavor, particularly vis-a-vis the Internet.
Currently, 600 of TBS's 6,000 Atlanta employees work on the company's Web sites. But 1,200 more Internet employees will be added over the next five years. That upsurge tracks with Time Warner executives' predictions that the company's online focus would increase with the $143 billion merger with America Online (which was awaiting final regulatory approval as of this writing). Another 2,400 of TBS's new jobs will be in high-tech network support positions, officials say. The rest of the new jobs will be in administrative and support functions.
TBS officials say that the mega-expansion will include turning CNN Center into "the company's technology hub," housing information-intensive operations like CNN.com.
And that's yet another piece that will have to fit onto Turner Properties' crowded workplace plate.