Wire Your World
b y M A R K A R E N D
Finding space in which to run telecommunications applications is an emerging science in corporate real estate, but one site seekers must master in order to keep their organization competitive.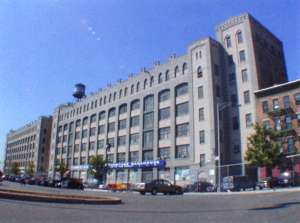 You think your building is wired for the electronic marketplace? Elevators in Class A office properties owned by Crescent Real Estate Equities (www.cei-crescent.com) are being wired to the Internet so that riders can view traffic reports, entertainment information, sports scores and other data. The short duration of most elevator rides would likely preclude chat-room visits, but the point is that Crescent takes seriously its mission to add value to its properties. Buildings in every commercial real estate sector are being wired, or rewired, so that occupiers can compete in the electronic marketplace without being hindered by telecommunications and other technical limitations.
Captivate Network (www.captivatenetwork.com), Westford, Mass., is supplying Crescent's Internet service. The company has relationships with several content providers, including The New York Times, Reuters, The Boston Herald, Accuweather and others. Besides Internet content, the flat-panel, high-resolution screens can be programmed to display such building-specific notices as fire and life safety announcements and information on building amenities.
---
ABOVE: The Brooklyn Information Technology Center (BITC), part of New York City's Bush Terminal Technology Campus, offers 60,000-sq. -ft. (5,600-sq. -m.) floor plates of pre-built, pre-wired spaces and state-of-the-art connectivity features.
---
"The Internet monitors complement the other cutting-edge features, such as dark fiber networks and high-capacity bandwidth, that increase efficiency for our customers," says Howard Lovett, vice president, new business opportunities for Crescent. "It is important to us that Crescent properties are among the most technologically advanced in the marketplace."
Office and other properties in every business center -- and aspiring business center -- are being recast as high-tech hubs capable of supporting telecom-dependent business strategies. Relic buildings of the Industrial Revolution are being overhauled to offer dot-coms seeking funky workspace more communications firepower than sleek office towers built in our own era. And those towers are seeing huge investments in new cabling, raised flooring, high-speed bandwidth and other features now considered "must-have."

Demand for Spec Space Grows
The electronic marketplace has even spawned a cottage industry of data center developers who build telecom-rich facilities on spec. Tenants can move their Web servers and transaction processing hardware into the data centers without having to rewire floors in their existing facilities. A case in point is DataCentersNow, a developer based in Rockville, Md. While actual requirements vary according to the user, notes Chris Epstein, the company's president, all data center clients are concerned about power -- meaning electrical density up to 20 times that of a typical commercial building -- and accessibility of fiber optic lines. Additional considerations include redundant power sources and security. Epstein says Web hosting companies represent a key sector of his market.
"We build cyberfortresses -- a term we are in the midst of trademarking -- which are buildings where we have pre-installed all the long-lead infrastructure," says Epstein. "Time to market is everything to [high-tech tenants]. But when they look for compatible facilities, they find a dearth of them, and it can take six to nine months to have properties fit with that infrastructure. We saw this happen time and time again, so we decided to define a new category of real estate, called mission-critical compatible real estate. We build from the ground up and pre-install the right equipment."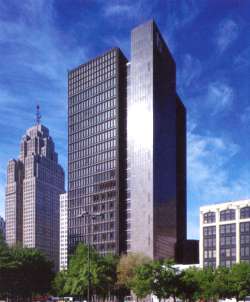 Epstein's main market is Internet data center users involved in such businesses as e-commerce, Web hosting, application service provision and other related tasks. His first building (54,000 sq. ft./5,000 sq. m.) was scheduled to open in September, ground has been broken on another (110,000 sq. ft./10,200 sq. m.), and two others are in the planning stage. All the buildings are to be located in the Internet-rich region of northern Virginia. Demand for such facilities is very brisk Epstein reports, as is demand for data center components, such as cooling units, generators and raised flooring. "There is a run on this equipment and the accoutrements that make it happen, which is making our product more valuable," he observes.
---
LEFT: Owners of 1001 Woodward St., in Detroit, Mich., plan to provide space for high-tech companies moving back to the city's central business district.
---

Everything Old Is New Again
Owners of properties in central business districts must compete aggressively with new construction being wired from scratch with the latest in telecommunications equipment. Detroit's 35-year-old 1001 Woodward St. building, for instance, is currently undergoing a nearly US$20 million renovation that is designed to help lure high-tech tenants downtown. A centerpiece of the renovation is complete fiber-optics wiring, says Fred Klugman, leasing agent and executive vice president of Proquest Commercial Property Management, which manages the property. Compuware, a leading Michigan-based high-tech company is moving back downtown, and Klugman expects other such companies to follow suit.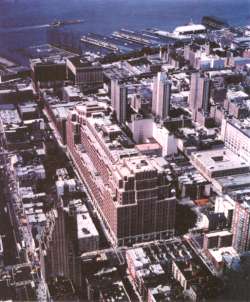 Hulking industrial buildings from yesteryear in and around major cities are gaining a new lease on life as homes for Web server farms and other Internet equipment operated by electronic service providers. Taconic Investment Partners, New York, operates one such building -- 111 Eighth Ave. in New York's trendy Chelsea neighborhood -- that served for decades as a freight terminal for the Port Authority of New York and New Jersey. The 2.6 million-sq.-ft. (241,500-sq.-m.) building has large floor plates, 14.5-ft. ceilings, massive power capacity (61,000 amps, a generator capable of delivering more than 30,000 amps and fuel farm for redundant power requirements) and a location on top of Manhattan's main fiber optic networks, most of which run along Eighth and Ninth avenues. The building takes up the block between these two avenues at 15th and 16th streets. Multiple forms of connectivity are available in the building, according to Charles Bendit, a Taconic Investment Partners principal.
"This building has grown to become a very important telecommunications facility with 56 different carriers there and over 1 million sq. ft. (93,000 sq. m.) leased to telecom tenants, and growing," says Bendit. "Tenants in the telecommunications industry that are coming to New York consider this building a priority. There are many ways for tenants to provide access to their clientele. If users want to connect to a tenant portal's Web site, they can get there many different ways, and the content can be delivered over many different networks. Cross-connecting with multiple carriers in an easy and cost-efficient way is important to tenants in this sector." Tenants in 111 Eighth Ave. include Level 3 Communications, Sprint Corp., SwissCom North America, MCI Worldcom and others providing Web hosting and co-location services. Taconic is converting similar buildings in Chicago and Atlanta and is involved in other projects catering to the telecommunications industry.
---
ABOVE: A former Port Authority freight terminal at 111 Eighth Ave., New York, is home to dozens of telecommunications carriers taking advantage of the building's proximity to major fiber optic cables.
---
Among the largest experiments to date in turning dated urban property into a high-tech telecom hub is the Bush Terminal Technology Campus (www.bushterminal.com), in Brooklyn, N.Y. The campus is so large -- 5 million sq. ft. (464,500 sq. m.) in 12 buildings -- that New York City has designated it a Technology District. One million sq. ft. (93,000 sq. m.) of available space is dedicated to Web hosting and server farms. Web hosting player WinStar Wireless recently leased 80,620 sq. ft. (7,500 sq. m.) at TelecomCenter I, where Nextel and World Link are also tenants. The Bush Terminal campus includes the Brooklyn Information Technology Center (BITC), which Kennedy refers to as "the people building," because some floors are dedicated to office space.
Driving the demand for such facilities is the proliferation of Web-based services. High-speed bandwidth at the desktop already is a reality at most business locations, and the trend now is migrating to residential real estate. This migration will drive a whole new generation of Web-centric applications developed by the very tenants of Taconic Investment Partners and the Bush Terminal Technology Campus.
"Connectivity is becoming a way of life," says Richard T. Kennedy, senior director at Cushman & Wakefield and the force behind the Bush Terminal Campus. "The early adapters of smart building technology are already in place. The next wave of [applications] will make smart-buildings, including smart houses, a reality." Broadband in the home will let people watch a movie on the PC while checking a stock ticker and sending e-mails to friends. "Will people give that up for $30 or $40 a month? No. There's a better chance people would eat out less during the month than give up their broadband capabilities."

Mistakes to Avoid
Any real estate executive considering space suitable for telecommunications operations would do well to learn from the mistakes of others. Installing a telecom-transmitting tower requires zoning approval, for instance, which is not a sure thing as some have found out.
And those looking for space in which to run telecommunications-intensive applications should pay close attention not only to the telecom wiring but to the structure itself, cautions Jeff Sorge, vice president of network operations at Divine Tower International Corp. (www.divinet.com), Columbus, Ohio. The company provides infrastructure provisioning for wireless and wireline telecommunications entities.
"A lot of people have made grave errors by building a metal building rather than a concrete one," says Sorge, referring to structures built for housing and running telecommunications systems. "Similarly, ceiling heights are a very important factor in telecom-facility planning. Different technologies in use today -- broadband, PCS and a gateway facility, for instance -- have different space requirements that must be accommodated. Ceiling heights, therefore, become a big factor," he relates.
"Diversity of power is the most important thing in any telecom facility," he adds. "That means the ability to draw power from independent grids and diversity in fiber entrance points. Getting fiber to the facility is one of the key elements in choosing a facility. You can often find the properly sized facility with the right infrastructure, but it's cost prohibitive to get fiber to it." In June, DTIC signed an agreement to build and implement broadband systems for Skyway Partners, Hauppauge, N.Y. (www.skywaypartners.com), a full-service provider of communications systems to the multi-unit housing and commercial property industries.
Thorough planning with the experts will minimize the possibility of telecom project failure. But there is no time like the present to sort out the space and technology issues that will help your organization compete in the wired world now unfolding.