ACOMA, Wash. -- Labor Ready, the global temporary staffing firm that finds jobs for blue-collar workers where they live, may be a model for employers that need to fill work-force vacancies quickly.
With 770 offices in the United States, 35 in Canada and 20 in the United Kingdom, Labor Ready is the world's largest staffing firm for short-term hires in low-skilled jobs. Established in 1989 in an old house in Kent, Wash., Labor Ready opened its 12th year by moving into a 150,000-sq.-ft. (13,950-sq.-m.) corporate headquarters in downtown Tacoma in April.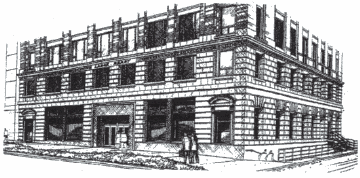 The 1910 building, former home office of timber giant Weyerhaeuser, provides space for Labor Ready's corporate staff of 265 to expand to 700. But it's the company's growth outside of Washington that provides Bruce Marley his biggest corporate real estate challenge.
Marley is not only Labor Ready's director of real estate. He is vice president and treasurer responsible for purchasing. That means he must execute leases for 825 field offices, and he must do it under tight constraints of time, money and people.
"I am responsible for all domestic offices, which typically have short-term lease agreements," says Marley. "Our field offices are 2,000-sq.-ft. (186-sq.-m.) spaces in a class B or C location. We place our offices where the workers are and where the work is. They are usually near public transportation, because a large percentage of the workers we recruit don't own a car."
The majority of Labor Ready leases have early-termination clauses that allow the firm to vacate within 60 to 90 days -- a must for a company that's constantly responding to changing labor needs in many markets. Marley says he finds these sites himself and has little trouble negotiating the escape clause.
Located close to urban industrial sites, Labor Ready field offices are positioned within a five-mile (eight-kilometer) radius of the SIC codes most often served by temporary, blue-collar help. "We provide the men and women who go in and do the clean-up work," Marley says. "We clean up warehouses. We clean up after ballgames. We clean up construction sites. This is blue-collar, unskilled work."
The company's motto is "Work today, pay today." The workers sign in at a Labor Ready office in the morning and are assigned jobs on a first-come, first-served basis. The workers can choose to be paid by check or voucher at the end of each day. The vouchers can be redeemed for cash at one of Labor Ready's cash machines. That benefit, along with free transportation to and from work sites, is one of the company's chief recruiting tools.
Some 800,000 people in all 50 states were hired by Labor Ready for short-term work last year. Most were low-skilled or semi-skilled laborers in need of short-term work or extra cash. "We have a large number of husband-and-wife teams who work for us," says Marley. "Some 20 percent of our workers look to Labor Ready to supplement their income. We hire construction workers who are between jobs, college students who need spending money, even postal workers who want extra cash."
The typical age range for Labor Ready temps is 18 to 50, with the average age being 30. The average hourly wage paid by Labor Ready is $6.80 to $6.90.
California has more Labor Ready branch offices than any other state, but the company is on the fast track to expand on the East Coast. "The West Coast is our biggest market, but we are working to expand on the East Coast and in the Southeast," Marley says. "We really like metro Atlanta. It's a good market for us."
Marley says his major challenges are keeping up with his company's rapid growth, monitoring changing labor laws in all 50 states and developing effective training programs for Labor Ready staffers and temps.
Meanwhile, he must coordinate his company's own relocation to its new corporate headquarters. First he had to engineer the $6.4 million purchase of a 90-year-old structure; then he had to shepherd the $5 million facelift.
"Our goals this year are to get focused on the people, the service and the training we offer," he says. "To give you an analogy, we are like a student in junior high school. We still have a lot of growing to do."