RIO RANCHO, N.M. --
itting on a hillside perch overlooking this town just north of Albuquerque, the 5,500-employee Intel Corp. campus casts an imposing shadow over the area economy.
That shadow is about to grow even larger, as Intel (
www.intel.com
) embarks on a US$2 billion, 1,000-worker expansion of its semiconductor manufacturing operation in New Mexico.
The 21-year marriage between Intel and New Mexico has, for the most part, brought prosperity to both partners. Because of that, Intel is wagering a huge bet that the next 20 years will bring more of the same.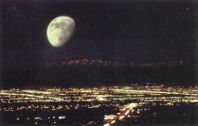 The Rio Rancho model is instructive for several reasons. As an example of high-stakes corporate real estate decision-making, the Fab 11 expansion offers a lesson in "by-the-book" site selection and construction. As an example of how a global giant responds to an economic downturn in the PC chip market, Intel's capital investment in New Mexico offers a lesson in how not to repeat the mistakes of history.
And as an example in how to manage public relations setbacks and political hurdles, Intel's experience in New Mexico shows that projecting the right company image is at least as important as being a good corporate citizen.
"Business success contains the seeds of its own destruction," Intel Chairman and co-founder Andy Grove once said. What follows is the story of how Grove's company made sure its success in New Mexico didn't spoil the future -- and why the decision-making process behind that success is a companywide model for growth.