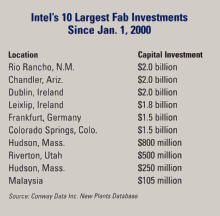 Site Selection:
Intel's Approach is 'By the Book'
At Intel, site selection isn't something the company undertakes only when it needs to expand. Rather, it's a year-round job.
"We have a dedicated team of site-selection people who are constantly evaluating sites worldwide for a variety of Intel projects," says Chuck Mulloy, corporate spokesman for Intel at the company headquarters in Santa Clara, Calif. "We tend to keep a very open mind toward the location of our facilities, but we maintain a very stringent set of procedures and processes."
The company has no choice but to conduct every aspect of site selection and construction "by the book," says Mulloy. After all, Intel is committing $4.2 billion to research and development and a record $7.5 billion toward capital expansion in 2001 at a time when market forces would seem to suggest retrenchment.
With first-quarter 2001 revenues down 25 percent from fourth-quarter 2000's $8.7 billion, Intel announced March 8 that it would eliminate 5,000 jobs worldwide over nine months, predominantly through attrition. "Economic slowdown affecting PC demand has continued and spread to the networking, communications and server sectors," the company announced.
But "retrenchment" isn't a word you'll find floating around Intel headquarters in Santa Clara. Instead, the company is pressing forward with plans to dramatically ramp up chip-manufacturing production at fab plants in Chandler, Ariz.; Colorado Springs, Colo.; Dublin, Ireland; Frankfurt, Germany; Riverton, Utah; Malaysia; and Israel.
In addition, the company is investing $130 million into an Internet data services center in Fairfax County, Va., and is establishing a new wireless communications group in San Diego. "We will begin running silicon in the Colorado Springs Fab 23 this quarter approximately 12 months after we took possession from Rockwell International," Mulloy notes. "In Chandler, Ariz., Fab 22 is due to begin running silicon sometime mid-year. Fab 24 in Ireland was originally scheduled as a 200-mm fab for the fourth quarter of 2001, but we made a decision to convert it to a 300-mm fab and delayed it by 12 months."
All of this expansion activity is taking place even as Intel continues to grow substantially by acquisition. On Jan. 15, Intel announced it would acquire Thousand Oaks, Calif.-based Xircom for $748 million. Xircom is a supplier of PC cards and other products used to connect mobile computing devices to corporate networks and the Internet.
"We made a decision that, even though the economy was slowing, we would continue to invest in new fab facilities," says Mulloy. "All of our fab plants are designed to serve all markets. We use a process called 'copy exactly.' Everybody runs the same tool set at every Intel plant in the world. The same products could be running in Oregon, Israel and Ireland -- some networking products, some flash memory, some chip products. They tend to be our newest, leading-edge products."
The "very stringent set of procedures and processes" applies not only to Intel's manufacturing methods, but also to the firm's site selection and construction. "Intel uses a corporate construction group that works with contractors who make wafer fab construction their specialty," says Intel's McDermott. "We operate a 24-hour construction site and employ a lot of people."
In Rio Rancho, Intel's construction group is coordinating the expansion with the help of Dallas-based Austin Commercial, the contractor, and the Albuquerque unit of Portland, Ore.-based Industrial Design Corp., the architect.
"Since it generally takes about two years to build a fab from the ground up, we try the best we can to forecast the demand," Mulloy says. "We have a certain set of parameters we strive for. We are guided by Moore's Law (named after Intel co-founder Gordon E. Moore). He first postulated in 1965 that the amount of transistors you can place on a wafer will double every 12 to 18 months. Actually, it has turned out to be every 24 months. It has sort of become a self-fulfilling prophecy for the industry. To stay competitive, you have to do this. You need to be able to upgrade your facilities or build new fabs."
When the decision is made to meet market demand by building a new fab, Intel must carefully scrutinize every potential site. McDermott says the company's primary considerations for locating a fab include:
Proximity to a major airport and highways.
Adequate utility service, especially for power and water. The New Mexico plant uses 4 million gallons of water per day.
A large, flat parcel with no major geo-technical issues (like being located on a fault line).
Access to a sizable labor pool with technical work-force ability. Typically, Intel locates fabs within metro areas of at least 500,000 people.
An operating environment at the local level that encourages "capital-intensive" investments. "For example," notes McDermott, "we ask questions like, 'How will the plant be assessed for taxes? Is there an industrial revenue bond or tax abatement we can take advantage of.' "
A permitting process that offers "rapid cycle times and requirements aligned with uniform codes and standards." McDermott adds that, for communities lacking fast-tracked permit approvals, "it could be a deal-breaker."
A community that offers employees a low cost of living, affordable housing and continuing-education opportunities.
A region that promotes an awareness of and investment in high-tech industry.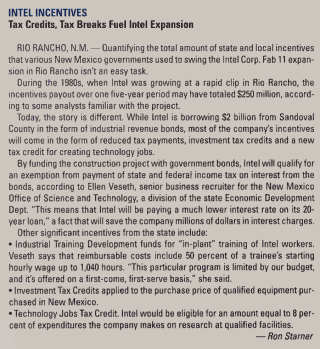 For international sites, McDermott says Intel also seeks "a stable economic and political system, a competitive cost structure and a competitive operating structure. The country's logistics infrastructure is especially important."
Two issues -- power and water -- recently became even more acute in the American West. Intel hasn't built a new plant in California since 1988, and it won't anytime soon, says Intel President and CEO Craig Barrett.
Earlier this year, Barrett left little doubt where Intel stood on the California energy crisis. "As long as California is a Third World country, we won't build $2 billion manufacturing plants here," he told the Bay Area Council economic gathering in Oakland. "The problem is, every other country in the world is realizing there's a market for high-tech. I think Silicon Valley has almost insurmountable problems."
That's one reason why states like New York, Virginia and Alabama are making a power play for semiconductor operators to move eastward. New York last year committed a $475 million incentive package to IBM to expand its chip plant in East Fishkill. Virginia pledged $28.5 million in incentives to Dominion Semiconductor in Manassas and more than $64 million in incentives to Infineon Technologies in Richmond. Alabama, which recently established its own semiconductor recruitment program, is known for offering large incentive deals to garner big job generators like Mercedes Benz and Honda.
"When Craig made that comment about California, it was true, and it's still true today," says Intel's Mulloy. "Power is critically important for a fab plant. Our fab in Santa Clara is the second smallest in the company, and that's probably the largest fab left in California for any company."
The typical chip-manufacturing plant uses 30 to 50 watts of electricity per square foot, compared with only 5 watts per square foot for the typical commercial office building. In the high-tech sector, only Web server farms, at 75 to 100 watts per square foot, consume more power.