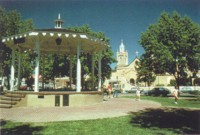 Grove: Don't Repeat Mistakes of History
If site selection is paramount to a successful fab operation, so is the ability to anticipate demand.
To this day, Grove says he regrets earlier decisions in the 1970s and 1980s against increasing production -- and this is from the business icon
Time
Magazine named its "Man of the Year" in 1997.
He recounts one episode of Intel's past in particular: the time when Japan ate Intel's lunch. In the mid-1980s, the Japanese memory producers delivered to the chip-making industry a "strategic inflection point so overwhelming that it forced us out of memory chips," Grove recounts in his 1996 book,
Only the Paranoid Survive
.
That still didn't prepare Intel for what was to come in 1999 and 2000, when the world's largest chip maker miscalculated the market's demand for microprocessors for four consecutive quarters. "I think the semiconductor industry as a whole under-invested in 1998 and 1999," Intel CEO Barrett admitted last May.
"Over the years, the market will either slow or accelerate," Mulloy says. "At the beginning of 2000, we didn't have enough capacity. By the end of the year, we had too much. At Intel, we have the ability to deal with the market slowdown in the midst of construction. In some cases, we may not bring as much of a new fab up as quickly as we had anticipated. Remember, only 30 percent of the cost of the fab is for bricks and mortar. Some 70 percent of the cost is for equipment and infrastructure."
That's why Intel executives make expansion decisions very carefully -- and sometimes have to scale back previously announced projects. In fact, between March 15 and 18 of this year, the company announced that it would scale back expansion plans at two fab locations: Hudson, Mass., and Leixlip, Ireland. Though not tied to Intel's 5,000 job cuts, the change of course at these two plants does signal some structural changes for the company.
The Ireland project, for example, is being affected by Intel's structural change in its communications products businesses. The company recently announced that it would combine its semiconductor and network systems groups into a single operation to serve Internet infrastructure customers. The new organization will be called the Networking and Communications Group and will be headed by Sean Maloney, former director of Intel's Sales and Marketing Group. Another mistake Intel executives would like to avoid is one they made in the late 1980s in Rio Rancho. After opening a facility with 25 workers in 1980, Intel experienced a growth boom in the next decade.
The master-planned Rio Rancho area was overwhelmed in the late 1980s. The area was transformed from a sleepy retirement community into a sprawling suburb with thousands of young families. By 1988, three elementary schools and one middle school in the area were terribly overcrowded. Making matters worse, most of Rio Rancho was then part of the Albuquerque Public School District, whose building plans weren't adequate to meet the demands of growth. The northern part of Rio Rancho, meanwhile, was served by the Jemez Valley school system headquartered some 40 miles (57 kilometers) away. The Jemez solution was to add portable classrooms to overcrowded areas.
The growth-related problems prompted some area residents to oppose Intel and its expansion plans. One such group, the Albuquerque-based Southwest Organizing Project (SWOP), funded the publishing of a book titled
Intel Inside New Mexico: The High Cost of High Tech
. The book is highly critical of Intel.
Intel didn't run from the criticism. Instead, the company contributed $30 million to build a high school for Rio Rancho, which opened in 1997. Intel continues to make millions of dollars in annual contributions to civic and educational groups in the Rio Rancho area. The company's employees also put in thousands of hours of volunteer work in the community. When it was time to expand last year, Intel invited local residents to attend briefing sessions in which guests would be served free pizza. Those "information sessions" gave residents a chance to voice their concerns.
Today, Rio Rancho remains the fastest growing city in New Mexico, but a patched-up relationship between Intel and the community is doing a better job of managing that growth.
In addition to the new schools, new restaurants and big-box retailers have sprouted up in Rio Rancho to meet the needs of the young workers who are finding jobs at Intel. Roads and highways are being improved to meet the increasing traffic, and the local colleges are enhancing their curriculum to produce more high-tech graduates.
In short, New Mexico is doing everything it can to keep Intel happy, even as Intel tries to make sure its own growth doesn't overwhelm New Mexico.
As the state's Garcia said, "We learned a lesson by losing Bill Gates."