hen a company finds success, they tend to run with it. Such is the case with Xerox's Canadian call center operations. The firm already has operations in Saint John, New Brunswick, and announced in September 2001 a new center to be located in Halifax, Nova Scotia. The site will initially employ 150 full-time workers and will likely expand to 600 positions. "Halifax's educated workforce, advanced telecommunications infrastructure and friendly investment climate make it a perfect location," says Cameron Hyde, president of Xerox Canada.

Xerox officials will also add 50 new employees at the Saint John, New Brunswick center, bringing total employment at this site to 900. The majority of employees at Xerox's New Brunswick site have completed post-secondary education, with more than 70 percent holding university degrees. Xerox officials are also impressed with the high retention rate at the center -- 70 percent -- and anticipate a similar retention rate in Halifax. In an industry where turnover is the largest expense, Canada seems an ideal solution to Xerox.
Turnover is a hot topic with call center consultants. "We don't believe turnover is inevitable," says Jeff Furst of Chicago-based FurstPerson (see Question & Insight interview with Jeff Furst). His firm specializes in onsite recruiting and retention for the call center industry. "There is a price to pay to avoid turnover and we believe you can pay it up front in the selection process or pay for it later, but you will pay." Furst contends that careful screening and selection processes help target the ideal effective employees for customer contact centers. He advocates locating centers in areas where there will be a constant available labor pool to draw upon.
Customer contact centers are locating in areas that have previously seen loss of jobs or are classified as depressed areas. Consultants note these small towns or areas readily welcome customer contact centers as new sources of economic prosperity for formerly economically challenged regions with incentives and loans. The Virginia Dept. of Business Assistance will provide workforce-training services to new employees at the new AFFINA facility to be located in Suffolk, Va. The $5 million call center will support the 1-800-Medicare program and will employ 450 workers.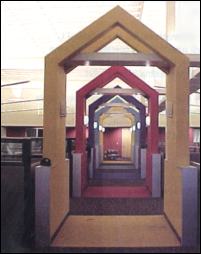 Pennsylvania-based ICT Group has opened an additional center in Arkansas. The center, located in Conway, will provide market research services. ICT already has an inbound center in Morrilton, Ark., which provides support for insurance and financial services industries. "Based on the success of our Morrilton operation, we are confident that we will see the same results in Conway," says John J. Brennan, chairman and CEO of ICT Group.
Many customer contact centers must be built rapidly and efficiently. Tapp Development of Oklahoma City, Okla., focuses in fulfilling that need. RMH Teleservices of Yuma, Ariz., an outbound insurance sales office, contracted Tapp to construct a building for their new facility. Tapp worked on coordinating the construction and interior architecture, and even the leasing of the facility. "The project was up and running in four and half months," says Carole Carter Tapp, director of call center division for the firm. "Timing was job number one, and we worked in tandem with the city to achieve our goal." Tapp has also retrofit a former supermarket for Budget car rental in Redding, Calif. The interior design of the facility will also allow the firm to expand easily.