n the January issue of
Site Selection
, I introduced the
Strategy Alignment Model
, which is a framework for directly aligning corporate real estate with the core business. As shown in Figure 1, the model is comprised of three components and seven guiding principles.
The focus of the first installment was on the Content component, within which real estate actions are described in the context of five key building blocks of business strategy: Mission & Vision; Customers & Markets; Products & Services; Distinctive Competencies; and Values & Culture.
Furthermore, the discussion included real estate strategies measured as organizational outcomes rather than as purely land and building indices.
The focus of this article is on the Strategy Alignment Process Component, which offers a straightforward methodological framework for the collection, analysis, synthesis and communication of information in virtually any planning situation. A third article will introduce the Benchmarking Component as a tool for incorporating real estate best practices that help companies achieve competitive advantage.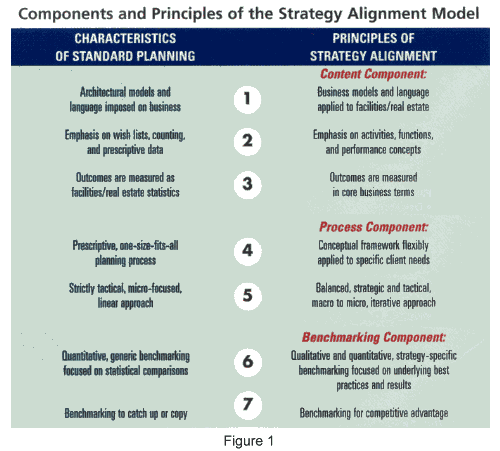 Principle 4 (see Principles 1-3 in the January article and here in Figure 1): Planning models should be structured as conceptual frameworks that can be flexibly applied to specific client needs, rather than focus on prescriptive, one-size-fits-all approaches.
In the January article, I discussed my ongoing work with SC Johnson (SCJ), one of the largest family-run companies in the world. As a large family, SCJ leaders are very concerned with creating an overall change-management process that maximizes buy-in and ownership in the process -- and ultimately in the solutions. As such, our team must create a process that goes far beyond typical planning, design and transaction activities. One of the first questions we ask on all SCJ assignments is who should be involved, when, where, how and why?

More often than not, we employ a top-down and bottom-up approach that involves virtually every stakeholder in a project. Such an approach does not take any more time than traditional top-down only methods, as involvement is structured as an ongoing series of events across the entire project. Figure 2 offers a summary of the methods used to collect, analyze, strategize and communicate information on numerous SCJ projects.
As a contrast, I recently completed an assignment with a Fortune 500 Company where a strictly top-down approach was employed. However, unlike most top-down processes that involve a generic survey of and/or standard individual interviews with a few senior executives, the collection and analysis was based on a series of workshops with all of the key stakeholders together in a conference room. In barely one month, the team used the Content Component (see the January article) to identify issues and the Benchmarking Component (see the May issue) to test and refine concepts, and eventually develop an integrated, core business real estate strategy.
The integrated strategy was graphically depicted on a single, poster-sized sheet of paper as a map of interconnected cause and effect relationships. The corporate real estate group then used the map as a framework to develop specific strategies and measures for every business unit and department in the company. In the end, internally consistent strategy maps were communicated to all employees via presentations, the company intranet and on posters displayed throughout most facilities.
The bottom-line for SCJ and the Fortune 500 client were broad change-management frameworks within which client-specific processes were created.
Principle 5: Planning processes should emphasize a balanced, strategic and tactical, macro to micro, approach over strictly tactical, micro-focused, linear schemes.
The vast majority of people involved in core business and real estate planning are familiar with the term "strategic planning". It's probably one of the most misused terms in practice today. By that I mean strategy and planning should be viewed as two distinct, yet interrelated, activities. Strategy is about the identification of key business drivers and real estate performance criteria, a roadmap, while planning is more about developing detailed directions for enacting strategic priorities. In other terms, strategy defines "what needs to happen" and planning describes "how it should happen".
Most of the so-called strategic real estate plans that our consulting team has reviewed are heavily weighted toward planning only. As an alternative, Figure 3 summarizes a flexible, three-step process into which content, activities, roles, schedule and other important issues can be incorporated. The diagram is drawn in a linear format for clarity, and especially to show the importance of a defined strategy as driving the creation of alternative real estate plans.

At the same time, the feedback loop reflects the fact that ideas are developed at all points in a project, including during later stages, which can impact -- and even change -- the defined strategy. Furthermore, it's often necessary to test planning concepts as a means to fully develop a strategy in the first place.
In fact, much of my work occurs during periods of incredibly rapid change within organizations. Whether the driver is an acquisition, organic growth or the need to simply obtain more space, many projects start with only general information about core business strategy. As a result, our consulting team will often generate a series of "what-if" planning scenarios that are designed to obtain reaction, and in so doing, help clarify the core business strategy.
Over the last eight years the Strategy Alignment Process Component has been used on more than 100 projects. Specific elements have been refined, yet the overall, three-step framework has remained a constant, flexibly applied to each client situation.
The final piece of this three-part article will focus on the Benchmarking Component, which challenges many of the commonly used best practices processes and content in real estate. It is based on a database of benchmarks across 40 issues, from 80 Fortune 500 and 50 other high performing companies.