Russian Investments: An Increasingly Safe Bet
Ford, Volkswagen, Pepsico, BASF. Toyota, Caterpillar, DaimlerChrysler, International Paper, LG Electronics. That's not a bad roster of very recent multinational corporate investors in Russia. How that roster grows from here depends on a lot of factors currently unfolding in and around the country.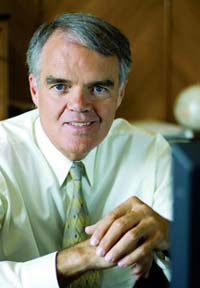 William O'Rourke


While companies like GE and Chevron see further investment just around the corner, BP's US$7-billion joint venture in the country is facing changing taxation and foreign-ownership guidelines. But even as Russia is pleaded with for a clearer rule of law and better intellectual property protection, the country is doing other things to reassure them, like the April 2005 decision to allow qualified automotive manufacturers to import car parts duty-free, provided they set up full-scale assembly plants in the country. New plant announcements from Toyota and DaimlerChrysler quickly followed.

One BRIC at a Time

As in China, materials production and availability lie at the root of overall Russian industrial success. In early June, Site Selection interviewed William O'Rourke, newly appointed president of Alcoa Russia, just after the company had announced its plan to invest more than US$80 million in the Belaya Kalitva and Samara fabricating facilities it had just purchased for $257 million from Russian company RusAl in January. Together with ancillary businesses and some previously operated small businesses, the plants now operate as Alcoa Russia.
The investments are just part of a 2005 global spending plan valued at approximately $2.5 billion, of which $1.6 billion is dedicated to growth projects. Around $37 million will be invested at Belaya Kalitva alone. That plant, which already had begun production to supply North American automakers with forged specialty wheels, will also see improvements to its heat-treated plate and sheet output.
O'Rourke says Alcoa's move to Russia is part of the company's global strategy and vision.
"The BRIC countries - Brazil, Russia, India and China - are becoming market forces in the world," he says, and Alcoa intends to capitalize on the opportunity for its customers and for its shareholders.
A report issued in February 2005 by the InterState Statistical Committee of the Commonwealth of Independent States made the following statement about the region's general economic situation: "The potentialities of the growth of industrial output were almost exhausted due to greater utilization of obsolete and worn out fixed assets, renovation of which is performed very slowly."
In Alcoa's case, it's happening very quickly. The company's move into Russia involves instilling the company's strong corporate culture - a kind of corporate glasnost. O'Rourke says it begins with safety.
"We are cleaning the plants," he says. "Housekeeping has been neglected for years. We have put the workers in protective equipment, and they are wearing it, by the way. We are identifying safety risks and eliminating them systematically. We are respecting the environment. I believe the employees have noticed this cultural change in our first 100 days of operation."
Protocol and relationships with communities and government officials are also part of the company's entr'e into Russia. Perhaps bespeaking the complexity of some guidelines, O'Rourke says, "We are diligently trying to follow the rules. Our approach is to tell the community and the authorities what we will do, then deliver on those commitments. We will be judged by our actions, not by our words."

A Glimpse Inside

While the Belaya Kalitva plant is getting the most attention, Alcoa views the Samara plant, located about 622 miles (1,000 km.) southeast of Moscow, as its Russian headquarters. O'Rourke says the site's 388 acres (157 hectares) are populated by some 129 buildings, with a total floor surface of some 7.3 million sq. ft. (676,500 sq. m.). Working in those buildings are 6,500 employees.
"This plant has historically supplied products to Russian manufacturers of aircraft, aerospace, automotive, packaging (cans) and machinery industries," says O'Rourke. "The Samara plant comprises four main production areas - a cast-house (or foundry shop), a rolling mill, an extrusion plant for pipe, rod, bar and profiles, and a forging plant. There are also auxiliary workshops. The production equipment dates to the 1960s but most is functional, including one of the world's largest forging presses and extrusion presses."
O'Rourke is quick to point out that Samara's production and quality control systems are ISO 9001 certified and that ISO 14001, a certification for Environmental Management Systems, was obtained in 2004.
The Belaya Kalitva Plant is located in the Rostov Region, approximately the same distance south of Moscow. "In Soviet times, this plant was fully controlled by the Ministry of Aviation," explains O'Rourke. "It is slightly smaller than the Samara Plant, currently employing 4,500 people, with 80 buildings on site. The facility also features a cast house, a rolling mill, an extrusion plant and a forging plant for auto wheels and aerospace/aircraft products. It has several small non-core related businesses, such as an aluminum pots and pans manufacturing plant."
Prior to Alcoa's investments, says O'Rourke, "both plants have been deprived of capital investment since the fall of the Soviet Union and collapse of industrial linkages."

Making Headway

Another Alcoa stamp that the Russian operations won't be deprived of for much longer is its open office concept. The company's commercial and financial controls organizations, public relations and legal departments already have adopted the concept on the two floors they occupy in a new Moscow high-rise.
But as a longtime patent counsel for the company, O'Rourke knows a thing or two about when openness can go too far.
"Like many other countries, Russia, I believe, needs to devote more attention to the respect and enforcement of intellectual property rights in the country," he says. "U.S. Secretary of Commerce Carlos Gutierrez visited Russia two weeks ago and at an American Chamber of Commerce Breakfast delivered a speech that tried to make that same point. I believe the Russians, who are an inventive and intelligent people, will begin to increase the respect for intellectual property rights of others because they, too, will want their inventive contributions to be respected elsewhere in the world."
The innate intelligence he sees is evident in the Alcoa work force, which enjoys the presence of 1,000 degreed engineers, as well as in Russia as a whole, which enjoys a 99-percent literacy rate. From that starting point, Alcoa is training employees in safety, the Alcoa Business System, maintenance and English. Plus, says O'Rourke. "About 40-45 Alcoa professionals from the global Alcoa system are here to bring the Alcoa culture and systems to the new organization."
Bringing Western ways to corporate real estate and property laws is another issue altogether. But it too is progressing.
"There is more bureaucracy than in other countries," O'Rourke says. "Systems are more manual that we are used to having. We in the 'Western' countries have been perfecting the property laws since William the Conqueror came to England at the Battle of Hastings in 1066. The Russians' development of property law lags the West, but they have come a long way in a very short time."

- Adam Bruns



---



Middle East Outlook: Part II




Dubai plans what it says will be the world's first free zone dedicated to biotechnology, the Dubai Biotechnology and Research Park (DuBiotech). The park, Dubai's latest effort to develop a knowledge-based economy, will be built in several phases on a 300-hectare (741-acre) site. The park development will cover more than 30 million sq. ft. (2.79 sq. m.) of built-up area. Facilities will include custom-made labs, clean rooms and incubators, office space and residential facilities. The park's first development will be ready by early 2006.
DuBiotech will be headed by Dr. Abdulqader Al Khayat, who recently left his position as director general of Dubai Police's General Department of Forensic Administration.
The park will also provide all the benefits enjoyed by companies in the Dubai Technology and Media Free Zone. These include 100 percent exemption from corporate and personal tax guaranteed by the Dubai Government for 50 years, 100 percent ownership of the business, 100 percent repatriation of capital and profits and no currency restrictions.

Northern Iraq Has Concrete Future

Orascom Construction Industries (OCI) of Cairo, Egypt, plans to build a greenfield cement plant in the Bazian area of the Kurdistan region of Iraq. The company, which specializes in cement production in emerging markets, has obtained regulatory approvals for a plant with annual production capacity of 2.5 million tons. OCI plans to begin construction during the second quarter of 2005 on the $300-million plant.
OCI is part of a consortium that is rehabilitating the Tasluja cement plant near Suleimaneyah City, the largest cement plant in Kurdistan. OCI expects the Tasluja plant to reach its annual capacity of 2.3 million tons by early 2006. With the completion of the Bazian plant in 2007, the OCI Cement Group will have an annual production capacity in northern Iraq of 4.8 million tons and will have a total annual production capacity in emerging markets of 20 million tons, ranking it among the largest cement producers in the world.

Large-Scale Ammonia Plant Set for Egypt

Egypt Basic Industries Co. (EBIC), an Egyptian exporter of ammonia, plans to build a greenfield 2,000-metric-tons-per-day (2,205-short-tons-per-day) anhydrous ammonia plant in Sokhna Port in Egypt's Suez Industrial Zone. The Export-Import Bank of the U.S. approved a $229.8-million, long-term guarantee to back the proposed sale by Kellogg Brown & Root, a Halliburton subsidiary, and other U.S. suppliers to build the plant. Twenty-two U.S. companies from Texas, Oklahoma, Kansas, Illinois, Colorado and Kentucky will supply goods and services on the transaction.

- John McCurry
Shell Inks Deals for Qatar Projects: The Royal Dutch/Shell Group has signed an agreement for development of a large-scale liquefied natural gas project in Ras Laffan City, Qatar. The $7-billion project will yield approximately 7.8 million tons annually for 25 years. Shell expects to begin deliveries around 2010-2012. The company also plans development of a huge petrochemical complex, also in Ras Laffan Industrial City.