eographic information systems (GIS) are playing an increasingly integral role in the world of economic development and corporate real estate. Information technology heavyweight
Dell Inc.
came to appreciate the value of GIS during its 2004 site search for a new customer service center. Dell eventually chose a 60-acre (24-hectare) site in Oklahoma City for a new 120,000-sq.-ft. (11,150-sq.-m.) facility. When the clock wound down on the final site choice after a three-month search, a Web-based GIS tool used by the Oklahoma City Chamber of Commerce played a key role.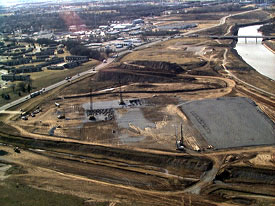 The first phase of Dell's new Oklahoma City campus is under construction next to the Oklahoma River.
The OKC Chamber uses ZoomProspector, an application developed by
San Francisco-based GIS Planning
, and calls its customized version the Oklahoma City Economic Development Information System or OKCEDIS. Peter Kaharl, Dell's senior manager, corporate real estate and construction, says it was the first time Dell has utilized GIS in its site searches and it gave decision-makers access to information they ordinarily don't have.
"It was a good tool to use to determine what properties were available," Kaharl says. "It made the process easier because I could go in there myself and look at it. A picture of the site also helped put a reference point with it."
Kaharl says the ability to seek a match for Dell's specific requirements for the project, along with being able to obtain data associated with properties such as cost per square foot and availability in Oklahoma City, was particularly nifty.
Dell's Oklahoma City campus will eventually include three buildings. The first is scheduled to open in August 2005 and will eventually employ 1,350.
"Every search has its unique characteristics," Kaharl says, adding that OKCEDIS helped in finding the land and amenities needed to support the project. "We looked at hotels, places for people to eat, traffic conditions around the site now and at the time we will occupy it."
Dell is currently building other new customer service centers in Edmonton, Alberta, and El Salvador. The company's Americas operations also include call centers in Toronto, Ont.; Montr'al, Que.; Twin Falls, Idaho; Roseburg, Ore.; Nashville, Tenn.; Mexico City; Panama City, Panama; and Port Allegra, Brazil.
Brenda Workman, the Oklahoma City Chamber's director of central city development, says OKCEDIS also helped show that the city had sufficient labor available to meet Dell's needs.
"We were able to evaluate sites according to labor and look 10, 15 and 20 miles around the site instantaneously," she says. "At that point they got very serious about Oklahoma City. What [ZoomProspector] does is enable us to develop a detailed analysis specific to a site."
While most of GIS Planning's customers are economic development agencies, most of the end users are corporations, says Anatalio Ubalde, GIS Planning's COO. Each city, county, chamber of commerce or utility develops its own unique Web site.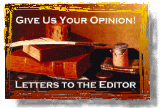 "The key component is the ability to speed up the process and identify optimal business locations," Ubalde says. "It shows the available buildings, characteristics of the market, demographics, labor force and the cost of doing business. It also reveals what the business synergies or business competition is in a market.
"Skill levels and wages vary dramatically by geography," he continues. "Site location is all about geography. That's why site-specific analysis using GIS systems is so powerful. It delivers local information that real estate professionals demand. A picture paints a lot more than a thousand words."