hio has reclaimed the Governor's Cup for new and expanded facilities announced in 2006, ending Texas' two- year run of winning the '04 and '05 cups – when the Buckeye State finished second. Ohio's winning the 2006 Governor's Cup is one bookend on the Texas story; the other one is the 2003 Governor's Cup, which Ohio also won. But just eight years ago, in 1995, Ohio completed a three- year winning streak it would no doubt like to repeat.
The magic number for Ohio this year is 431, which is down from the nearly 600 qualifying projects it logged the previous year. But all state numbers for 2006 are down due to a slight change in the tallying process.
Conway Data Inc.'s New Plant database has been tracking business expansion activity for more than 40 years and has bestowed the Governor's Cup since 1978. As of this year, the database no longer counts spec buildings or hotels in its yearly numbers, but they are counted in an associated database.
Nevertheless, Ohio had enough projects that have been counted all along (US$1 million or more in private capital investment, 50 or more new jobs or 20,000 sq. ft. [1,860 sq. m.]) to claim the prize. Much of the credit for Ohio's reclaiming the top spot goes to former Lt. Governor Bruce Johnson, who headed the state's economic development efforts and the Ohio Department of Development.
"It starts with hard work and hundreds of people engaged in that hard work in Ohio," says Johnson of the state's win. "Right after that is smart work, such as analysis of where your strengths lie and following up on that with a plan that calls on companies that actually have a reason to be here. And thirdly," he continues, "there's the fundamental change that we promoted in the previous general assembly, which was beginning to take hold last year. That eliminated tangible personal property tax and reduced the income tax, and we got a lot of very positive comments about that. It didn't mean that the handful of dollars you save that year was the difference, but over time [businesses] saw the state heading in the right direction. It made a lot of sense to a lot of people."
The state's strong performance in 2006 and in recent years is also a byproduct of being an industrial state, says Johnson, who today is president of the Inter- University Council of Ohio, an association of the state's 14 public universities. "People need to make investments in order to keep their businesses up and running," he notes, "so they do."
Other factors played a role, too, in improving Ohio's business climate, such as steps taken to get tort reform on the books. "But I still say it's talent and work force and a sense that Midwestern workers are awfully productive," says Johnson.
"The improved business climate, including last year's tax reform, has made Ohio a more attractive place to do business."
"We don't necessarily have an advantage over Indiana and Illinois in that respect. But experimenting in other places has demonstrated that the most productive workers in America are in the Midwest."
Among the highlights of 2006, says Johnson, was
Whirlpool
's expansion of its laundry manufacturing operations in Clyde and Marion, following the acquisition of Maytag. Moving Maytag's production operations from plants in Iowa, Illinois and Arkansas resulted in 1,100 new jobs in the Buckeye State, granted at the cost of hundreds of jobs elsewhere. "It was a mixed- blessing project, but it's one I believe that because we worked with [Whirlpool] early and hard, that gave us a leg up."
But the state's business climate didn't hurt.
"The improved business climate, including last year's tax reform, has made Ohio a more attractive place to do business," noted David L. Swift, president of Whirlpool North America, at the expansion announcement in May 2006.

Setting the Table
What happened prior to 2006 was partly what made the 2006 numbers what they were.
"We had some major civil justice reforms passed, which changed our national ranking in a big way in terms of tightening up our system and getting more of a balance in place," says Andrew Doehrel, president of the Ohio Chamber of Commerce (
www.ohiochamber.com
).
"We've put some restraints on class action endeavors, and we've looked at joint and several liability, so that if you're five percent at fault you're not 100 percent liable," says Doehrel. Work is going on now, he notes, in the area of reducing so- called "nuisance suits."
More importantly, he adds, "We had major workers' comp reform accomplished in 2006, and a move was made to put on the ballot a move to repeal that, and we successfully fought that effort. We worked with the other business groups to make sure that did not happen.
"The tax changes that were put in place in 2006 caught a lot of people's attention – getting rid of the corporate franchise tax and the tangible personal property tax or phasing in those processes, as well as reducing our personal income taxes," Doehrel adds. "The changes to the tax climate were very major." Ohio also imposed a commercial activities tax that, depending on the type of operation, can be attractive to certain industries.
"The tax reforms were a major shift in Ohio," says Ohio House Speaker Jon Husted (R- Kettering), a leading advocate for a strong business climate in Ohio. "We no longer penalize people for investing in the state. We've turned to a more consumption- based tax, and that will be the kind of state people will want to operate in."
Third Frontier funding was passed by the legislature, making new resources available to R&D and entrepreneurial enterprises, and more research and development is under way at Ohio's universities.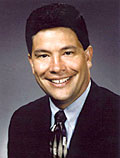 Bruce Johnson
"There has been a lot more appreciation of the work that has been going on at universities around the state," say Doehrel.
Both Johnson and Doehrel are optimistic about the new governor, Ted Strickland, and his ability to keep the economic development momentum on track.
"I hope the new administration can build a partnership with the General Assembly, and I hope they will continue to have confidence in the comprehensive tax reform that needs to be fully implemented," says Johnson. "They asked me to attend a major pitch with them to Rolls Royce, so from my perspective, the relationship is good, and the transition was good. All indications are that most of the reforms started by the Taft administration will continue in this administration."
"Like the previous governor, the new governor has put the lieutenant governor, Lee Fisher, in charge of the Department of Development, and Lee and I have a very good working relationship," says Speaker Husted. "The one thing Democrats and Republicans will continue to unite around in Ohio is job creation. In fact, Lee and I have already had a good start," notes Husted. "We've worked to secure a couple of projects together already in the first couple of months of the new administration. We had a great development director in Lt. Gov. Bruce Johnson in terms of working with us in the legislature to create jobs in the state, and I expect to have just as good a relationship and success with Lee Fisher."