he Statesville- Mooresville area's economic developers don't have to blow their own horn in touting the North Carolina community's success. The area's companies do it for them.
Hans deBot, founder and owner of racing components manufacturer
DeBotech
, says he wouldn't do business anyplace else. "I've been doing business for about eight years in Mooresville. I've been in the business for 20 years," he says. "I used to work for a company in Charlotte. The future of Iredell County is definitely in racing and motorsports. This county will absolutely continue to attract racing support firms.
It is a very attractive location for any business in the industry because this is Race City USA."
With more than 90 percent of the NASCAR motorsports teams headquartered in Iredell County, the Statesville- Mooresville Micropolitan Area more than lives up to its nickname. Racing is also a big reason why Statesville- Mooresville claimed the checkered flag in
Site Selection
's annual Top Micropolitans category for new and expanded corporate facilities in 2006.
With 28 projects, Iredell County topped No. 2 Wooster, Ohio, which had 21, and third- place Tupelo, Miss., which had 20. Of the 3,142 counties in the U.S., the Census Bureau classifies 674 of them as micropolitan areas because they have a population under 50,000 and their local economies are largely self- sustaining.
For the third year in row, Statesville- Mooresville, N.C., beat out the other 3,141 micros by winning the most corporate expansions in this category.
Also in the top 10 micros were No. 4 Daphne- Fairhope, Ala., followed by Batavia, N.Y.; Cullman, Ala.; Lincolnton, N.C.; Tifton, Ga.; Moses Lake, Wash.; Mankato- North Mankato, Minn.; and Columbia, Tenn.
For deBot, the choice to build a new $2- million, 16,000- sq.- ft. (1,486- sq.- m.) plant in Mooresville was an easy one. "I live in Cornelius, I rent a place in Troutman, and my wife's family is in Statesville," deBot tells
Site Selection
. "Staying in this area was key. I also put in place a key business relationship with Riley Technologies. Riley has been a customer of mine for many years, and I did the work to get them here."
Riley Technologies LLC
, perhaps the world's best- known manufacturer of race car chassis, had been considering a move from Indianapolis to Mooresville to take advantage of Race City's proximity to NASCAR racing teams – but it took deBot to convince Riley to pull the trigger.
"Riley had contact with the Robert Yates Racing team and was doing chassis design work for NASCAR," deBot says. "They had an interest in moving to this area for many years, particularly as Indianapolis was becoming a declining area in the motorsports industry.
Race car chassis maker Riley Technologies (below) was coaxed into moving to Mooresville by DeBotech founder Hans deBot, who ended up building right next door.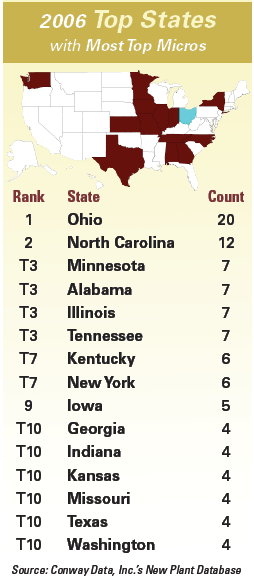 I told Ron McMahon [vice president and general manager of Riley Technologies] that 'you need to get out of Indy and move down here and dominate the market.' "
The Riley team flew to Mooresville and listened to a proposal from deBot, the town of Mooresville and the North Carolina Department of Commerce. They liked what they heard.
"I wasn't going to build a facility, but because of what happened with Riley, I went to look for a site to build a facility with them or next to them," deBot says. "We ended up building two new buildings side by side in Mooresville. We are now next- door neighbors."
Riley decided to build a 40,000- sq.- ft. (3,716- sq.- m.) shop adjacent to DeBotech in the Talbert Pointe Business Park. The move makes for a good match. Riley built the race cars that finished in the top seven positions in the recent Rolex 24 Hours of Daytona, and DeBotech made virtually every single fiber component part in their chassis.
DeBotech also builds components for the McLaren- Saleen F7 race car, as well as the famous Red Bull Air Race championship airplane flown by Mike Mangold. "We even made the carbon fiber components for the competitive bobsled used by Team USA in the 2002 Winter Olympics," added deBot.
When asked what's next for the three- peat champion Statesville- Mooresville area, Melanie O'Connell Underwood of the Mooresville- South Iredell Economic Development Corp. says that economic growth will only continue.
Immediately on tap is a $750- million, mixed- use project at Langtree Road and Interstate 77. A new Embassy Suites Hotel and conference center is part of the development that includes office space, condominiums, regional banks, distribution space and a golf course.
"We already have 12 projects on tap for 2007," O'Connell Underwood says. "We're getting a lot of calls from Indianapolis."
Mike Smith, director of the Greater Statesville Development Corp., says the area's proximity to Charlotte and Lake Norman "adds a significant aspect to our quality of life. We are only 45 minutes from Charlotte Douglas International Airport, and there are 14 state parks within a 45- mile drive from here."
Other assets for the area include Statesville Regional Airport, which has a 7,000- ft. (2,134- m.) runway, the new Dana Rader Golf School at the Statesville Country Club, and the historic Mitchell Community College.
"Our high school is undergoing a $12- million expansion, and there is a $14- million expansion at our airport," says Smith, who recently moved from the North Carolina Department of Commerce in Raleigh to take the economic developer post in Statesville. "We are receiving improvements to U.S. Highway 70 that will connect 70 to Interstate 77, and the Statesville Business Park offers an attractive location for business."
Top projects of 2006 in Statesville were
Speedball Art Products
' $7- million manufacturing expansion and
JCP Logistics
' $4- million investment.
Like his counterpart O'Connell Underwood in Mooresville, Smith expects an even busier year ahead for Statesville.
"Over 18,000 people actually leave Iredell County every day to work in other counties," he notes. "That means there is available labor here for companies. Many amazing opportunities are ahead of us."
| | |
| --- | --- |
| | |
| JLG's investment in Wooster, Ohio – the No. 2 Top Micropolitan area for 2006 – was part of a string of small- town corporate projects that helped the Buckeye State tally 20 Top Micros to lead the nation. | Bag packaging equipment maker Fischbein expanded in Statesville in 2006. |