N
orth Carolina has no intention of ceding its Top Business Climate ranking any time soon. For the third consecutive year – and for the sixth time in seven years – North Carolina ranks first in
Site Selection
's annual state business climate analysis.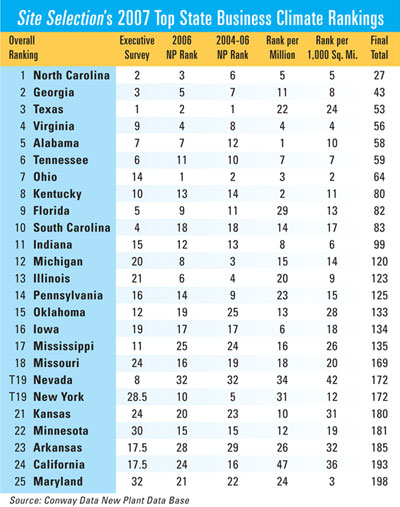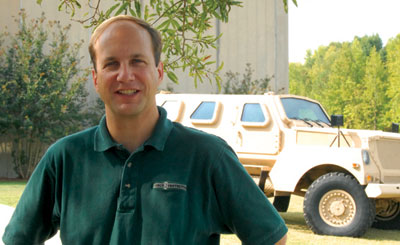 Fifty percent of the total score is based on a survey of corporate real estate decision makers and 50 percent comes from data associated with actual project activity as tracked by our proprietary New Plant database (see the charts).
Even as North Carolina economic development officials were learning of their latest business climate win in October, the state's power to produce jobs was evident. INC Research, a contract research organization (CRO), announced October 10th that it would create 1,093 new jobs through a $19-million expansion at its headquarters in Raleigh, where it already employs 362. A Job Development Investment Grant (JDIG) helped close the deal, but CEO Jim Ogle cited "access and proximity to world-class academic and research facilities" as the key factor in growing its Raleigh operation.
In September, PRA International, another CRO, announced it would relocate its headquarters from northern Virginia to Raleigh, where it will have access to a well-stocked talent pool; more than 40 biotechnology and pharmaceutical companies are based in the Raleigh area. But CEO Terrance Beiker said at the project announcement that another factor was in play, as well. "The business climate and quality of life offered by North Carolina should allow the company to reduce corporate infrastructure costs and ensure a highly efficient, qualified and satisfied work force."
And speaking of CROs, Quintiles Transnational Corp. announced in November 2006 a $10-million, 1,000-job expansion at its Durham headquarters. A private developer is investing $50 million to build a facility for Quintiles in Durham. But CROs aren't the only companies investing in North Carolina.

'Quick and Assertive'
Dan Busher, executive vice president of armored vehicle manufacturer Force Protection, Inc., wasn't surprised to learn of North Carolina's Top Business Climate billing. Busher recently worked with the state in securing a former Collins & Aikman plant in Roxboro in which to expand its manufacturing operations.
"I became acquainted with what North Carolina had to offer because we were already doing business in South Carolina," he explains. "We were looking for another site and wanted to stay in the southeast generally. We spent a lot of time looking in South Carolina, which, by the way, has a good business climate, too."
After scanning existing sites and buildings in the North Carolina Dept. of Commerce's database (since updated to a new EDIS, or electronic data information system),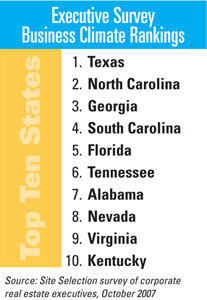 Busher's team narrowed the search to two buildings.
"The Commerce folks were very quick and assertive," says Busher, in terms of "understanding the project and our needs, and making preliminary commitments to how they might support those needs. They referred us to resources to support the grant process, too," he relates. "Locally, the folks in Person County were hungry to understand our project and needs. They wanted to not just bring on money, but take on projects as inducements to bringing in the plant. Instead of discussion about tax incentives, they wanted to know about our needs.
"We were looking at a large, unsecured site, and they were aggressive about understanding what security meant to us," Busher says. "They worked with neighbors to solve existing right-of-way issues, and were quick and aggressive to resolve and move that right of way. It's really just a climate of seeking to understand in more creative ways than just throwing money at it."

United in Success
"What stood out at the state, city and county levels was that once we expressed interest, they were very proactive," Busher says. "There was not a lot of bureaucracy, not a lot of red tape. They worked with us to make the application process as painless as possible.
"We had one very memorable meeting," Busher recalls. "After my first viewing of the property, I told our CEO it might be worth his time for a second visit. When we came back, the economic development team of Glen Newsome [executive director of the Person County Economic Development Commission] and Jim Stovall [chairman of the Person County Economic Development Board] arranged a lunch at Piedmont Community College, whose president was there. They had the mayor, the school superintendent, city council members and county council members. We had lunch together, got to know each other and shared material about the company and the community. It wasn't just a table full of people attending a meeting. To a person, everyone had something they wanted to offer to help our project succeed. They all had something tangible to contribute to make the project a success."
Force Protection's customers are led by all branches of the U.S. Dept. of Defense, but also include the Iraqi military, via the U.S. Dept. of Defense, "as part of the effort to equip and train the Iraqi Army," says Busher. Other customers include the U.K. Ministry of Defense, and there are "sales pending with the Canadians and Italians, and ongoing discussions with other parties," he says. "But you can imagine the U.S. government is inclined to consume most of our capacity."

Site Selection Online – The magazine of Corporate Real Estate Strategy and Area Economic Development.
©2007 Conway Data, Inc. All rights reserved. SiteNet data is from many sources and not warranted to be accurate or current.