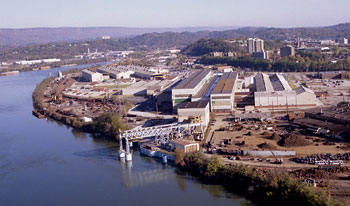 he old combustion plant down by the Tennessee River just keeps on firing.
French power generation and transport system company
Alstom
announced on the final day of 2007 that its Power Systems business, via its Turbomachines Group, would invest at least US$200 million in a new manufacturing facility in Chattanooga, Tenn., that will employ 350 people in the manufacture of steam turbines, gas turbines, generators and related equipment for use in U.S. power generation facilities.
The company has been a major employer in Chattanooga since it moved into the 100-year-old plant on Riverfront Parkway in the early 1990s as part of an ABB/Alstom joint venture. Walsh & Weidner built the plant for steam boiler manufacturing in 1897. It was subsequently occupied by Combustion Engineering from 1912 until the early 1990s, and at one time crafted nuclear reactor vessels.
"We determined that Chattanooga is an ideal location for us to invest in expanding our manufacturing and engineering capacity in the U.S.," said Guy Chardon, senior vice president of the Turbo Machines activity of Alstom Power Systems, at the project announcement. "The city has an excellent transportation infrastructure and it is an almost perfectly centralized location from which to deliver large, heavy steam turbines to current and planned nuclear and other power plants all across the U.S."
Alstom, with operations employing 65,000 people in 70 countries, employs 10,000 at 20 locations in the U.S., including R&D labs in Windsor, Conn., and Chattanooga and product development at those locations, Wellsville, N.Y., and Knoxville, Tenn. The firm currently employs 620 workers at the firm's existing Chattanooga facility (which does power plant retrofit work) and 600 workers at a facility in Knoxville.
Alstom's worldwide power systems business saw orders worth $15 billion for the first nine months of the company's fiscal year, a 28-percent increase. In the 2007 fiscal year, the U.S. market was the largest single country source for orders, comprising 17 percent of all orders worldwide.
The construction work in Chattanooga will feature some new building, but will primarily involve refitting the existing plant footprint, using approximately 350,000 sq. ft. (32,515 sq. m.).

A River and a Crane
Richard Pangrazzi, Director of Marketing for Alstom Global Power Sales (USA) and a 17-year company veteran, says the company's evaluation of the project began in late 2006. By early 2007, it had put together a team that included manufacturing experts from France, Switzerland, Germany and Poland, where (in addition to China) similar products are manufactured. They were led by a project manager, Stephane Cai, who had just overseen a similar exercise at one of Alstom's factories in India.
The search began and ended with the sheer mass of the end products.
"One of the main criteria was to be able to unload equipment on barges from the site. So water access was very important. Related to this was the fact that it appears that if you want to build a new pier on a river in the U.S., it's a very lengthy process, and very uncertain if you will get the approval or not. So a facility with a pier and lifting capabilities was very important."
The scope of the search boiled down to a map of existing power plant sites in the U.S. with an emphasis on existing and planned nuclear plant sites and then river access to those sites from a potential new plant site. That quickly narrowed the search to east of the Mississippi, with a focus on the southeast. The company has not disclosed finalist locations.
The new Chattanooga facility will now join a global network of Alstom facilities. Asked about the potential for global distribution of the plant's products, Pangrazzi says the company's primary intent is to serve the U.S. market.
"But we don't exclude parts going to Canada or to Mexico," he says. "It would make sense at that time to use this facility. The initial phase is to support the U.S., but it is well located to serve the Americas, and we could see exports going out of this facility to serve Central and South America."

Energy Tech the Latest Sign of Revival
Incentives were important, says Pangrazzi, though the company has not disclosed their specifics. As of early February, the package was being renegotiated, and the Chamber was unable to release details. However, says Trevor Hamilton, vice president of economic development, the package will eventually include tax credits and property tax abatements, a state training component and benefits from the federal renewal community program.
An initial package was presented to Alstom in July 2007, as the Chamber acted as the liaison among such entities as Tennessee ECD, Gov. Phil Bredesen, state environmental officials, TVA, Hamilton County, Chattanooga Public Works, Norfolk Southern Railroad, the Workforce Investment Board and the Trust for Public Land.
Hamilton also notes that part of the deal involved the movement of wind turbine tower manufacturer Aerisyn from one building leased from Alstom to another nearby. Thus, from one small corner of the Tennessee River, barges could embark with products serving nearly every corner of the power generation marketplace.
Hamilton says the project signals a new day for advanced manufacturing and for energy-related industry in a town that's been synonymous with heavy industry for its entire history.
It also signals the importance of existing industry: A survey released by the Chamber one week after the Alstom announcement revealed that two-thirds of companies surveyed over an 18-month period plan expansions that could create over 800 new jobs, bring an estimated $362 million in new capital investment and add over 770,000 sq. ft. (71,533 sq. m.) to local facilities.
The Alstom news comes amid a successful and still ongoing multi-phase redevelopment of the city's waterfront, including new bridges, fountains and pedestrian areas, an aquarium expansion and related commercial and cultural facility expansion. Alstom's project, too, will incorporate an appearance upgrade of the company's overall site when viewed from the river. In fact, says Hamilton, there is early talk of extending the city's recently completed 11-mile (17-km.) Riverwalk greenway to take walkers, joggers and bicyclists past the Alstom complex.
"Having seen what Alstom has planned for their new Chattanooga operation," said Chattanooga Mayor Ron Littlefield of a visit to the company's facilities in Birr, Switzerland, and Belfort, France, "I believe that this project will continue to re-shape our riverfront just as dramatically as the 21st Century Waterfront Plan."

Site Selection Online – The magazine of Corporate Real Estate Strategy and Area Economic Development.
©2008 Conway Data, Inc. All rights reserved. SiteNet data is from many sources and not warranted to be accurate or current.