he City of Big Shoulders carried a big load in 2007. By recording 236 corporate facility projects, Chicago easily captured its third consecutive No. 1 spot in
Site Selection
's annual Top Metropolitan Areas ranking.
Chicago's victory – its third consecutive win and sixth in the last seven years – was so dominant that its project count more than doubled runner-up metro Cincinnati and accounted for the vast majority of Illinois' 362 facility announcements statewide.
In fact, a case could be made that Chicago propped up a Midwestern economy that was hit with automotive plant closings and job layoffs in many traditional manufacturing centers.
While some of those shutdowns and pink slips fell upon Chicagoans, new plant activity and expansions more than made up for them, according to economists who track economic growth.
"Chicago is definitely trending upward," says Dr. William Fruth, founder and owner of POLICOM, an independent research firm based in Palm City, Fla. "They are having very good growth in the quality of their economy. Their standard of living is growing. Per capita income is increasing and is now very high. Plus, there has been a significant improvement in job quality. The nature of the jobs being created in Chicago is higher-wage employment."
Fruth tracks 28 different measurements to gauge the relative and long-term health of a metro area's economy, and he does it for every metro and micropolitan area in the United States. Since 2004, Chicago's economy has consistently improved, rising from its 39th-place ranking four years ago to 21st by 2007, according to the latest POLICOM rating.
Fruth says one good indicator of Chicago's economic vitality is the fact that growth in per capita welfare the last five years has been very slow in Chicago. "My study shows that they have one of the slowest growth rates in the country in terms of welfare rates. In fact, they have shown an actual decline in per capita welfare over the past five years," he notes.

Industrial Jobs, Plants Multiply
As quality jobs increase the overall size and health of the area's economy, those jobs become more widespread throughout the metro region of Chicago-Naperville-Joliet in Illinois, Indiana and Wisconsin.
Evidence of that spread is the new
IKEA
distribution center in Joliet, Ill., where the Swedish retail giant is building a 650,000-sq.-ft. (60,385-sq.-m.) warehouse and creating 150 jobs as part of a $111-million capital investment.
Slated to open in spring 2009, the warehouse will be the firm's fifth in the nation and will supply product to five IKEA stores in the Midwest, including two in Greater Chicago's Will County. IKEA has outlets in both Bolingbrook and Schaumburg.
If needed, the warehouse site can be expanded to a phase two that would add 770,000 sq. ft. (71,533 sq. m.), according to a company release. The site is on 72 acres (29 hectares) in the Laraway Crossings Business Park south of Chicago.
"We are thrilled about the opportunity to locate our Midwestern Distribution Center in Joliet,"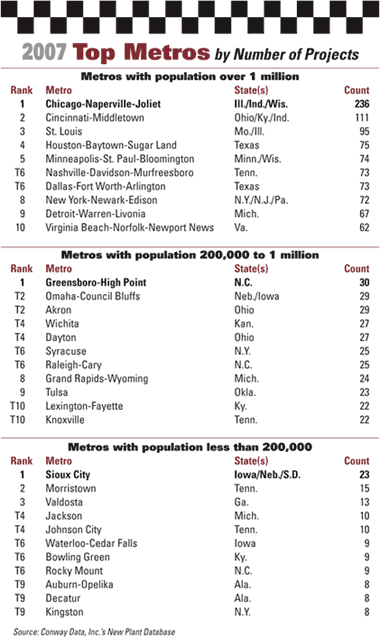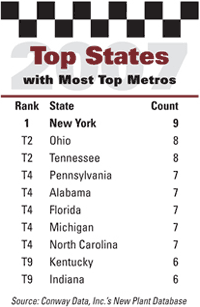 said Keith Keller, IKEA North America's Distribution Services president. "This location's proximity to a rail line offers the long-term capacity, infrastructure and geography that we were seeking to complement our distribution presence in North America, and to ensure our stores can continue to offer well-designed and functional home furnishings at affordable prices."
Worldwide, the firm plans to open between 10 and 20 stores every year to keep up with demand for IKEA products, which are primarily in the home furnishings sector.
Joseph Roth, corporate spokesman at IKEA North America headquarters in Conshohocken, Pa., says the site selection process was driven by the need to find a central location in the Midwest with proximity to all five company stores in the region.
"We needed to find a site of 50 to 100 acres [20 to 40 hectares] zoned for distribution and that allowed a height requirement of 100 feet [30.5 m.]," says Roth. "We also needed a rail line nearby. When we considered all the important factors, it became clear that the Greater Chicago area was a good choice. Plus, we liked the industrial vision of the city of Joliet."
The vision of Joliet meshes well with the vision of World Business Chicago, the economic development organization that represents the entire metro area.
"Our primary asset is our location," says Rita Athas, the new executive director of WBC. "Our location in the center of the country gives us a huge advantage. We are the only dual hub in North America with our airports. We have an intermodal container port. As a result, over 50 percent of all freight that's transported across the U.S. passes through Chicago."

Lighting Up the Night Sky
There's perhaps no better evidence of Chicago's dominance than a new study co-written by Richard Florida, author of
The Rise of the Creative Class
and director of the Prosperity Institute in the Rotman School of Management at the University of Toronto.
Titled "The Rise of the Mega-Region," the study uses a global dataset of nighttime light emissions, combined with population data and published estimates of national GDP, to produce "rough but useful estimates of the economic activity of each region" on the planet. The resulting research identifies 40 mega-regions with economic output of more than $100 billion each across the globe.
The Chicago-to-Pittsburgh mega-region, according to this methodology, ranks No. 3 in the world in terms of its total economic impact, behind only No. 1 Greater Tokyo and No. 2 Boston-to-Washington.
Only two other U.S. mega-regions make the top 10: Atlanta-to-Charlotte (No. 8) and Southern California (No. 9).
Tracey Hyatt Bosman, associate director of strategic consulting for Grubb & Ellis in Chicago, says that what's happening in Joliet is spreading throughout the metro area. "We are seeing a lot of distribution and warehousing projects these days," she says. "With the rail lines serving this market and the consumer base in the area, there is a lot of industrial activity both in the downtown and in the suburbs. It is really spread out."
Bosman, who has done site consulting work for Fortune 500 companies around the U.S., says there is "no one factor that Chicago really excels in. It doesn't have the lowest labor rates in the country. It doesn't have the most direct flights to London. But when you total up all the site selection factors, Chicago measures up very well and scores highly. It appeals to a wide range of industries, and that is very healthy for the economy. The city has a lot of things to offer a lot of industries."
Bosman points to another factor in Chicago's favor: nature. "A lot of emphasis is being placed these days on business continuity," she says. "Clients are shying away from areas that have a lot of hurricanes, earthquakes, tornadoes, etc. While other locations drop out, Chicagoland stays in the running for projects."
In 2007, Chicagoland did a lot more than just stay in the running. It ran past all other metro areas on its way to No. 1.
Burning Passion Ignites North Carolina Metro
Sioux City Reaps Harvest of Decade-Old Plan

Site Selection Online – The magazine of Corporate Real Estate Strategy and Area Economic Development.
©2008 Conway Data, Inc. All rights reserved. SiteNet data is from many sources and not warranted to be accurate or current.