W
hat does it say about border relations when one of the first cheerleaders for
Hon Hai Precision Industry/Foxconn
's new 9,350-worker plant in San Jeronimo, Chihuahua, Mexico, is the governor of New Mexico?
"This is one of many mutually beneficial projects that I and my economic development people have worked with Chihuahua officials to carry out," said Gov. Bill Richardson in July. "This is the kind of economic development that is going to bring the New Mexico-Mexico border to the forefront of international trade and development."
The new project will produce computers, laptops and servers for undisclosed clients in a 1.3-million-sq.-ft. (120,770-sq.-m.), four-building first phase that will receive a US$185-million investment. Foxconn's operations worldwide, including a massive centralized and integrated complex in Longhua, China, supply electronics from smartphones to laptops to some of the world's most recognized brand names – including Dell, headquartered in neighboring Texas, whose leaders, according to published reports, are considering the outsourcing of all manufacturing and the sell-off of Dell plants.
The Juarez-Santa Teresa-El Paso area, including El Paso, already was a growth center, especially since the establishment of the Santa Teresa Port of Entry a decade ago and the subsequent completion of highway connections to U.S. Interstate 10. Infrastructure developments in recent months bring even more promise. They include a new Union Pacific terminal near Santa Teresa, N.M., home to U.S. Foreign Trade Zone #197. The FTA in Santa Teresa now extends all the way to the border, and developer Verde is filling in infrastructure in the massive Santa Teresa Industrial Park.
For the Foxconn project, a new highway is to be built by the Chihuahua government from Ciudad Juarez to San Jeronimo. Also in the works: a new international railroad crossing, which already has the support of the Mexican national government and the State of New Mexico.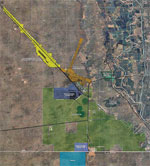 As recently as 2007, according to New Mexico state government, the average crossing time at Santa Teresa was 7 to 10 minutes, with some 140 commercial crossings per day, compared to up to three hours' time and 800 commercial crossings daily at El Paso.

Loads of Leverage
The human connection behind the Foxconn deal is somebody who has worked both sides of the fence: Francisco "Pancho" Uranga, a native of Chihuahua City. He formerly led the industrial development agency for the State of Chihuahua. Today he is corporate vice president and chief business operations officer for Foxconn in Latin America, Mexico and Brazil, reporting directly to Taiwan-based CEO Terry Guo.
Responsible for legal, taxes, customs, immigration, real estate, licensing and government negotiations on incentives and permits, he basically runs the shelter program for each business group of Foxconn, which then handle the manufacturing themselves.
In a rare Foxconn interview, Uranga says the company's centralized-complex approach in Taiwan and China has not necessarily been replicated abroad, where different business groups are completely customer-focused and may have operations serving just one or two customers. Putting together multiple groups can be a challenge, especially when the customer doesn't want to be in Mexico.
But now, says Uranga, the company is looking to consolidate operations around the world, and customers are driving to have more of a presence in Latin America because of fuel costs. From the company's perspective, he says, "working together, we can leverage many issues."

One Owner Means Quick Action
The company is doing the same thing in Brazil, where it had no employees just a few years ago and now has 6,500 in Sao Paulo State and in Manaos. In Mexico, there are close to 12,000 employees at sites in Guadalajara, Reynosa and Chihuahua City.
Foxconn had been looking for an opening for an integrated complex, as Uranga and others pushed for implementation of a free trade area – a concept that the State of Chihuahua had formalized before Uranga left the administration, but which awaited national government approval for some four years.
When it came time for action, however, the whole process for the San Jeronimo project took exactly nine weeks from decision to location.
"One day we are looking to expand in Juarez, and we get a phone call saying the free trade area has been approved," says Uranga. "I said, 'You have to be kidding.' I thought somebody was playing a joke, because they knew we were looking for land. I called Mexico City, and a friend in Customs said, 'Yes, it's been approved.' "
Important to the Foxconn deal was a meeting in Beijing between Guo and Mexican President Felipe Calderon just two weeks before the Olympic Games.
Uranga says there were only two sites that really made sense for the free trade area concept to work along the border, but the other candidate site, in Reynosa, will require a new bridge. What's more, the Mexican law requires a free trade area to be located next to a customs station, and not many stations have land adjacent to them.
Helping make the case for San Jeronimo was consolidated land ownership as well, with nearly 50,000 acres (20,235 hectares) in the hands of one owner, Corporacion San Jeronimo, an entity associated with Mexican businessman Eloy Vallina, formerly of Grupo Chihuahua.
Vallina, now chairman of Accel, is a longtime proponent of the binational development area, and served on the board of directors of the Verde Group from 2004 to 2007. One of the country's wealthiest individuals, he at one time headed one of Mexico's largest commercial banks, until it was expropriated by the national government in 1982.
At that time, he famously made the statement, "They took my bank from me, so I shall take Chihuahua from them." But the parcel on which Foxconn will locate its complex has been donated to the federal government.
Meanwhile, friction continues in such places as Lomas del Poleo, a poor and crime-ravaged community on the outskirts of Juarez where there has been significant resistance to relocation efforts associated with a new highway.

A World of Efficiency
The free trade area makes the 440-acre (178-hectare) San Jeronimo site more competitive than anywhere else along the entire U.S.-Mexico border, says Uranga, and allows the company to access a huge labor pool that today may have to drive as much as two hours to work in Juarez industrial parks.
He says Anapra, often identified as the poorest area of Juarez, is home to 40,000 people, opening out to a larger regional labor pool of 400,000.
"
Depending on how efficient we can make this concept,
there are more possibilities
to relocate other operations.
"
The new road, to be ready by March 2009, will traverse the 10.5 miles (17 km.) from the new campus to downtown Juarez, paid for completely by the State of Chihuahua.
Uranga says the state also kicked in a payroll tax incentive, training funds and assistance on electricity cost. The training program, partially funded by Mexico's government, allows Foxconn to send recruits to one of its 17 campuses in China, train them and bring them back.
"Then those kids can train the local kids," says Uranga. "When we set up facilities in Chihuahua City and Juarez, at one point we had 95 kids in China, some for a month, some for a year."
Ultimately, the idea is for all of Foxconn's campuses to understand their global interconnectedness, so the work can go on 24/7, and so the standards, processes and even physical layouts can be synchronized.
But the key was the free trade area: "They could have given us nothing else, and we would have done it," says Uranga, "because that's what we needed."
Uranga was one of the key players in bringing Electrolux to Juarez years ago. That company's operation there has been hugely successful and has become the state's largest employer with 3,200 workers on a 1.8-million-sq.-ft. (167,220-sq.-m.) complex.
Now it's all systems go for a centralized, integrated Foxconn complex that also could grow enormous before all is said and done. Eyewitnesses say the project is progressing quickly.
"We have been very clear with all levels of government in Mexico and New Mexico that, depending on how efficient we can make this concept, there are more possibilities to relocate other operations," says Uranga. "And I promise you, we're very efficient."
Site Selection Online – The magazine of Corporate Real Estate Strategy and Area Economic Development.
©2008 Conway Data, Inc. All rights reserved. SiteNet data is from many sources and not warranted to be accurate or current.