I
t was a close call, but in the end, Chattanooga got
the
call from
Volkswagen of America, Inc.
, for a US$973.5-million, 2,000-job assembly plant. A mid-July announcement from the company's corporate parent in Wolfsburg, Germany, said the southeastern Tennessee city won out, "though only slightly," over finalist sites in Huntsville, Ala., and Michigan.
"It was truly a very close competition," David Geanacopoulos, director of industry – government relations for Volkswagen of America, tells
Site Selection
.
"

It was the readiness of the
site, within the context of our
aggressive timetable, which made
it possible for us to move forward
with the greatest confidence
in Chattanooga.

"
"There was no individual factor that necessarily made the difference all by itself. But if I had to identify one, it was the readiness of the site, within the context of our aggressive timetable, which made it possible for us to move forward with the greatest confidence in Chattanooga … by the first quarter of 2011 we want to be producing cars, if not sooner."
"Over the past seven months, more than 100 Tennesseans at the local, state and federal level have worked odd hours on short deadlines to help us reach this day," said Trevor Hamilton, the Chattanooga Area Chamber of Commerce vice president of economic development, at the announcement, recognizing the need to maintain the momentum. "From this day forward, we dedicate ourselves to partnering with Volkswagen to move from construction to production as quickly as possible."
Confidence indeed is the byword of this foray by VW, whose most recent manufacturing plant in the U.S., in Pennsylvania, closed 20 years ago. The new plant is part of a push to even out exchange-rate fluctuations, and to have "customers in the U.S. come to perceive the company as a domestic manufacturer," read the parent company's release. The goal? To go from 300,000 today to 1 million cars sold in the U.S. by 2018, including 200,000 Audis.
The Audi component is not insignificant. A separate U.S. site search is under way by that subsidiary. "Audi will make a decision regarding U.S. production in spring 2009," says Geanacopoulos.

Taking Their Cue
Enterprise South Industrial Park sits on former U.S. Army land that was used for munitions production and storage. It was closed in the 1970s and sat fallow for 20 years before redevelopment efforts began, including the demolition of some 100 above-ground storage bunkers.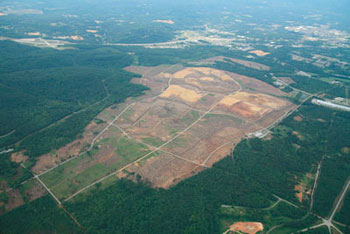 The central 1,010-acre (408-hectare) megasite was the famous runner-up for the Toyota plant that chose Tupelo, Miss., in spring 2007.
That's about the time VW engaged The Staubach Co. (which completed its merger with Jones Lang LaSalle in July) as a site consultant, as the company had done just the year before when it moved its headquarters from Michigan to Herndon, Va. As with any vehicle, comfort and speed were determinants.
"We did have a very successful experience with Staubach, on our headquarters relocation project, and had developed a strong relationship between our teams," says Geanacopoulos. "With the need to rapidly gear up, and to create a follow-on project that is part of the same overall U.S. strategy, it made sense to work with a proven partner on the new factory project."
A team of 25 people with Staubach worked on the project, helping VW consider an initial pool of more than 100 candidate sites, all located in the central or eastern U.S. because of time-zone proximity to Germany.
"What you look for is mostly problems sites have – readiness, labor, logistics infrastructure," says Greg Lubar, project leader and senior vice president at Staubach. VW said it short-listed 25 sites. "It was then a dozen or so we were in discussions with until the three finalists," says Lubar.
"
What you look for is mostly problems sites have –
readiness, labor, logistics infrastructure.
"
The large VW team included Volkswagen Group of America personnel from HR, finance, production and legal departments. "We were really the local representation of a larger team led by the production department in Germany," says Geanacopoulos. "Every function that has a role in the construction and operation of a factory had some representation on the site selection team."
The most recent VW plants are under construction in Russia and India. Geanacopoulos says those plants reflect the latest thinking of the company in terms of general factory layout, and he expects many concepts embodied in those plants to be designed into the Chattanooga facility, with adaptations to the requirements of the business. But the India and Russia plants also had another influence that could hold a lesson for economic developers.
"As we worked through incentive programs, those two facilities gave us a lot of pros and cons when working through various issues when we presented to communities here in the U.S.," says Keith Scott, incentives negotiation leader on the project for Staubach.
Amid a pattern of mega-projects causing special legislative sessions to be called, Tennessee was notable for its lack of such drama. As with the site itself, the groundwork was already done, via a tiered tax credit program tied to high-quality jobs. Hayes Ledford, vice president of public affairs for the Chattanooga Area Chamber, says the state has beefed up and modernized its tax credit system to better reflect today's corporate focus on capital intensity, not necessarily labor intensity, while still maintaining strict incentives thresholds.
Incentives from the Tennessee Department of Economic and Community Development (ECD) were still being worked out as of early August, including job training and infrastructure support.
The area's multi-state labor pool also plays to the site's advantage. Georgia Gov. Sonny Perdue sent a letter of support for Chattanooga's bid, and even the runner-up state, Alabama, has been quick to seize on the supplier development potential of the chosen site.

Quick, But Quiet
Intangibles such as the Chattanooga's manufacturing heritage and its commitment to environmentally sustainable values were also influential, says Geanacopoulos. Witness the shared commitment by the company, state and area organizations to distribute two saplings for every tree displaced by the site preparation. That commitment was buttressed in early 2008 by the EPA's sign-off on the city's air quality as meeting federal clean air standards.
But speed was what was on display during a visit to the site a week after the announcement. Some 200 people had signed in to access the site just that morning. Big machines raced around turns, performing the grubbing, grading and clearing work that since late May has cleared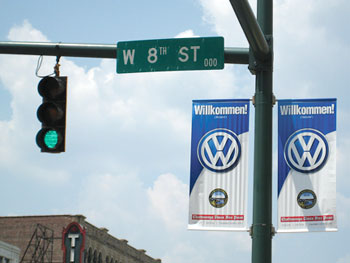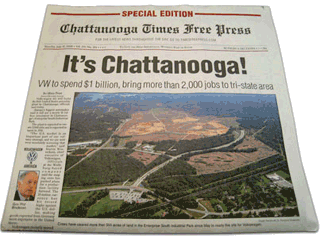 some 200 acres of an estimated 18,000 trees from the main site.
Overall tree removal statistics, however, do not take into account the 2,750 pages of documentation the Chattanooga Area Chamber of Commerce provided to "Project Polar Bear" during the first quarter of 2008, after Hamilton had the chance to put Enterprise South materials directly into the hands of Stefan Jacoby, president and CEO of Volkswagen Group of America, at an industry conference in Michigan.
The VW project really heated up in mid-May, when company officials made their first visit. As with the NetJets project that earlier this year went to Columbus, Ohio, a large dinner affair was central to the visit, hosted by former Chattanooga Mayor and now U.S. Sen. Bob Corker. Even with the over 80 guests in attendance, local business and government leaders kept their cards close to the vest.
"Given the number of people we talked to in the course of the project, I was pleased at the extent to which we were able to maintain confidentiality," says Geanacopoulos. "You can't fly teams of people in helicopters over sites in three states without some speculation."
The surest sign that code words have worked? "We're still getting calls today about the project," says Lubar.
After a suggestion that clearing the land would show it to its best advantage, current Mayor Ron Littlefield, Ramsey and ECD Commissioner Matt Kisber agreed to share the costs of that work. What the Chamber calls "feverish" site work ensued over the next 21 straight days and beyond, all of it viewable via Webcams posted by the Chamber for VW officials' benefit.
"The activity on the site was an important sign to us of the site's readiness from the point of view of the city's, county's and state's commitment to delivering the site quickly," Geanacopoulos says. "It was a helpful process that allowed us to see not only the site's attributes, but the path forward."
In early August, the company named Nashville-based engineering and architecture firm SSOE to oversee the architecture, engineering and construction management for the company's new production facility in Chattanooga. SSOE will partner with Environmental Resources Management (ERM) for the environmental permitting process and Alberici Constructors, Inc. for the construction management of the facility.
"
This will
change the direction of our economy
for decades to come.
"

Side by Side?
Tucked into a corner of the conference room at the Chattanooga Area Chamber of Commerce are two pasteboard aerial maps. Their bent and frayed corners, along with the well-used coffee-pot warmer next to them, tell a story of late and early meetings, and perseverance.
"We started with a vision of transforming an idle Army facility into the source of thousands of family-wage jobs," said Hamilton County Mayor Claude Ramsey at the VW announcement. "Over the last 14 years, I've worked with four different city mayors as well as county commissioners, city councilmen and countless others in overcoming barriers and objections to that plan."
During that time, approximately $75 million was invested in the site and its infrastructure by the state, city and county, including the $23-million interchange gamble by the state's department of transportation.
"Our political leadership has had the will and fortitude to see this out and to realize a vision that was a major industrial prospect for Enterprise South," says Hamilton. "It meant having to pass on some other opportunities that wouldn't have provided near the economic return or job creation for our community that something like this project will bring.
"In some respects – not to discount any of the hard work the last 14 years – maybe that's not so long to wait for something like this."
"This will change the direction of our economy for decades to come," says Tom Ed Wilson, president and CEO of the Chattanooga Area Chamber since early 2002. Given that it's VW's first U.S. plant in a while, and Chattanooga's biggest economic development win in many decades, both parties will learn as they go.
They've already learned a lot at the Chamber, the consequence of nearly daily meetings among a small group that included the two mayors, Wilson, Ledford, Chamber Vice President for Marketing J.Ed Marston and Hamilton.
While in many cases a county-city government can bring conflict, Wilson says Chattanooga's cooperative-style arrangement reflects the collegial nature of its leaders: "I can sincerely say if we had metro government, I can't see it would have added any more cooperation than we have with these two mayors," he says. That same cordiality extended into the business community and citizens at large, including a city accountant who had to be brought in for last-minute voice-over work on videos being sent to Germany in the final week before the decision.

First Things First
Over and above such cosmetics, however, were the basics of the site itself, including the two railroads, two Interstate exchanges and two major utilities that led it to be certified as part of the TVA Megasite program. The main lines of both Norfolk Southern and CSX run directly to the site, with multiple tracks already established into various parts of the site via two points of access. The company is still to decide which railroad will be its primary provider. Either one will work with the Hamilton County Railroad Authority to access the site.
Among those thousands of pages of documentation were logistics scenarios involving southeast coast ports from Hampton Roads, Va., to the Gulf of Mexico. The company has not ruled out exporting from the new facility, but "we're focused on producing a car for the American consumer at our new facility, and our decisions were focused on logistics in North America," says Geanacopoulos.
Adjacent sections of supplier lots measure 120 acres (49 hectares) and 210 acres (85 hectares). A parks and recreation area about twice the site of the megasite also sits adjacent. Small lots totaling 245 acres (99 hectares) also are adjacent, as is a future development area of 1,200 acres (486 hectares).
Given the proximity of that adjacent site, the ongoing Audi search, and the drive by the industry to seek supplier base and scale advantages with multiple plants in contiguous locations (Kia and Hyundai in West Point, Ga., and Alabama; Toyota in Cambridge and Woodstock, Ont.), might VW consider that acreage for the Audi plant?
"There are obviously a lot of scenarios for the future," answers Geanacopoulos. "But rather than commenting on speculation, we're focused on getting the facility built."
Site Selection Online – The magazine of Corporate Real Estate Strategy and Area Economic Development.
©2008 Conway Data, Inc. All rights reserved. SiteNet data is from many sources and not warranted to be accurate or current.