T
he Australian State of Victoria has invested heavily in recent years to provide the infrastructure for its growing research and development cluster in biotechnology. That investment, about A$3 billion (nearly US$2.4 billion) has helped the region attract global attention.
"A lot of the funding has gone to universities to ensure we have core capabilities," says Dr. Amanda Caples, director of science and technology programs for the State Government of Victoria.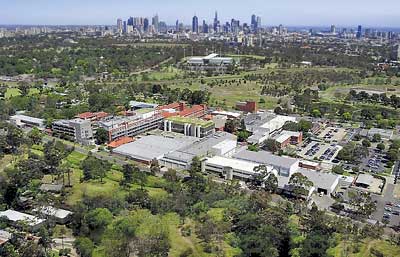 "We haven't had a 'build it and they will come' policy we've been building on. Melbourne has always been a center of medical research in Australia."
Melbourne is home to regional operations of large U.S. biotech companies such as Amgen, Celgene and Genentech. The
CSL Group
, a specialist in vaccines and plasma therapy, is arguably Victoria's signature homegrown life sciences company. CSL employs 10,000 globally with about 1,200 in Australia, the majority of whom are in Melbourne. That number includes the 350 scientists at its vaccine facility, which has undergone a recent expansion.
Located in Melbourne's Parkville precinct, CSL's Influenza Virus Vaccine Facility will fill a US$180-million contract to provide H1N1 (swine flu) influenza vaccine to the U.S. Dept. of Health & Human Services. It is also working to provide 10 million doses for the Australian government by the end of the summer.
Dr. Rachel David, CSL's director of public affairs, says CSL's Influenza Virus Vaccine Facility essentially doubled its manufacturing capacity with its recent expansion. "The facility is considered world class and has a high degree of automation and specialist processing equipment," David says. "It has also been designed to manufacture pandemic strains of influenza. The recent addition of a Biopharmaceutical Finishing Facility has given R&D a greater capacity to formulate and fill clinical trials."
David says the research environment in Victoria has been greatly enhanced by the vision of the State Government to develop biotechnology hubs around existing resources which can then grow organically.
"CSL is located in the Parkville precinct in a hub consisting of universities, pharmacy schools, hospitals and medical research institutes," David says. "At the heart of the hub the government has invested in state-of-the-art facilities in which scientists from both industry and academia can work side by side as tenants and have access not only to the latest equipment, but each other, with the unique mix of expertise that this allows."
David says Australia's geographical isolation from the rest of the world is a big challenge.
"Excessive travel requirements are still a barrier to achievement even in this age of new technology. Australia is also a small market for finished products, which has an impact on the decision-making criteria for investment, particularly for big pharmaceutical and medical industry players."

Plant Science Grows Green Shoot
Victoria is also a center of agriculture biotechnology research. The Victoria government is investing A$230 million (U.S.$182 million) in a Biosciences Research Center, a joint venture with La Trobe University in Melbourne's Bundoora suburb. When complete in 2012, the BRC will be home to up to 400 scientists and support staff. Future research will include projects derived from an alliance between the Victorian Department of Primary Industries (DPI) and
Dow AgroSciences
, announced during BIO 2009 in Atlanta in May.
Caples says the agreement is a powerful signal to the market.
"Agriculture is one of our biggest exports," she says. "But drought has been a problem. The technology developed through this alliance will result in drought-resistant crops."
"Victoria is clearly establishing itself as a global leader in agricultural biotechnology," said Daniel R. Kittle, Dow AgroSciences vice president for research & development, "and Dow AgroSciences is pleased to set up this unique collaboration with DPI's capabilities based at the Victorian AgriBiosciences Center, in which technologies and scientific expertise will be shared to deliver plant-based solutions that contribute to improving the quality of life for the world's growing population."
Site Selection Online – The magazine of Corporate Real Estate Strategy and Area Economic Development.
©2009 Conway Data, Inc. All rights reserved. SiteNet data is from many sources and not warranted to be accurate or current.