eorge Kook Jr., president of
Kooks Custom Headers
, offers some advice to companies in his line of work, especially those firms that need to grow.
"We hope to spread the word and have similar businesses relocate into the Statesville Business Park and have our new facility be the focus of attraction," Kook tells
Site Selection
.
Kook and his father, company founder and CEO George Kook Sr., made the decision last year to relocate the Kooks headquarters and manufacturing operations from Long Island, N.Y., to Statesville, N.C.
Kooks, the largest manufacturer of custom automotive exhaust systems on the East Coast, announced a US$4-million new plant investment that creates 55 jobs in Iredell County over five years.
Now that the Kooks have moved, Kook Jr. says it's time for others to follow.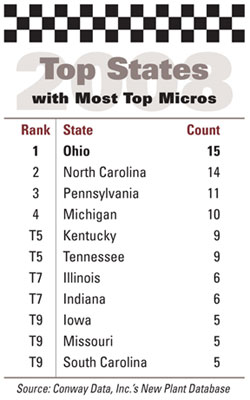 "The site is centrally located between new and old Route 70 and only four miles [6.4 km.] from Interstate 77 and Interstate 40, which makes it easier for customers to locate and for material to be shipped and finished product delivered," he says. "It's only two days by UPS to Florida or Ohio, two to three days to Texas, and three to four to California. This saves the customer and our business on shipping costs."
Word is getting out. In 2008, companies made 17 announcements to either expand or build a new facility in the Statesville-Mooresville Micropolitan Area, according to the Conway Data New Plant Database, the official corporate facility tracking service of
Site Selection
magazine.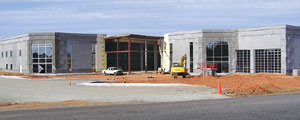 That project total was good for No. 1 in the nation out of nearly 700 micropolitan areas designated by the U.S. Census Bureau. According to the Bureau, a micro area is a largely rural economy that includes a city of at least 10,000 people but less than 50,000 and covers at least one county. Of the 3,141 counties in the U.S., 694 are classified as micro areas and account for about 10 percent of America's population.
Tupelo, Miss., tied for second with Daphne-Fairhope, Ala., which each recorded 12 projects in 2008. Ottawa-Streator, Ill., and Batavia, N.Y., tied for fourth with 11 each, while Wooster, Ohio, finished sixth with 10.
Rounding out the top 10 micropolitans were last year's winner, Lexington-Thomasville, N.C., and Ashtabula, Ohio, which each tallied nine deals, followed by Wapakoneta, Ohio, with eight, and Adrian, Mich., and Lincolnton, N.C., with seven each.
Statesville-Mooresville, about a 40-minute drive north of Charlotte, has been ranked first or second by
Site Selection
every year but one since 1999 –an indication of the area's long-term economic strength.

From Long Island to Lake Norman
"This ranking is a testament to so many assets that are here," says Mike Smith, executive director of the Greater Statesville Development Corp. "This area has great Interstate access. Lake Norman, the largest inland lake in North Carolina, is here. We offer proximity to Charlotte, Winston-Salem and the Blue Ridge Mountains. And we have a tremendous work force. Mitchell Community College does an outstanding job of training our workers. Companies that are looking at us see that."
After Kooks Custom Headers saw all of those factors, it was enough to persuade a couple of New Yorkers to head South.
"Moving from our long-time base of operations on Long Island was a difficult decision for us, but the people of Statesville, from the mayor to the Realtor who sold us our new house, made it an easy choice," Kook Sr. said at the time of the relocation announcement last May.
The Kooks are building a 50,000-sq.-ft. (4,645-sq.-m.) facility in the Statesville Business Park, thanks to some timely recruiting from an existing area business.
"We were introduced to Statesville through Maria and Rex Haughton from American Stainless in Statesville," Kook Jr. says. "They are suppliers to our company, and had set up a meeting with the Greater Statesville Development Corp. Mike Smith was a great help in our developing commitment to the Statesville area, along with the added incentives that were presented to us."
Kook Jr. cited the lower taxes in Iredell County, the strong work force in manufacturing and the overall lower cost of doing business.
It didn't hurt that Statesville's neighbor to the south, Mooresville, is known as "Race City USA" and is home to a large concentration of NASCAR race teams. Kooks' customers include many of the top racing teams in motorsports, as well as custom car shops and car enthusiasts.
"Kooks is very well connected in the motorsports industry, a market that we have specifically targeted for growth," said Smith. "They will be an excellent fit for the Statesville and Iredell County business communities."
Just a short drive down I-77, Mooresville experienced a banner year as well, accounting for about a dozen of the 17 deals in the micro area's total.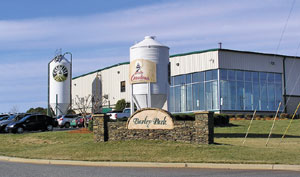 "Our proximity to a large marketplace in Charlotte, along with a low cost of operation and a high quality of life, has helped us keep our momentum through the years," says Russell Rogerson, executive director of the Mooresville-South Iredell Economic Development Corp. "We have a strong pro-growth community in Mooresville. People can come here, invest here and get a great return on their investment. We continue to keep the costs down and get the word out to business and industry."
Home to the corporate headquarters of Lowe's Companies Inc., and the
de facto
capital of NASCAR race teams, Mooresville has grown dramatically in the past two decades, doubling in size to more than 26,000 people.
While tourists flock to the region each year to visit Lake Norman and the motorsports showrooms, company executives find the area attractive for its competitive business costs, low tax rates and skilled work force, says Rogerson.

Top Race Teams Expanding
"Because of our very unique location and cost structure, we can support both headquarters operations and small business," Rogerson says. "We also have a good, diverse growth strategy and economic development effort in our community. We didn't have the large deal investment in 2008, but we did have a solid corps of smaller and diverse manufacturing and warehouse expansions."
Among Mooresville's top deals last year were
Carolina Beer and Beverage's
$11-million expansion that generates 22 jobs and 300,000 sq. ft. (27,870 sq. m.) of new warehouse space;
Penske Racing's
$2-million expansion that adds 46,000 sq. ft. (4,273 sq. m.) of shop space; and
Kasey Kahne Racing
's $5-million investment that creates 25 jobs and 26,000 sq. ft. (2,415 sq. m.).
Kyle Busch, the hottest driver in the NASCAR Sprint Cup Series last year, even threw his own name into the expansion pool.
Kyle Busch Motorsports
announced a $7-million project that adds 62,000 sq. ft. (5,760 sq. m.) of industrial space.
"Despite the recent contraction and consolidation of some NASCAR teams, we still have a very strong motorsports supply base in Mooresville," Rogerson says. "We are working closely with these companies to identify new markets for their products. There is a lot of technology involved in motorsports, and much of that work has plenty of applications in other fields, including military contracts."
The Statesville-Mooresville area also has caught the eye of international companies. Brazilian-based nonwoven fabrics manufacturer
Companhia Providência
announced in September that it would place its first North American factory in Statesville.
The largest producer of nonwoven fabrics in Latin America, ProvidÍncia is investing $133 million in a 215,000-sq.-ft. (19,974-sq.-m.) plant on 43 acres (17 hectares) in the West Industrial Park. The project creates 90 jobs over five years.
"Providência's decision to locate its first international manufacturing operation in Statesville was based on the city's excellent quality of life, a very skilled work force and the fact that Mitchell Community College built a solid reputation in training programs for our kind of industry," company CEO Herminio V.S. de Freitas said at the time of the project announcement.
Smith tells
Site Selection
that his community had to beat out several competing locations to land the project.
"This was a very competitive deal. This was the largest manufacturing investment in our community since 1988," he says. "Tennessee, South Carolina and Georgia were all in the running for this company. What sealed the deal was the fact that we had a great site in the West Industrial Park. It is a rail-served site just north of I-40, and their management team was familiar with this part of the country."
Utilities were critical, Smith noted. "They have repeatedly stated that our electrical rates were a major factor in their decision to locate in Statesville," he says. "That fact, along with our dual water sources, gives us a strong utility base for our clients."
Transportation logistics played a role too. "Our proximity to Charlotte and our international flights were a big help," Smith adds. "Charlotte just announced yet another direct international flight –to Rio de Janeiro. Now, we have seven direct international flights out of the Charlotte airport."

Nonwoven Infrastructure
Providência is locating right next to another international firm –
Pratt Industries
of Australia, a corrugated box maker that moved into 330,000 sq. ft. (30,657 sq. m.) in September.
The ProvidÍncia plant joins a growing hub of nonwoven industry firms in the region, including Buckeye Technologies in Gaston County, Avgol in Mocksville, Goulston in Monroe, PGI in Mooresville, Jacob Holm in Asheville and AFG in Reidsville.
Together, these plants make North Carolina the number one location in the U.S. for nonwoven manufacturing. And more could be coming.
The West Industrial Park recently announced that it will expand by 400 acres (162 hectares).
"The assets at North Carolina State University in Raleigh go a long way toward training the folks who work in the nonwoven industry," says Smith. "With North Carolina A&T, Duke, Virginia Tech and other engineering schools all within a few hours drive of Statesville, this sector will remain a growth industry in our region."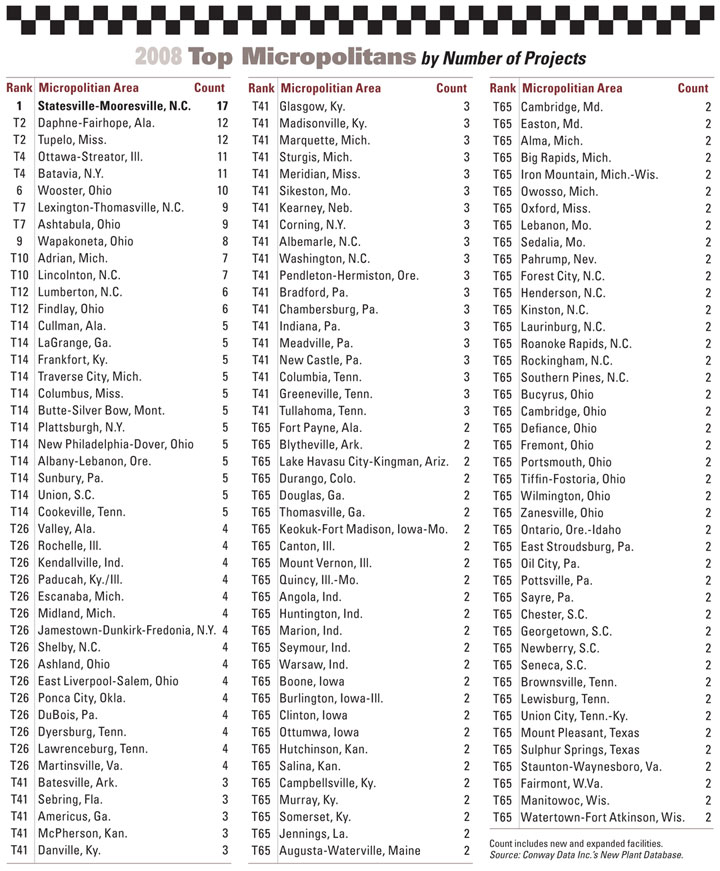 Site Selection Online – The magazine of Corporate Real Estate Strategy and Area Economic Development.
©2009 Conway Data, Inc. All rights reserved. SiteNet data is from many sources and not warranted to be accurate or current.