hen disaster strikes, the film industry may not be far behind.
Such has been the result in Louisiana, where events, incentives and star-powered endorsements have combined to bring a raft of new film and television production work to the state since Hurricane Katrina. Now the same may hold true for the Detroit metro, with two new studios occupying the former digs of previous economic saviors in the process – thanks to the sponsorship of two Detroit natives, among others.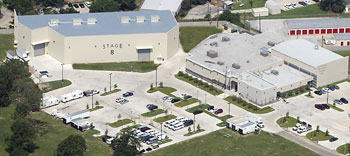 In early February, Michigan Gov. Jennifer Granholm announced that Motown Motion Pictures, a new venture to be operated by Hollywood-based
Raleigh Studios
, would invest US$70 million and create 3,600 direct jobs in a 600,000-sq.-ft. (55,740-sq.-m.), nine-sound-stage development in a former General Motors manufacturing facility in Pontiac. The project is being backed by Pontiac native and prominent developer Alfred Taubman, Detroit-based developer Nelson Ventures and Grand Sakwa Properties LLC.
Separately,
Wonderstruck Studios
, operating in partnership with Los Angeles-based real estate developer SHM Partners as Detroit Center Studios, will produce computer-generated visual effects and animated content at a new 413-employee operation in the former MGM Grand Casino temporary property in downtown Detroit. The company plans to invest $85.9 million in the facility, a former IRS building that MGM occupied temporarily until its new building was complete in late 2007.
The two projects attracted $142.5 million in state incentives from the Michigan Economic Growth Authority, including a 12-year, $101-million state tax credit for the Motown Motion Pictures project.
Like Louisiana, Michigan's film industry is benefiting from new incentives, which, also like the Bayou State, were spurred on in part by celebrity endorsements, from the likes of actor Jeff Daniels and bestselling author Mitch Albom, who in 2008 testimony to state legislators likened California's "it'll never leave" attitude toward its film industry to Detroit's old attitude about its auto industry.
The Detroit metro area has shown impressive project resilience in the face of the automotive industry meltdown, garnering fifth place among
Site Selection
's
Top Metros
for corporate facility projects in 2008, even as its unemployment rate reached 13 percent in January 2009, the highest rate among cities with populations of 1 million or more. According to Gov. Granholm, the new film incentives have spurred 70 different film and TV production projects and approximately $430 million in economic activity since being signed into law in April 2008.

International Scope
Minutes from meetings of the Michigan Film Advisory Commission show that Michelle Richards, the film and video-game entrepreneur behind the Wonderstruck project, has been working on establishing the studio in Detroit for more than a year. In an interview with
Crain's Detroit Business
, she said the MGM site was chosen from a baker's dozen of sites. She likened the new venture to another SHM project, the Los Angeles Center Studios, which found a home in a former Unocal headquarters.
The state press release said the project considered other sites in China and Korea. In her testimony to state legislators, Richards, a Michigan State University graduate, said she envisioned creating an animation automation pipeline in Michigan to do work currently outsourced to India.
Michael Newport, director of marketing and client development for Raleigh Studios, confirms that incentives drive projects in his business.
"There are great incentives in Louisiana and now Michigan," he says, "so it's natural that studio locations would be the next step in these areas."
Newport says Raleigh Studios was approached by the development groups in the Detroit area to do a studio feasibility study for the area. He says Raleigh is the only independent studio that conducts this type of study for locations, with the intent of being able to manage such studios once they're up and running. He says Raleigh's studios in Baton Rouge and Pontiac will be the only "built-for-production" studios in both states.
Raleigh Studios is growing in Louisiana too. The company in November 2008 teamed with FBT Film & Entertainment, an affiliate of First Bank and Trust, and Blueroom Post to commit to further expansion of production services in Baton Rouge and a new location in New Orleans. Raleigh also operates studios in Manhattan Beach, Calif.; Playa Vista, Calif.; and, soon, in Budapest, Hungary. The Playa Vista campus includes the facility once used to assemble Howard Hughes' famous "Spruce Goose" aircraft, and was the site of a planned $250-million studio project by Dreamworks SKG that fell by the wayside a decade ago.
Newport says Raleigh hears from a lot of economic developers. The company is currently doing a study for an area just outside Park City, Utah, as well as two other North American cities, and has been approached by several foreign countries as well.
Site Selection Online – The magazine of Corporate Real Estate Strategy and Area Economic Development.
©2009 Conway Data, Inc. All rights reserved. SiteNet data is from many sources and not warranted to be accurate or current.