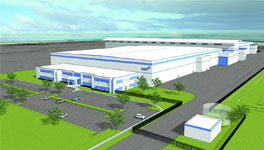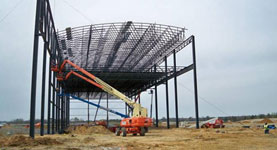 One of them was the North Carolina Global TransPark in Kinston, a long-simmering project in its own right. Spirit will build a 500,000-sq.-ft. (46,450-sq.-m.) complex there to do work for the Airbus A350 XWB (Xtra Wide-Body) commercial aircraft. The customer's identity was a key factor.
"The fuselage panels have to go to Europe for final assembly. So, the keys were location and logistics," said Cocca. Spirit will link to the Port of Morehead City via a 5.5-mile (8.9-km.) spur to be constructed from Norfolk Southern's line to the Global TransPark. "The day we received the award from Airbus was the day we announced we would be building that product in Kinston," he said. "That's the proactivity we are looking for, to be ready with sites."
North Carolina was proactive to the tune of a 20-year, $200-million incentive package, which Cocca told us "really put us over the top in North Carolina." So did a "highly skilled, underemployed work force, much of it coming from the textile and furniture industries," whose skills will translate well to Spirit's composites manufacturing processes.
The Golden Leaf Foundation contributed a $100-million grant to the Global TransPark Authority for construction of the Spirit facility, and is following that up with community assistance grants to Kinston and Lenoir County.
Vestas Wind Systems
Windsor, Brighton and Pueblo, Colorado
$700 million 2,750 jobs
For the complete story of how this multi-faceted series of projects came to fruition — even after it appeared to meet a dead-end — turn to the Colorado Spotlight on p. 385 of this issue. Among the factors that led Vestas to originally pick Windsor for its first plant, according to Kjýr Lundý Jakobsen, vice president, business development, Vestas Blades A/S, were a short-line railroad connecting to both BNSF and UP lines; work-force quality and size; higher education and research resources in the region, a professional response with a single point of contact and a business-minded "bureaucracy."
There were at least 26 partners involved in assembling the sequence of deals and a $50-million incentive package, including the Colorado Office of Economic Development & International Trade, Metro Denver Economic Development, Upstate Colorado Economic Development, all three cities and counties, six utilities and three railroads. Several Vestas suppliers, such as Hexcel and Creative Foam, are already expanding in Colorado. The Vestas plants are due online in November 2009.
Volkswagen
Chattanooga, Tenn.
$1 billion 2,000 jobs
After years of flirtation with several large project opportunities, including the Toyota project that went to Tupelo, Miss., in 2007, the Enterprise South TVA Megasite met its match
when VW picked it
over finalist sites in Huntsville, Ala., and Michigan in July 2008. "It was truly a very close competition," David Geanacopoulos, director of industry – government relations for Volkswagen of America, told us. "There was no individual factor that necessarily made the difference all by itself. But if I had to identify one, it was the readiness of the site, within the context of our aggressive timetable, which made it possible for us to move forward with the greatest confidence in Chattanooga." The first above-ground piece of the complex was erected in early April 2009. The company still hopes to be producing vehicles there by 2011, as it aims to sell 1 million vehicles in the U.S. by 2018.
A team of 25 people from The Staubach Co. (prior to its merger with Jones Lang LaSalle) helped VW narrow its list of 100 candidate sites in the eastern and central U.S. to 25, then to a dozen, then to the finalists. Unlike othe states where special legislation is often necessary to approve deal-specific incentives, in Tennessee all appropriate incentives were already in place. Meanwhile, the team at the Chattanooga Area Chamber of Commerce, headed by Trevor Hamilton, assembled no less than 2,750 pages of documentation for the VW team in the first quarter of 2008 alone. The redevelopment of the former army munitions site has meant approximately $75 million invested in the site and its infrastructure by the state, city and county, including a $23-million Interstate interchange gamble.
Bosai Minerals Group Co. China
Linden, Guyana
$1 billion 1,000 jobs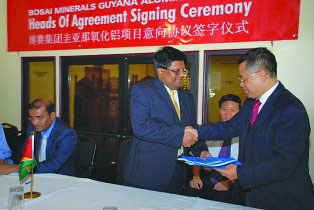 This alumina plant will be the largest single investment in Guyana's history. According to press reports, Guyana President Bharrat Jagdeo said the investment "almost approximates the size of the gross domestic product."
Pending completion of a feasibility study, the project will occur in a community that had fallen into economic decline since the first wave of bauxite mining in Guyana. In late February, the company reiterated its commitment to the project since the grade of bauxite produced is in higher demand than metal-grade bauxite. A fall in demand for the latter has forced Bosai and others to make job cuts.
The feasibility study for the project is slated for completion by the end of 2009. In the meantime the company is investing millions in other aspects of its overall bauxite operations. Other aspects of the company's investment plans, which follow on its 2007 acquisition of a Canadian concern, include approximately $10 million in equipment upgrades, include agriculture and forestry projects, and the re-establishment of an apprenticeship institute.
China Union
Bong, Liberia
$2.6 billion 3,000 jobs
Emblematic of a strong surge of Chinese corporate capital into Africa, the China Union Investment Co. has pledged the largest investment thus far in the two-year-old administration of Liberian President Ellen Johnson-Sirleaf. This project worked in reverse from most economic development deals: The quarry was not the company, but a quarry itself. The company, a consortium of Chinese private-sector interests with significant public-sector support, was the winner in a bidding process to operate the Bong Ranges iron ore mining site, with a master plan that includes a new hydropower plant to serve the area, and agricultural and livestock fields. The company may also be investing in a forthcoming free zone to be established in the Liberian port city of Buchanan, though details have yet to be set in stone.
Daimler
Kecskemét, Hungary
$1 billion 2,500 jobs
Announced in June 2008, this plant will churn out smaller Mercedes car models. The site beat out options in Ujazd, Poland, and Romania. "We are planning a new plant in Hungary to boost our competitiveness and to gain access to the potential of the Eastern European markets," Daimler Chairman Dieter Zetsche said. An MOU was signed a month later. In addition to spelling out land acquisition and project development milestones at the 990-acre (400-hectare) site, the MOU also addresses a planned rail connection and construction of an access road to a feeder road of the M5, the country's north-south connection.
The company will invest nearly three quarters of the Hungarian investment amount at its existing plant in Rastatt, Germany, to make similar compact models, and the two plants will work in concert going forward.
German media reports in February 2009 held out the possibility that faltering GM division Opel might sell one of its plants, in Eisenach, to Daimler, making the Hungarian investment potentially unnecessary. However, in early March, Zetsche confirmed the project would go forward, though three months of planning permission holdups have driven the completion date from 2010 into 2011, with production slated for 2012.
Digital Display Devices
Campania, Italy
$1.4 billion 1,000 jobs
This liquid crystal display manufacturing deal raised as many eyebrows as it did hopes. In an August 2008 presentation, Thomas Pearsall of the European Photonics Industry Consortium stated, "These plants lose money in Asia. How can DDD do better in Europe?"
With $285 million in co-investment funds by Development Italia as compatible with European Commission state aid rules, that's how. The aid was approved by EU authorities in part because of the high unemployment rate in Campania. In a plan in the works since 2005, the company, a division of Videocon, pledges to invest some $43 million in education and training and another $125 million in R&D. An MOU was signed in February 2008 in the company's home territory in India that calls for the building of a 1.7-million-sq.-ft. (163,000-sq.-m.) plant in the Township of Rocca d'Evandro.
The plant will be the first thin-film-transistor-LCD panel plant in Europe.
Masdar
Ichtershausen, Thuringia, Germany, and Abu Dhabi, UAE
$230 million 180 jobs
The investment and jobs numbers above relate only to the Abu Dhabi energy company's initial spend on a new photovoltaic production plant that will produce the world's largest PV modules. That plant is the first phase of Masdar's planned $2-billion investment in thin-film PV solar manufacturing. Masdar selected Germany because it is "a leading global center for PV technology." The 70MW plant, slated to begin production in 2009, will be a model for a 140MW plant in Abu Dhabi that should begin production by the third quarter of 2010.
"Abu Dhabi's geography and our vision to become a world leader in renewable energy, makes thin-film PV a natural area of focus for Masdar," said Dr. Sultan Al Jaber, CEO of Masdar. "Germany, with its technology, highly skilled work force, attractive investment climate, and direct access to the European market, make it an ideal partner for Masdar."
Masdar is driven by the Abu Dhabi Future Energy Company (ADFEC), a wholly owned company of the government of Abu Dhabi through the Mubadala Development Company. In January 2008, Abu Dhabi announced it will invest $15 billion in Masdar, the largest single government investment of its kind. In addition to the PV plants, Masdar is building
a self-contained sustainable community
called Masdar Eco-City, and is involved in the construction of several solar power plants in the UAE and in Spain, the latter in partnership with Spanish engineering group Sener.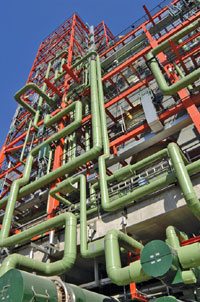 National Instruments
Penang, Malaysia
$80 million 1,500 jobs
Announced in November 2008 and scheduled to open in 2010, the project will be located on a 17-acre (6.8-hectare) site. It's the first plant in the ASEAN region for the Austin, Texas-based maker of computer-based measurement and automation hardware. A full 28 percent of the company's 5,000 worldwide employees are in R&D.
"Our goal in Malaysia is to be major center in manufacturing as well as R&D globally by 2015 when the plant is running at full capacity," said Dr. James Truchard, National Instruments CEO, at the announcement. According to press reports, another official declared that by 2015, the Penang site could be driving as much as 40 percent of revenue, in part because of its proximity to a booming Asian market. "Malaysia's strong university system, skilled engineers and IT professionals, regional infrastructure, favorable business climate and proven success of supporting global high-tech companies attracted National Instruments to the country," read the company's official announcement. "The close proximity of the new facility to Asian markets also makes it possible for the company to respond more quickly to customer demand in the region and provide better access to software and hardware services such as product calibration."
"We want to thank the Malaysian Industrial Development Authority and Invest Penang for their professional assistance in helping us realize our plans for the facility" said Rob Porterfield, vice president of manufacturing at National Instruments.
Peru LNG
Melchorita, Peru
$3.8 billion
PERU LNG is a partnership between Hunt Oil Company of Dallas, Texas (Project Leader, 50 percent); SK Energy of South Korea (20 percent); Spain's Repsol YPF (20 percent) and Marubeni of Japan (10 percent). According to the final report on the project's various aspects, published in February 2009 by the Inter-American Development Bank, "PERU LNG has already obtained the construction permit from the competent Port Authority – APN (National Port Authority)" for construction of the LNG plant and marine facilities in the coastal town of Melchorita.
"PERU LNG is the largest single private-sector project in Peru's history and will be one of the most significant contributors to Peru assuming a much more active role in the world economy," said Barbara Bruce, General Manager, PERU LNG, in June 2008, when the project received $2.25 billion in loans from 13 third-party credit agencies to finance construction of the project. The International Finance Corp., part of the World Bank, signed onto a $300-million chunk of that total. In addition to the coastal development, the overall project includes a new 254-mile (408-km.) pipeline that will connect to an existing pipeline network east of the Andes.
Renault-Dacia
Mioveni, Romania
$930 million 660 jobs
"After Ford's arrival in Romania and investments worth 675 million [euros, or about US$1 billion], Renault accepted … the challenge, because these investments stipulated for the next three years will join the [already considerable] investments that have overrun 1 billion euros so far," said Romanian Prime Minister Calin Popescu-Tariceanu in May 2008 as the Renault-Dacia gearbox factory was inaugurated — the latest milestone in a growth curve that began in 2006.
The gearbox factory is one part of the complex that produces the Logan automobile, with all production slated for export. At the inauguration, the prime minister said he hoped to interest Renault executives in his proposal for an industrial and supplier park in Campulung, where a factory which made the Aro offroad vehicle recently shut down. According to published reports in October 2008, his wish was coming true, as Landmark Management, a real estate development firm owned by Nicolae Ratiu, pledged to invest some $105 million in that property's redevelopment, with lease promises from parts suppliers Lear and Nobel Plastiques already in the works.
Sanyo
Quang Chau Industrial Zone, Bac Giang, Vietnam
$95 million 12,000 jobs
Sanyo broke ground in September 2008 on this 646,000-sq.-ft. (60,000-sq.-m.) electronic component manufacturing complex, slated for completion in 2010. The facility, located in the Quang Chau Industrial Zone operated by the Kinh Bac Urban Development Joint Stock Co., is the company's third factory in Vietnam.
The Sanyo parcel takes up 1.5 million sq. ft. (144,000 sq. m.) on the zone's 1,053-acre (426-hectare) spread. It is expected to export more than $300 million worth of product annually.
Vietnam continues to grow its electronics industry at a titanic pace, with other recent major projects in the past two years from Tyco Electronics (2,000 employees) and Foxconn, which is pledging $5 billion toward plants in Bac Giang and Bac Ninh provinces.
Tata Motors
Sanand, Gujarat, India
$417 million 2,000 jobs
It was arguably the
site selection story of the year
: Tata had chosen a site in Singur, West Bengal, where it had been working for the past two years to construct an automotive plant that would employ 2,000 in the manufacture of the Nano mini-car, known as "the people's car." Instead, some of those people, including displaced farmers, mounted increasingly violent protests at the construction site, driving Tata, whose project was near completion, to move the project to a new site in Gujarat.
"The site in Gujarat will help Tata Motors establish a new dedicated mother plant with the shortest possible time lag and least possible incremental project cost," said Tata Motors Chairman Ratan Tata, noting that the land was already under state government possession. Indeed, the West Bengal government had been unsuccessful in convincing some 2,200 of 13,000 landowners to accept its offered monetary compensation for the Singur plant site.
As reported by Executive Online Editor Jack Lyne, the Sanand site spans 1,100 acres (440 hectares), including a 300-acre (120-hectare) supplier park. Tata is paying the Gujarat government approximately $82 million for the site, and will end up spending about 20 percent more than the budgeted outlay in West Bengal.
Despite high demand, the delay in the new plant has meant Tata can produce only up to 50,000 cars in the model's first year, using existing factories. In March 2009 the $2,000 Nano made its debut to worldwide fanfare.
Site Selection Online – The magazine of Corporate Real Estate Strategy and Area Economic Development.
©2009 Conway Data, Inc. All rights reserved. SiteNet data is from many sources and not warranted to be accurate or current.