TOP TEN GROUPS OF 2008
From Site Selection magazine, May 2009
The Center Holds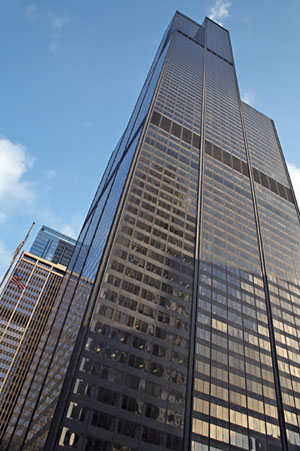 I
f you want to know where the jobs of the future are headed, look no further than Middle America.
From Houston to Chicago, communities in the central part of the U.S. are setting the pace in job creation and capital investment generated by corporate facility projects, according to the Conway Data New Plant Database. These top-performing cities are doing the best job at landing the real estate deals that drive economic growth.
Each year,
Site Selection
selects the previous year's Top Economic Development Groups based upon the following criteria: total capital investment; investment per capita; total jobs created; jobs created per capita; the contributions of the local or regional economic development organization toward the attainment of these numbers; overall economic vitality; depth and breadth of economic strength; diversity of industry; ability to generate breakthrough deals; and the ability to provide documentation for all projects.
To be included in the projects database, a corporate facility deal must meet one of three minimum criteria: it must represent at least $1 million in capital investment; it must create 50 new jobs or more; or it must result in the creation of at least 20,000 sq. ft. (1,858 sq. m.) of new space.
The database tracks corporate and industrial space including headquarters, manufacturing plants, distribution warehouses, service centers, data centers, call centers and other related facilities. Hospitals, schools, restaurants, retail stores, churches, government buildings and other institutional projects are omitted.
Based upon the criteria outlined above, the organizations doing the best job of economic development can be found in places far from the traditional seats of influence. In fact, the farther you travel from Washington, Hollywood and Wall Street, it seems, the more you find the conditions ripe for business growth and innovation.
Consider the stories of these winning groups for 2008, listed in alphabetical order by city:
There is a reason why Chicago was ranked as the No. 1 metro in the U.S. in corporate project activity by
Site Selection
for three years in a row and six years out of seven. Few economic development organizations do their job any better than World Business Chicago.
While Chicago ranked third among all large metros with 138 in projects in 2008,
the Windy City continued to set records in capital investment and job creation
. WBC reported more than $2.25 billion in investment and more than 4,500 new jobs stemming from corporate real estate deals last year.
In the decade of the 2000s, no metro area in the country has produced more corporate facility expansions, more jobs or more capital investment, according to the Conway Data New Plant Database.
"We have one of the best products in the world to market and sell," says Rita Athas, executive director of WBC. "The city's location and work force speak for itself. We are always ranked as one of the most diverse economies among major cities, and we have a vibrant, 24-7 urban core. People are still moving downtown, and it is a great place for two-career couples."
MillerCoors
chose Chicago for its corporate headquarters in 2008. The company signed a 15-year lease for nearly 130,000 sq. ft. (12,077 sq. m.) of office space at 250 S. Wacker Drive, where the firm will employ up to 400 people in executive and management positions.
Veolia Environnement
, the world's largest environmental services company, selected Chicago as its new North American headquarters. The firm signed a 34,500-sq.-ft. (3,205-sq.-m.) lease in the Aon Center, where Veolia will employ 60 executives and other administrative workers.
Other big deals of the year in Chicago came from
Aviva
,
Tempel Steel
and
Barry Callebaut
. And in a signature move,
Willis Group Holdings
announced in early 2009 that it would become a tenant in the Sears Tower. As part of the deal, the Chicago landmark and tallest building in the Western Hemisphere will be renamed the Willis Tower.
"Willis Insurance is the fifth largest insurance company in the world, and we are seeing a lot of other activity already in 2009," adds Athas. "A lot of entrepreneurial companies are still growing right here in Chicago. Ultimately, they are going to be the job producers of tomorrow."
Long-suffering fans of the Cincinnati Bengals could use a dose of good news at this time of year, and they are getting it thanks to the efforts of Cincinnati USA. With 124 corporate facility projects in 2008, the greater Cincinnati metro area ranked fourth among all large cities in the U.S. and was a big reason behind Ohio capturing its third consecutive Governor's Cup from
Site Selection
in March.
The partnership reported more than $1.35 billion in capital investment and 7,185 jobs created by corporate expansions last year. Headline grabbers included
American Financial Group
, which expanded by $322 million and 530,000 sq. ft. (49,237 sq. m.) in Cincinnati, and
U.S. Playing Card Co.
, which grew by $70 million and 500 jobs in Boone County,
Ky. Cincinnati Bell
added a $56-million, 100-job data center in Lebanon, Ohio.
"The recent tax changes enacted by Ohio affirm our message," says Doug Moormann, vice president of economic development for the Cincinnati USA Regional Chamber. "We are a low-cost environment for growing businesses. We compete well with big cities around the country. We still offer 90 direct flights to other U.S. cities, plus a number of direct flights to destinations in Europe."
Other factors driving business growth in the region, says Moormann, are a knowledgeable work force; colleges and universities that produce about 100,000 graduates a year; a historic base in consumer product manufacturing and marketing; and a healthy mix of high-tech companies such as GE Aerospace and Amylin Pharmaceuticals.
"Companies locate here to work with Macy's, Kroger and Procter & Gamble. For example, the people who process all of the data from the Kroger Plus Cards are based here," adds Moormann. "They are doing work with Home Depot too. They use the information gleaned from product sales, and they try to improve sales performance through improved customer intelligence."
With 156 corporate facility deals in 2008, the Dallas-Fort Worth-Arlington metro area finished second among all large cities in America, according to the Conway Data New Plant Database. Anchoring the marketing efforts for the region is the Dallas Regional Chamber.
"Our industries are holding up well. Our banks and our financial services sector are doing very well in terms of jobs," says Mike Rosa, vice president of economic development for the Dallas Regional Chamber. "The DFW market is pretty affordable. We hold up very well during times of economic downturn and don't experience the same amount of job cuts as other places do. We are a bit insulated because of our business climate."
The DRC reported more than $1.3 billion in capital investment and 11,858 new jobs from corporate expansion projects in 2008. Rosa says space availability helped DRC close a bevy of deals.
"We have a huge base of real estate and it is very sophisticated," Rosa says. "Our ability to provide spec space is unmatched anywhere else in the country. As a result, our projects are pretty diverse."
Big deals in Big D came from
AT&T
, which moved its headquarters and 700 jobs from San Antonio, and
Interstate Bakeries
, which is relocating its headquarters from Kansas City.
"Especially in turbulent times, there are reset buttons that companies are trying to hit. Places like DFW will pop up and make sense for a lot of corporate reasons," notes Rosa. "For companies that are fractured between eastern and western outposts, they will be looking at places where they can consolidate operations, and the best place to do that right now is DFW."
The Dayton Flyers weren't the only team making noise in Southwest Ohio this past year. While the mid-major college basketball program was knocking off powerhouses and earning a bid to the NCAA Tournament, the Dayton Development Coalition was chalking up an impressive haul of its own.
By landing 41 corporate facility projects in 2008, Dayton beat out all metro areas in the population category of 200,000 to 1 million people. Big deals came from companies like
DMAX
, which announced a $64-million diesel-engine plant investment in Moraine, and
Cornerstone Research Group
, which announced a $17-million, 130-job materials R&D plant in Xenia.
"A tremendous manufacturing services base is located here," says Jim Leftwich, president and CEO of the Dayton Development Coalition. "Companies can roll in and find a great base to support their operation. One reason for that is the fact that this region got out in front of the work-force challenge. We made a focused effort to take the time to understand the needs of the employers in the area. We make sure that our work-force training providers are structuring their programs to meet the needs of our employers in a very timely fashion."
The success of 2008 is spilling over into 2009, adds Leftwich. "We have about 20 active projects that are in the mix right now," he says, some of which will close very soon. "Together, they represent about 3,200 jobs. They include both U.S. and international businesses."
Communities throughout the Dayton area benefit from this windfall, notes Leftwich. "Economic development in this region is truly a team sport. We work very closely with everyone in the region. Our view is that if one entity succeeds, everyone succeeds."

Greater Houston Partnership
Houston, Texas
Jeff Moseley, President and CEO
www.houston.org
When
Site Selection ranked Houston as the No. 1 large metro
in the U.S. for corporate project activity in 2008, the news surprised some. It didn't surprise Jeff Moseley, president and CEO of the Greater Houston Partnership.
"When we put together Opportunity Houston, it was designed to be a five-year initiative that our business community felt was critical to marketing the area," Moseley says. "We raised and committed $32 million for showcasing and marketing the area, and that program will be measured on its ability to bring in leads and prospects."
The program, encompassing 36 regional economic development allies in the 10-county region, includes an $800,000 GIS mapping application that provides real-time data on specific sites.
Based upon 2008's performance, it appears as though the marketing efforts are paying off. The GHP reported more than $6.2 billion in capital investment from projects creating 9,925 new jobs last year.
One of the biggest deals came from
Hewlett-Packard Co.
, which announced in October that it would build a $250-million facility on 97 acres (39 hectares) it acquired near the small town of Hockley, about 18 miles (29 km.) from the company's main campus in Houston.
The Palo Alto, Calif.-based HP has had a major presence in Houston since acquiring Compaq Computer Corp. in 2002, and that presence could grow even larger. HP has an option to buy another 100 acres (40.5 hectares) in the new industrial park northwest of Houston.
"The heavy lifting of putting Opportunity Houston together has been done," notes Moseley. "We are suited up and on the field. A lot of other communities are still in the locker room."

When you work as hard as the people of Central Indiana do every year to host one of the world's biggest sporting spectacles – the Indianapolis 500 – you learn a thing or two about putting your best foot forward.
The Indy region did a lot of that in 2008 as the region tallied 58 corporate facility projects and reported $928 million in capital investment and 8,320 jobs generated by these deals.
"We are consistently ranked as having one of the most productive work forces in the country," says Ron Gifford, president and CEO of the Indy Partnership. "We have also been ranked as the most affordable housing market in the U.S. for 13 quarters in a row."
Infrastructure projects are paying off too, says Gifford. "When a business person sees a community investing in itself, that sends a strong signal that the company should invest here," he notes. "We just opened our new $1-billion airport. We opened the $800-million Lucas Oil Field last year. We are expanding our downtown convention center, and new hotel complexes are coming on board. This city has committed almost $3 billion in investment into public assets at a time when a lot of other communities are retrenching."
Companies are taking note.
EnerDel Inc.
, a lithium ion battery company that came out of General Motors, announced a $120-million manufacturing plant expansion last year in Indianapolis, creating 855 jobs.
Nestlé USA
announced a $200-million, 135-job expansion of its beverage plant in Anderson.
"We find that if we get folks to our community, they are blown away by all of the great things going on here," Gifford adds. "Our mission is to stop being the best-kept secret around."

Fresh off another NFL Super Bowl title courtesy of the Pittsburgh Steelers, the Steel City is basking in the glory of another sort – a banner year of economic development.
The 10-county region of southwestern Pennsylvania reported more than $4.2 billion in capital investments generated by 290 economic development deals. Those projects are expected to create, over time, 13,208 new jobs in the Pittsburgh region and retain another 17,047 jobs, according to the Pittsburgh Regional Alliance.
"Pittsburgh has a very balanced economy," says Dennis Yablonsky, the former Pennsylvania Secretary of Community and Economic Development and Pittsburgh native who was appointed CEO of the Allegheny Conference on Community Development in March 2009. "It still has a reasonable amount of advanced manufacturing, and we've had a lot of technical growth and innovation coming out of Carnegie Mellon and the University of Pittsburgh. Plus, we have invested a lot of money into infrastructure in the last 10 years, particularly in site prep work. We had a lot of brownfields that were not prepared for pad-ready development. We now have those."
As a result, the Pittsburgh region has been raking in a bevy of projects over the past two years. "Having the real estate available and the sites ready to go in the growth corridors of this region has made Pittsburgh an easier place to do business," says Dewitt Peart, president of the Pittsburgh Regional Alliance. "And we are seeing the pipeline of project activity continue to grow."
Big wins for the region include
Flabeg Corp.
building a 220,000-sq.-ft. (20,438-sq.-m.) solar mirror production facility, its first in the U.S., on 19 acres (7.7 hectares) in Clinton Commerce Park near the Pittsburgh International Airport in Allegheny County, and
Philips Respironics
expanding its operations in southwestern Pennsylvania with a 165,000-sq.-ft. (15,329-sq.-m.) manufacturing plant for sleep therapy devices.
Flabeg is investing about $30 million in its facility, while Philips is investing $32 million, according to the PRA.
Adversity can be a great teacher. No one knows that better than the folks in Sioux City, Iowa, a tri-state metro area that has seen big industries and big employers come and go over the years.
"We went through our own recession when Gateway began to struggle," says Chris McGowan, executive vice president of economic development for The Siouxland Initiative, the economic development arm of the Siouxland Chamber. "At one point, the computer company employed more than 6,000 people in our community. Now, they employ less than 100. We know what it is to go through major job losses. We can certainly relate to the pain that other communities are experiencing. More than anything, that is what drives us more every day. When we are successful, it puts our friends and our neighbors to work in good jobs."
Lately, those good jobs are multiplying in the Sioux City area. For each of the past two years, Sioux City has been ranked the No. 1 small metro in the U.S. by
Site Selection
for having more corporate facility projects than any other city of less than 200,000 people. In 2008, the Siouxland region had 20 expansion deals that generated more than 2,500 jobs for the community of 143,000 residents.
Debi Durham, president of both the Initiative and the Chamber, says it's the power of regional alliances that propel the area. "You have to have someone who is the keeper of the regional vision, and that is The Siouxland Initiative," she says. "Our strength is the region. We meet with six U.S. senators and three U.S. House members. The alliance we have here is very powerful, and everything we do is about economic growth."
That growth may soon accelerate if
Hyperion Resources
gains approval to begin work on a $10-billion oil refinery in Elk Point, S.D. So far, the project has passed all key regulatory hurdles. "A final decision is expected in July," says McGowan.

Greater Statesville Development Corp.
Statesville, N.C.
Mike Smith, Exec. Dir., GSDC
www.greaterstatesville.org

Mooresville-South Iredell
Economic Development Corp.
Mooresville, N.C.
Russell Rogerson, Exec. Dir., MSIEDC
www.edcmooresville.org
How does one micropolitan area get ranked first or second in the nation by
Site Selection
for corporate project activity 10 years out of 11? In the case of Statesville-Mooresville, N.C., it helps to have two economic development organizations that rank among the best in the country.
In 2008, the Iredell County micro area beat out all others by registering 17 corporate facility expansions. Altogether, these projects accounted for $366 million in capital investment and generated 362 new jobs for the area.
"When company executives come here, they know that this is a good place for their family and their business for the long term," says Mike Smith, executive director of the Greater Statesville Development Corp. "Our educational system helps us stand out. The North Carolina school superintendent of the year is located here. This is the quintessential American small town."
Russell Rogerson, executive director of the Mooresville-South Iredell Economic Development Corp., concurs. "It takes a complete package to be successful in economic development," he says. "You must have strong regional efforts and strong local and state efforts. It is about product and total attraction efforts as well."
Key investments in Iredell County last year came from
Aerodyne Wind Tunnel
, which announced a $1-million expansion of its engine-testing facility, and
Frito-Lay
, which announced a $1-million expansion of its warehouse. Both are in Mooresville.
The year's largest deal for the county came from
Companhia Providencia
, a Brazilian company that announced a $133-million investment in a nonwoven fabrics plant in the West Industrial Park in Statesville. The project creates 90 jobs for the area.

Community Development Foundation
Tupelo, Mississippi
David Rumbarger, President and CEO
www.cdfms.org
When Toyota announced that it would build its next-generation model of the hybrid Prius at the company's new plant in Blue Springs, Miss., David Rumbarger said it represented "the coming of age" for the Tupelo area.
"The impact of having a high-tech vehicle like the Prius being built right here is huge," says the president and CEO of the Community Development Foundation. "It has changed a lot of the mindset for young people in this area in terms of their access to 21st-century type jobs. This truly represents the birth of the eco-centric mindset in Tupelo."
Building an earth-friendly car that gets 50 miles per gallon has a way of doing that. "The 2010 Prius, which is the first model that will be assembled here, will have over 1,000 new worldwide patents," says Rumbarger. "It will feature a more fuel-efficient engine of 1.8 liters, larger interior capacity and improved drag co-efficiency. It will even have an option package that includes photovoltaic cells as part of the rooftop panels."
(According to early April news reports, the Toyota plant in Tupelo will be idled upon completion and the company will rely on its Japan-based Prius plant until global demand makes a comeback.)
Large investments in 2008 in Tupelo came from
Toyota Auto Body
, a supplier that announced an $84-million expansion in Baldwyn, and
ForeFront Group Inc.
, a golf accessories company that's building a 200,000-sq.-ft. (18,580-sq.-m.) distribution center in Lee County.
"It's been a really good year for our area, thanks to the diversification of the marketplace," adds Rumbarger. "This has all been the result of a dream that started way back in the 1990s. For those who have the patience with economic development, it really does work."
Landing 12 corporate expansions, totaling 557 jobs and $142 million in capital investment in 2008, attests to the value of that patience.
Honorable Mention Groups of 2008