here's no mystery to Pittsburgh.
The reversal of the City of Bridges' image problem and momentum is exactly why the city was chosen to host the Group of 20 Summit in September 2009. As corporate project counts and their sectoral diversity attest, the reversal is very real. And when world financial leaders descend onto southwestern Pennsylvania, they will see manufacturing and redevelopment still lie at the city's economic core.
According to the Conway Data New Plant Database, Allegheny County leads all Pennsylvania counties in attracting private-sector facility locations and expansions between July 2008 and today. The nearby counties of southwestern Pennsylvania are doing their part too.
Why the resurgence? The Pittsburgh G-20 Partnership has been busy passing out "Ask Me – I'm a Pittsburgher" buttons. So we took the command seriously.
Bill O'Rourke has been an Alcoa vice president since 1997, serving since 2005 in successive roles as president of Alcoa Russia, vice president of global business services and chief information officer and, since September 2008, as vice president, sustainability and environment, health & safety.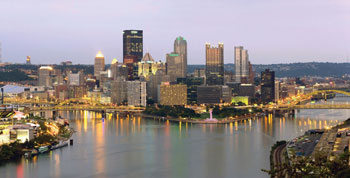 He's held numerous other titles in the organization during his 34-year career at the company, including that of patent attorney when he joined Alcoa in 1975 after receiving his law degree from Duquesne University's School of Law in Pittsburgh. Alcoa was born in Pittsburgh 121 years ago.
"We were founded in 1888 on Smallman Street, close to where this year's G-20 Summit is being held," says O'Rourke. "In the 1950s, Alcoa contributed to the development of the Golden Triangle with construction of our 31-story aluminum-clad headquarters. And, in the 1990s, we led the resurgence of the North Shore when we built our new corporate center anchored between the 7th and 9th Street bridges on the Allegheny River."
Today, that area boasts PNC Park, Heinz Field, the Warhol Museum, the Equitable Resources and Del Monte buildings and North Shore Park, and recently welcomed the new $780-million Rivers Casino.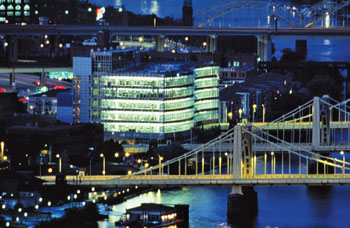 O'Rourke's affinity for his native city is matched by his company's.
"Alcoa operates worldwide, with offices in a number of cities, large and small," he says of the aluminum industry leader that saw 2008 revenues of $26.9 billion. "However, keeping our corporate administrative services, information technology and data center, and our research facility in Pittsburgh continues to work for us. Although I've spent some time during my career in other places –New York City, Virginia and Russia – I was born and raised in Pittsburgh and I know it to have a very caring population that has a strong work ethic and extreme loyalty to the region. I'm sure other companies that started in Pittsburgh or have been drawn here have realized those strengths too."
O'Rourke says the area economy has continued to rely on its traditional strengths – manufacturing, energy, and finance – while also creating jobs in new fields such as information technology, alternative energy and biomedical research. And it's cleaned up its act along the way.
"We've made great strides in environmental improvements from our Smoky City days," he says, pointing to the G-20 Summit site, the David L. Lawrence Convention Center, which is the world's largest LEED-Gold certified convention center. He also points out that the city just hosted a world championship bass fishing tournament on its famous three rivers.

Bank On It
Redevelopment and sustainability also were central to the new Three PNC Plaza project from
PNC Financial Services Group
.
"Three PNC came about after PNC, over a period of more than 10 years, acquired 13 properties west of our campus," explains Gary Jay Saulson, director of corporate real estate for the Pittsburgh-based financial services giant. "The properties were generally older buildings, most in disrepair and some in blighted condition. We made the acquisitions in order to protect our campus from their further deterioration and to allow for future expansion."
PNC has been committed to environmentally friendly design and construction for more than a decade, and has built more LEED-certified buildings than any company in the world, says Saulson. Asked how well the company's sustainability goals mesh with policy in the metro area and in the state, Saulson says, "Fortunately, the Pennsylvania and Pittsburgh governments are supportive of these initiatives. Pennsylvania, for instance, recently passed Act 129, which requires utilities to reduce the energy demand on the grid.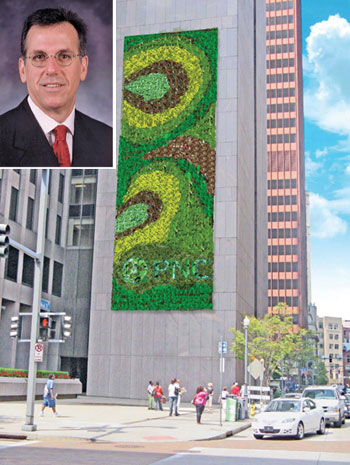 Therefore, many utilities have state grant money to support energy efficiency programs that might have been otherwise cost prohibitive in this economic climate for organizations and households to cover. The City of Pittsburgh and surrounding Allegheny County have both made environmental stewardship a major part of their agendas, and they have hired new sustainability coordinators to drive these initiatives forward."

Positive Vibrations
Saulson finds business conditions in the area "extremely conducive to growth and expansion of companies," but pointed to transportation as an area of increased focus for the region and for his company.
"As in many cities, the broader availability of public transportation is critical to encouraging employees and employers to relocate," he says. "That is important to us."
Again, collaboration and good planning is the order of the day.
"If you look at our major downtown Pittsburgh facilities, they are all within a block of public transportation hubs," he says. "A recently acquired facility on the north bank of the Allegheny River will be near the new terminus of the extended subway system. At the other end of that system, where the train line enters downtown, we convinced the transit authority to locate a station next to our first green building, PNC Firstside Center."
Though some identify the layers of government in the Keystone State as an obstacle, Saulson says, "We have found that transparency and cooperation with local, municipal and state governments has paved the way for successful projects with very little red tape and governmental intervention."
Dennis Yablonsky is glad to hear it. Another native Pittsburgher, the former software executive resigned in October 2008 from his post as Secretary of Community and Economic Development for the state, only to resurface in early 2009 as the new CEO of the Allegheny Conference on Community Development, the umbrella organization heading up economic development for the entire southwest Pennsylvania region.
Work led by Yablonsky's team during his state-level tenure was instrumental in continuing the Pittsburgh recovery, thanks to revitalization projects under the state's Community Action Team program and thanks to Act 47, which helped pull the city from financially distressed status in 2004 to surpluses of more than $100 million each year from 2005 through 2007.
Echoing O'Rourke's comments, Yablonsky says the area's richness in manufacturing innovation is now complemented by innovations in other realms, and that a vibrant energy cluster has sprouted within the area's strong technical and engineering environment.
Yablonsky says he is cautiously optimistic: Pittsburgh is still losing jobs, he says, "just less than other places." At the same time, the level of inquiries is steady, and the month of June saw the largest number of new projects all year enter his organization's pipeline.
Filling the talent pipeline is also center stage. Yablonsky says the current number of open jobs in the region (tracked at www.imaginemynewjob.com) is approximately 25,000, with 1,800 of those paying more than $100,000 a year.
The Allegheny Conference has a 10-county responsibility, but its vision resonates far beyond that. A two-year regional visioning process recently kicked off involving 34 counties in four states, and the Conference is involved in a technology-oriented economic development effort with Cleveland, Ohio, called the Tech Belt Initiative.
"I think the big issues of economic development and infrastructure are blind to municipal boundaries," says Yablonsky.  

Learning To Lead
Carnegie Mellon University, the University of Pittsburgh and 32 other universities and colleges in southwestern Pennsylvania are doing their part for economic development. That includes the redevelopment for which the area is so renowned.
In late June 2009, Carnegie Mellon reached an agreement to purchase three acres (1.2 hectares) from Carnegie Institute and an additional 17,150 sq. ft. (1,593 sq. m.) from PNC to further develop Forbes Avenue into an educational, research, business and cultural corridor, continuing a process that began in 1999.
Carnegie Mellon also will purchase the National City property at 4612 Forbes, currently owned and operated by PNC. The transactions are valued at approximately $25 million. End uses are in the planning stage, but will include aspects that advance Carnegie Mellon's priorities and the region's economic development, said Carnegie Mellon President Jared L. Cohon.
"This is an investment in our future," he said. "This land is of such compelling importance to the university that we have decided to move forward with the purchase, even in this challenging economic climate."
According to a press release, "the university hopes to model the development of some of the property after its Collaborative Innovation Center, which has allowed Carnegie Mellon to attract Apple, Google, Intel and a Microsoft sponsored research lab." Bill Gates himself will visit campus during the G-20 Summit in September to launch the new Gates Center for Computer Science.
"Organizations like the Allegheny Conference have high expectations of what can be done when the university grows because we've seen what having great organizations in such close proximity will do for the region," said Yablonsky at the Forbes corridor announcement. "Carnegie Mellon has a unique way of adding luster to many of the city's growth sectors."
"Alcoa has always had a very strong presence at our local colleges and universities," says Alcoa's Bill O'Rourke. "We maintain a strong internship program, as well as good success in recruiting new talent. From what I can see, the region's colleges and universities have continually enhanced their relationships with Pittsburgh-area businesses, so I would say that infrastructure is solid and Alcoa benefits from it."
PNC's Gary Saulson agrees, noting his company's alliances with the University of Pittsburgh's Mascaro Center for Sustainable Innovation and with Carnegie Mellon on such topics as best building practices, energy usage and workplace environment.
Yablonsky says both Pitt and CMU have seen their technology transfer operations mature greatly.
"We used to start up two companies a year in life sciences. We're now averaging 15 to 20 a year," he says. "They also do a wonderful job of teaching entrepreneurship. There are a lot of young people coming out thinking of starting a new company."
Area Film Industry Could Be 'Unstoppable'