UNIVERSITY ALLIANCES
From Site Selection magazine, January 2010
SHARE THIS ON SOCIAL MEDIA
Tweet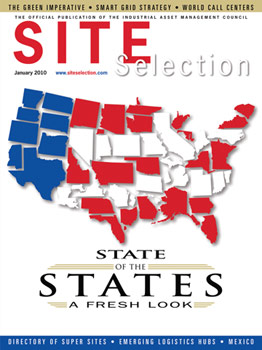 Strength in Numbers
W
hen university research investment is flowing out of the country, it's time to do things differently in order to protect the United States' ability to compete in today's global economy. Now, more than ever, the U.S. needs to strengthen its focus on domestic innovation and talent.
The University-Industry Demonstration Partnership (UIDP), a coalition of more than 70 organizations and institutions, launched in 2006 with the objective of enhancing the value of collaborative partnerships between Academia and Industry in the United States. Healthy and productive domestic relationships directly benefit both State and Federal socioeconomic growth. 
Albert Einstein once said that "innovation is not the product of logical thought, although the result is tied to logical structure." These words speak to the fundamental tenet of the UIDP: to provide a forum, or logical structure, for representatives from universities and industries to find better ways to work together. Tim Mulcahy, Vice President for Research at the University of Minnesota and the UIDP's President, describes the Partnership as providing a way "to discuss, demonstrate and succeed in overcoming the many challenges that stand in the way of productive relationships." 
Join a diverse membership
UIDP members cannot be characterized by job title or function; type of organization, sector or size. The Partnership is also not discipline-specific, and members come from across industry, universities, research institutions, non-profits and government. 
What connects them all is the belief that many of the most challenging issues impacting university-industry relations can be addressed by taking a disruptive, rather than incremental, approach to problem solving. All members are committed to finding more effective ways to partner, and identify and initiate projects and demonstrations to overcome issues impacting their ability to collaborate. Participants work together to develop new principles, practices and networks, and to create practical tools to facilitate the achievement of mutually-beneficial research collaboration.
Understand who's at the negotiating table
Industries and institutions sit side-by-side at the Partnership to problem solve for the collective good, at the same time as find ways to advance the goals of their respective organizations. The benefits of these discussions are invaluable and form the foundation for future negotiations, built upon stronger understanding of each others' cultures and interests. Active participation in the UIDP is one of the most profitable investments that can be made to avoid wasting time, money and resources dealing with intractable university-industry partnership issues.
Decide if it's time to take a new approach
The success of the UIDP is best summed up by Dr. Susan Butts, the Dow Chemical Company's Senior Director of External Science and Technology Programs: "The connections and relationships I've developed through the UIDP have helped me to do my job more effectively." 
It's that simple. The UIDP exists to help U.S. universities and industries get the job done right, together, ensuring American innovation remains strong.
Isn't it time you joined us to explore the unlimited possibilities?
www.uidp.org.  202-334-3145.