SPECIAL ADVERTISING SECTION
UNIVERSITY ALLIANCES
From Site Selection magazine, January 2010
SHARE THIS ON SOCIAL MEDIA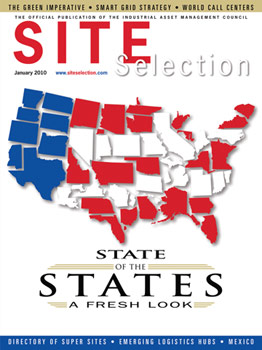 University Research Parks
Advancing Talent, Intellectual Property,
Research Capacity and Economic Development

N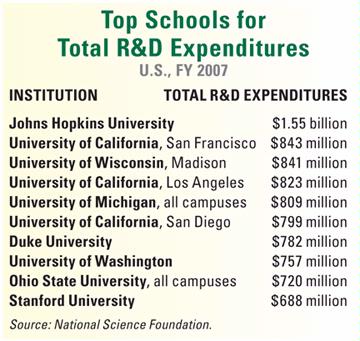 orth American research parks have evolved much during the past 50 years. In their beginnings, research parks predominantly were simple real estate models that were proximate to a university.
Today's parks are hot spots of talent, intellectual property, research capacity and economic development. This shift is made possible by the parks' full engagement with their local universities as well as the celebration of the entrepreneurial culture in North American universities and research parks.
Research parks specialize in facilitating engagement between their businesses and their university, and in providing services to faculty members and researchers who wish to pursue entrepreneurial activities. Research parks also work with economic development agencies, real estate professionals and site selectors. This has greatly increased the overall entrepreneurial spirit within communities and regions, and takes full advantage of a university's core strengths:
Talent. Companies that locate in a university research park have the opportunity to utilize university-based talent to grow and enable their firm. For startup companies trying to build a team, the available talent enables them to fill or supplement key roles within their technical team. Faculty members and researchers who become engaged in business or develop as entrepreneurs seldom leave their teaching or research posts at the university, but many report that these experiences make them more effective in their teaching and research as a result of the knowledge they gain from their engagement activities.
We also see more university activity directed specifically at increasing entrepreneurship and technology commercialization, thus leading to an economic impact. For existing companies, talent offers the following opportunities to expand their capabilities:
To interact with world-class faculty members and researchers on development of new technologies. This can range from utilizing researchers and faculty members as consultants to filling or supplementing key technical roles within the company.

 

To utilize students, graduate and undergraduate, who are learning and participating in cutting-edge research activities at the university.

 

To hire recent graduates.
Intellectual Property provides opportunities for companies to utilize the output from research and discovery activities within a university. Having a continual flow of new discoveries that produces patents and licensing helps in several ways:
Companies benefit from licensed technology.
Companies co-develop new technology through joint research efforts.
Existing companies enhance product lines or technical advantages through new intellectual property.
High-tech startup companies with novel platform technologies are created as a result of new intellectual property.
Ongoing interaction with researchers and faculty provides further development of the technologies.
Research Capacity represents the university facilities that can be utilized for research pursuits:
Businesses can utilize research facilities on a fee basis when high-end research capacity is needed but the business is either unable or unwilling create "in-house" facilities. This is particularly important to early-stage firms that may not have the financial capacity or skills to create their own equipment.
Ongoing contract research development with local businesses and joint research projects.
Economic Development arising from university connections differentiates research parks from general or business parks and allows each research park to reflect the core competencies of its university. It creates several competitive market advantages:
The partnerships enhance venture capital as well as angel investment is an area that research parks have worked to develop. In many cases they have influenced or created local funds for their parks or funds that are regional or global. Where existing venture capital resources are plentiful, the universities and research parks have worked to forge relationships with these firms to enable investment in companies within the research park.
Research parks have succeeded in creating inviting, entrepreneurial business environments focused not only on physical real estate and facilities, but also on services designed to connect and support businesses in leveraging these critical assets. In addition, Research parks have created numerous services intended to accelerate the growth of high-tech firms ranging from existing larger firms to the small startups typically located within research park incubation facilities.
Universities and research parks have influenced programs such as investor tax credits to encourage angel and venture investment opportunities. In addition, the alumni networks of North American universities are strong. This is especially true in the United States, where alumni are generous university donors and research park company investors.
In North America alone, more than 300,000 high-tech workers are based in research parks. A Battelle study determined that 2.57 additional jobs are created as a result of each high-tech job. This accounts for more than 1 million jobs as a result of North American research parks. This impact is already significant and will continue to increase in importance for years to come.
When leveraged properly, these assets of talent, intellectual property, research capacity and economic development provide a compelling attraction and retention opportunity for high-tech businesses. 
America continues to lead the world in innovative new products, services and ways of doing business, and our future competitive edge lies in innovation. Research parks are well positioned to harness and bring new ideas into reality. They are providing a unique and rich resource environment that fully leverages their university resources. This environment, when combined with an increasing focus on the incubation of new companies, is leading to numerous high-tech job growth opportunities.
Gregory W. Deason is president of the Association of University Research Parks, vice president of the Purdue Research Foundation and director of the Purdue Research Park network.