SPECIAL ADVERTISING SECTION
TOP BUSINESS PARK LOCATIONS
From Site Selection magazine, November 2010
SHARE THIS ON SOCIAL MEDIA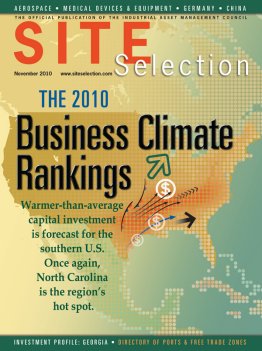 Trends Affecting
Business Parks Today
F
actors affecting business parks today are primarily economic, resulting in a reduction in the supply of new parks, and weakening demand. The good news for companies that are in the market, however, is that sites are available and pricing is favorable.
The demand for business parks and for sites within business parks today is low, as compared to the peak of development activity in late 2006 and early 2007. This reduction of demand for land and sites is clearly driven by the deep and persistent negative impact of the longest and deepest recession since the end of World War II.
The level and growth rate, positive and negative, of America's Gross Domestic Product (the value of our goods, services, and exports produced) drives demand for real estate. The Consumption segment of the Gross Domestic Product is down sharply, and jobs have been eroded as a result. Investments are down due to market uncertainty. Exports have been steady, however, and this has kept select ports busy and buoyed Gross Domestic Product to a minor degree. Government has expanded. The capital markets are also in disarray, and corporate profits are down. These factors have driven rent rates and valuations lower. These conditions have resulted in a sharply reduced need for new sites and expanded facilities for corporate users and for tenants.
As transportation patterns change and cities
add light rail and improve urban bus service,
demand for close-in locations will increase.
Sites are readily available in existing business parks. The cost of land for new construction is sharply reduced, but many parks are in financial trouble due to low absorption. Markets on the edge of development have the lowest demand. Furthermore, it is not currently feasible to develop new parks in most cases. Existing facilities have also been closed and operations have been consolidated. Smaller space is typically needed. American workers have also been unable to relocate to where jobs are available because they cannot sell their current homes. This lack of work mobility has hindered the U.S. recovery, as it has for years in Europe.
Traffic congestion is a major consideration in selecting office sites. The threat of higher fuel prices drives this trend too. In addition, urban amenities attract users to close-in sites as communities focus on improving schools and housing and cities continue to locate cultural and athletic facilities in or near their downtowns.
The opportunity to use public transportation is another draw for urban locations. The case for infill and close-in redevelopment sites is increasingly important as an alternative to suburban business parks, which historically have been favored due to the ample supply of land, new modern facilities, and convenience to suburban workers. As transportation patterns change and cities add light rail and improve urban bus service, demand for close-in locations will increase.
Site Criteria
Site selection criteria remain largely unchanged in this period EXCEPT that absolute "ready to go" shovel ready sites are the most in demand. When a corporation is prepared to make a decision, they want to make it quickly, and they want to be sure that they can build what they need in a time certain scenario. Developers must have sites "ready for sale" without complications in order to make sales.
Total system concerns, such as cost or manpower, matter even more today than before; "least cost" solutions are most often sought:
Near the customers for distribution,
Near the suppliers for manufacturers,
Near appropriate manpower for back office,
Near technology and medical clusters for medical and technology companies,
Near intermodal sites,
Near ports,
In a market served by a major airport — ideally with international flights,
In an area served by a superior rail system,
Where a free trade zone is available if needed,
Where public transport exists,
In an area with little to minimal congestion,
Where there are multiple broadband access systems,
Where a large, trained, and trainable workforce is available,
Where land costs are reasonable,
With access to workforce education and training.
Intangibles can still be the tiebreakers for a company considering competing sites; the following are important considerations:
Pro business governments,
Colleges and universities nearby,
Affordable utilities,
Power is reliable and predictable,
Housing is affordable, especially workforce housing,
Quality of life is superior,
Professional sports teams exist,
World-class venues for sports and performing arts are in the market,
Commuter rail is available with the hope of high-speed rail later,
Reputation of the park owner, the city or county, and the state,
Tax considerations,
Extras the developer can provide — financing for instance,
Incentives.
Parks should be clearly defined as to the target market: are we for manufacturing, distribution, services, or offices? In each case, try to integrate other uses: such as retail, hospitality, and workforce housing, for example, that are appropriate for the target users.
Distributors in the end are looking for the best located, least cost site over the life of the facility. The costs to deliver, often driven by drive times, matter now and will matter more if (when) energy costs escalate. Other types of users know what factors are important to them.
Sustainable development must be considered:
Park should practice sustainable design and have "green" infrastructure, such as enclosed retention,
Alternative power sources should be exploited: solar, wind, etc.
"Green" development should be fostered for the building to be constructed.
Covenants and restrictions should address these goals.
Outlook
Demand will increase as the economy recovers — but that recovery is likely to be slow. As consumption increases, jobs will be added. As jobs are filled, vacant space will be absorbed and eventually rents will increase. As supply falls and demand increases, eventually build-to-suits will be developed and speculative buildings constructed. We judge this will take about five years to get even close to the 2007 levels of activity, lease rates, and valuations. This outlook drives decisions.
There is likely to be a resurgence of manufacturing as costs escalate in China and other developing nations due to the long, expensive logistic chain.
New business parks are likely to be smaller to reflect reduced demand and capital market constraints. Sites are likely to be smaller also, but the developer must try to maintain the flexibility to deliver larger sites.
Developer Actions
As users regroup, many following previous downsizing measures and subsequently postponing costly relocation decisions, now is the time for business park developers to make existing parks as ready as they can be, given the factors above. While the market recovers, savvy developers are positioning for the next cycle, seeking close-in, infill sites that can be bought now at deep discounts and then permitted for future use. If capital is available, this is a reasonable strategy to acquire a land portfolio now for future development. Think infill, brownfields, and redevelopment — and green.
New parks are likely to be smaller than the
most recent versions, and mixed uses should
be sought to increase land absorption rates.
Fully approved sites in likely areas of future demand should be acquired now or joint ventures be arranged with current landowners. In the Southeast, sites in Polk County, Fla., near CSX's proposed integrated logistics center or near Jacksonville's and Savannah's expanding ports are excellent examples. Retrofitting existing parks to bring them up-to-date to meet the demands of likely buyers should also be accomplished. Attempts to launch inland ports without significant rail support, however, are not advisable.
If fully approved land is not available, raw land can now be acquired for a fraction of the last peak's prices. New parks are likely to be smaller than the most recent versions and mixed uses should be sought to increase land absorption rates. Where parks should go should be driven by the factors described above. They must be made "shovel ready."
Now is the time to prepare for the expansion that is bound to come. Plan now, execute quickly. In the interim, keep yourself aware of the changes in the market. Think smaller, more focused, and closer in sites with select additional support uses.
REMEMBER — this too will pass and business will improve.
Input for this article was provided by select members of NAIOP Research Foundation, Industry Trends Committee, and Industrial Development Forum I.
George Livingston, CIPS, Chairman and Founder, NAI Realvest, Orlando, FL; Christie Alexander, Principal, NAI Realvest, Orlando, FL.