SPECIAL ADVERTISING SECTION
INDIANA
From Site Selection magazine, November 2010
SHARE THIS ON SOCIAL MEDIA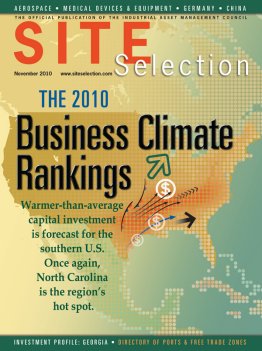 A Diet Plan Leads to Growth
For Indiana, cutting back on spending and lowering business
taxes has multiplied corporate expansion projects.
C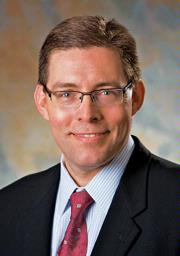 an going on a diet actually make a state bigger?
In the case of Indiana, the answer is yes. By reducing spending and lowering a number of critical business tax rates, the Hoosier State has managed to get its fiscal house in order while generating a sizable amount of company growth.
In an interview with Site Selection, Indiana Secretary of Commerce Mitch Roob, who also serves as CEO of the Indiana Economic Development Corp., outlined the strategies that Gov. Mitch Daniels has employed to turn around the economy of a Midwestern state that only a few years ago was mired in malaise.
SITE SELECTION: How would you characterize Indiana's fiscal situation today?
MITCH ROOB: Our fiscal health as a state government is that we are one of only a handful of states with a triple-A credit rating. Tax revenue is up, and that has been verified by an independent third party. We now have one of the best ratings in the whole country. That speaks volumes of the work Gov. Daniels has done to build the economy and control the spending.
SS: How would you describe your state's tax policies toward businesses?
ROOB: We have a pro-growth tax policy. There are certain necessities that the state must provide — public safety, schools, etc. We tried to design a tax policy that is pro-jobs and pro-growth. The three-factor sales tax was reduced to a single-factor sales tax. We only tax as income sales made in the state of Indiana. That is indicative of the governor's approach to tax policy. We have moved from a property tax-based funding of schools to a sales tax-based funding of schools. We rolled back property taxes significantly in Indiana and implemented a one percent increase in sales taxes. We have tried to create pro-investment, pro-jobs policies.
SS: What is the condition of your state business climate?
ROOB: The BLS this week came out with statistics that show Indiana has the second highest per capita job growth in the country, and we are fifth in the country in overall job growth. These are employers voting with their pocketbooks, and they like Indiana. We are 2.2 percent of the nation's economy, but we have accounted for 8 percent of the total private sector job growth in the U.S.
SS: What major changes has the Daniels administration enacted this year?
ROOB: None, really. Our competitiveness has been improving relative to other states because they have been deteriorating. Our business climate has improved relative to our neighbors. There is no great secret here. The governor has been focused on making sure every organ of state government is business oriented and projects pro-growth, and do it in a fast manner. You can get a permit in about eight minutes. We are organized around that principle. We spend less money than we take in. These are not difficult concepts. They require great effort. When Gov. Daniels came into office, every other Midwestern state was well in the black and Indiana was in the red. We had to implement change policies and be very careful and figure out ways to do more with less. Other states managed to get fatter and fatter. We were used to being on a diet while other states had to get a lap band.
SS: What have been some of your biggest economic development wins of the past year?
ROOB: Abound Solar, Arcadia Resources and Dow Agro Sciences — expansions in West Lafayette and Indianapolis — and Cummins Engines. In a lot of these cases, we have competed with other states to win these projects. In the case of Dow and Cummins, we didn't compete just with other states; we competed with nations around the world. That has been a big trend in the last year. For our bigger deals, we are competing on a global stage with China, India, Japan and Western Europe. That was not the case last year.
SS: What are some of your state's emerging industries?
ROOB: The biotech cluster is doing very well now. Brookings talked about it yesterday again. We continue to have great success in all facets of that industry — diagnostics, plant and animal science, pharmaceutical manufacturing, logistics, etc. In the last year, we have continued to see growth in the battery-powered vehicles sector. As that industry is growing, we have seen battery companies and assemblers locate here in Indiana — THINK and Enerdel and other companies. We were with some battery makers here yesterday that are looking at Indiana as well. We remain strong in the automotive industry and it will be a big part of Indiana's future. Two industries people overlook are the defense industry and measured marketing. We have a lot of defense work and we see a lot of growth. Second is information technology. We are the home of an emerging area called measured marketing. This helps companies determine how effective their Web marketing is, and the best-known company is called Exact Target. There are 70 companies in that space here. It is growing at about 20 to 25 percent a year. It now employs several thousand people here. Another firm makes a social marketing product designed for college students who are job seeking. It is called Career Scribe. They are a new company in Indiana. We have a very robust concentration of similar firms here.
SS: What are some hot markets around the state?
ROOB: For high-tech investment, the hot area has been Lafayette and West Lafayette and Tippecanoe County. There is a lot of work around Purdue and Notre Dame and IUPUI. Gazelle companies are attracted to these places. Also, Fort Wayne and Elkhart — we have seen 57 competitive consolidations in the last 20 months — most moving in from Ohio, Michigan and Kentucky.
SS: What are the biggest challenges confronting Indiana now?
ROOB: Not hiding our light under a bushel. We are only 2.2 percent of America. A lot of America does not know about us. We are known as one of those I-states. We must differentiate ourselves. We are a medium-sized state. We need to be out there touting our tremendous business climate and work force.