OPTICAL INFRASTRUCTURE
From Site Selection magazine, September 2010
SHARE THIS ON SOCIAL MEDIA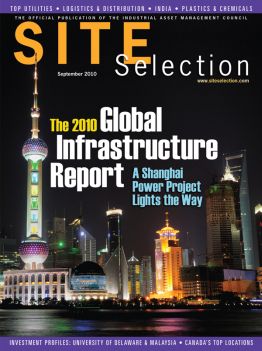 GigaParks. Where high capacity and low costs come together.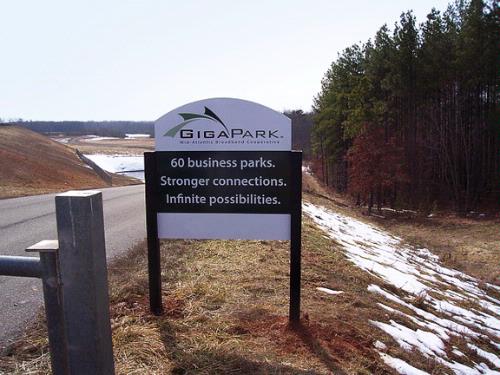 E
xactly what are GigaParks? To answer that question, it's helpful to know the history of the Mid-Atlantic Broadband Cooperative (MBC).
In the late 1990s, with the rural economies in Southern Virginia suffering, business leaders in the region realized that the only way to stabilize their regional economy was to embrace a new way of thinking. These leaders, in collaboration with telecom experts, developed a blueprint for an advanced open-access fiber-optic network for Southern Virginia. The outcome was the creation of an independently managed broadband cooperative.
The mission of this cooperative was to promote economic development in rural Southern Virginia by deploying a world-class fiber-optic backbone network — today's Mid-Atlantic Broadband Cooperative (MBC).
Thanks to generous grants from the U.S. Department of Commerce's Economic Development Administration and the Virginia Tobacco Commission, MBC was officially formed in 2004. Today, the MBC network includes over 800 miles of fiber through Southern Virginia, providing a state-of-the-art technology incentive for businesses requiring large amounts of broadband access.
The MBC network has exceeded all expectations. The broadband capacity it has brought to Southern Virginia has attracted numerous companies to the region and has helped to bring more than 2,200 jobs and $300 million of investment to the region. MBC's members, with access to the MBC backbone network, bring advanced broadband services to the region's residents, businesses, hospitals and school systems.
In 2008, MBC expanded the capacity of its fiber-optic broadband network across 60 Virginia business and technology parks. Because of their access to MBC's state-of-the-art connectivity, and with generous funding of this marketing initiative by the Virginia Tobacco Commission, these parks were designated as "GigaParks" in January 2009.
GigaParks now feature a number of advantages for businesses looking to locate their operations in the United States:
An advanced 400 gigabit-per-second low latency backbone network to key Tier 1 peering points in Northern Virginia and the Southeast;
Low power and bandwidth costs;
Extremely competitive tax rates;
Low construction costs and costs per square foot for space;
A wide range of real estate inventory, including fully built, expandable and greenfield sites from 200 to several million square feet;
A highly dedicated and skilled work force;
Robust power and network redundancy;
Access to multiple major fiber-optic and telecom service providers at each GigaPark; and
Located in Virginia, named "The Best State for Business" by Forbes.com four years in a row and the "Top State for Business" by CNBC in 2009.
Virginia's GigaParks are perfectly placed near major markets like Washington, D.C.; Richmond, Virginia; Raleigh/Research Triangle Park, North Carolina and beyond, with easy access to major interstates, including I-95, I-81 and I-85, as well as the abundance of international airports the area has to offer.
MBC President and CEO Tad Deriso stated, "With the connection to the MBC fiber network, and an extremely competitive cost structure, these GigaParks offer distinct advantages for any business. Where high capacity and low costs come together, you'll find infinite possibilities."
For more information, visit the GigaPark website at www.gigapark-va.com.