WORK-FORCE TRAINING PROGRAMS
From Site Selection magazine, September 2010
SHARE THIS ON SOCIAL MEDIA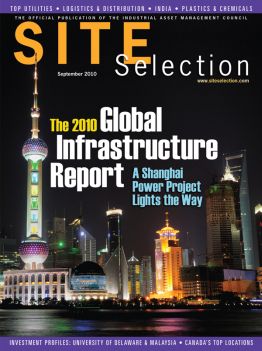 Labor and Logistics: Georgia's Strategic Assets for the Global Marketplace
G
eorgia's highly-skilled workforce serves as one of the state's leading competitive advantages, and consistently receives top marks among national rankings, including recent accolades from CNBC listing the state's workforce among the top three nationwide. Businesses in the United States and abroad choosing to locate in Georgia can access some of this nation's best and brightest talent, fed by a pipeline of more than 280,000 students matriculating in the state's leading public colleges and universities. Georgia takes a comprehensive approach to workforce development, and provides a variety of resources ranging from intellectual capital development to skills-based tailored workforce training.
The state's workforce remains competitive with the support of a number of state-backed initiatives designed to ensure that Georgia's workforce remains a key strategic asset in attracting business. A state-financed program called Georgia Quick Start provides job-specific training tailored to the needs of new and expanding companies at no cost. Since 1967, more than 5,600 companies and more than 706,000 Georgia workers have benefited from this no-cost program. Administered by the Technical College System of Georgia, Georgia Quick Start provides flexible, customized training through a network of the state's technical colleges, multiple satellite campuses and four associated universities.
Georgia realizes that the most successful businesses must ensure they remain competitive through enhanced intellectual capital. Georgia's Intellectual Capital Partnership Program (ICAPP), managed by the University System of Georgia, connects the intellectual resources of Georgia's 35 public college and universities to the state's business community in innovative ways.
The marketability of Georgia's workforce plays a significant role in the success of the state's economic development initiatives. Through the Governor's Office of Workforce Development, the state created the Georgia Work Ready Program, designed to ensure that companies can more reliably match the right people with the right jobs. Through a voluntary skills assessment and job certification process, the Work Ready initiative can measure skills that employers believe are critical to job success, ensuring Georgia's workforce continues to be competitive and one of the state's most valuable assets.
Moving Business Forward
Bolstering its growing reputation as an emerging leader in global business, Georgia's workforce is accompanied by its state-of-the-art system of logistics. The state's logistics and transportation network is one of its most formidable assets, undergirding all industry in the state by enabling companies to quickly and seamlessly reach domestic and international markets through interconnected airports, seaports, rail and roads. Companies in the state can reach 80 percent of the U.S. market within a two-day truck haul or a two-hour flight, and the port of Savannah is the fastest-growing container port in the country. Georgia is the fifth-largest logistics employer in the U.S., employing 120,000 people who contribute $15 billion in revenue to the state's economy.
The state's assets are so powerful that the Commission for a New Georgia targeted logistics as an industry to cultivate for strategic growth. The Statewide Freight and Logistics Plan is one of the commission's recommendations, and, when completed in 2011, will address Georgia's logistics needs through the year 2050, guiding the strategic execution of logistics activities and projects to improve the flow of goods into, within and out of the state.
Georgia is also home to cutting-edge research in the logistics and supply chain fields. United Parcel Service, The Home Depot and Delta Air Lines are all headquartered in the state. Georgia Tech's School of Industrial and Systems Engineering, which houses the Supply Chain and Logistics Institute, is ranked number one in the U.S. In addition to the port, Savannah is home to Georgia's Center of Innovation for Logistics, which fosters industry growth by connecting enterprises and entrepreneurs with the state's most valued resources, including industry expertise, intellectual capital and academic research, and access to funding opportunities. Innovation in logistics is strong in Georgia. In fact, Georgia is ranked fifth in the nation for logistics-related patents issued.
Georgia has built this unsurpassed logistics and transportation infrastructure to enable companies not only to move products at the speed of light, but also to reach success faster than the competition.
Georgia Department of Economic Development
75 Fifth Street, NW, Suite 1200, Atlanta, GA 30308
www.georgia.org, +1.404.962.4000