BIOTECH LOCATION STRATEGIES
From Site Selection magazine, September 2010
SHARE THIS ON SOCIAL MEDIA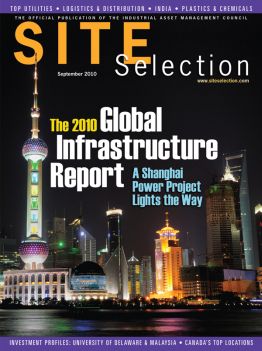 North Louisiana: Incubating a High Tech Innovation Corridor
B
eyond North Louisiana's traditional strengths as a manufacturing, oil/gas and agricultural hub, the region is nurturing an emerging technology sector that we call the "North Louisiana Innovation Corridor." The Innovation Corridor is a collection of high tech assets, which include technology companies and innovative programs, hosted by nine public educational institutions and private entities.
The assets within the North Louisiana Innovation Corridor generate the R&D, the intellectual capital, the venture capital, the entrepreneurial development, and the high tech labor force needed to nurture, sustain and grow technology companies.
Access to Research & Development
The exciting research that is happening at universities and colleges in the North Louisiana Innovation Corridor offers many opportunities for patents, partnerships and commercialization.
The Louisiana State University Health Sciences Center at Shreveport is conducting hundreds of bioscience research projects, including but not limited to, cancer, Alzheimer's, autism, Parkinson's disease and diabetes.
The University of Louisiana at Monroe's College of Pharmacy, the state's only public pharmacy school, is investigating the development of nanoparticles for targeted drug delivery, cancer and Alzheimer's treatments and the early detection of prostate cancer. The College of Pharmacy often collaborates with pharmaceutical companies to develop new drug formulations. 
Ranked third nationally in nanotechnology education, Louisiana Tech University's Institute for Micromanufacturing harnesses intellectual capital from faculty and students to develop cutting-edge technology and inventions. Research at Louisiana Tech produces five times the national average on report of inventions (ROI) per expenditures. License/option activity at Louisiana Tech has more than quadrupled over the past five years.
Nurturing High Tech Growth
As a unique collaboration between local and state governments, private industry and academia, the Cyber Innovation Center acts as a catalyst within the Innovation Corridor to foster a knowledge-based economy. CIC anchors a 3,000-acre National Cyber Research Park, aimed at accelerating technology transfer and fostering collaboration.
The Biomedical Research Foundation's InterTech Science Park serves as a technology incubator, nurturing life science and digital technology companies. Since 1986, the Foundation has generated $213 million to promote this entrepreneurial environment.
Together these assets and many others offer technology companies an exciting environment of opportunities.
____________________________________
NLEP assists prospective and existing companies in expanding or locating in 14 parishes in North Louisiana. Contact Kurt Foreman at 318-677-2536 or via e-mail at kforeman@nlep.org.