MILITARY ECONOMY
From Site Selection magazine, September 2010
SHARE THIS ON SOCIAL MEDIA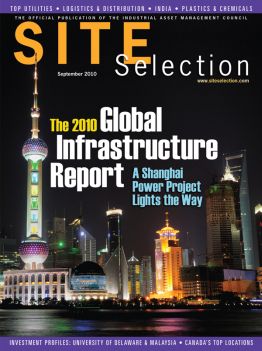 Surge Behind on
'Pentagon South'
I
n an otherwise stagnant economy, the area surrounding Fort Bragg, the army's largest military installations, is buzzing with activity in preparation for the relocation of two major commands that many call "mini-Pentagons."Five years ago, the Department of Defense mandated major changes to military installations across the nation as a part of BRAC 2005. As a result, the 11-county region that surrounds Fort Bragg in Fayetteville, N.C., is expected to gain over 40,000 people to support a newly burgeoning market — that of
homeland defense.
According to Fort Bragg, over $1.3 billion in construction projects are underway or planned in preparation for the growth of the installation. This growth includes the $289 million, 700,000-square-foot combined headquarters for the U.S. Army Forces Command and the U.S. Army Reserve Command that is scheduled to open in 2011. For the past five years, Cumberland County has worked to transform the area's infrastructure to attract the new soldiers and their families and the companies expected to move to the area to get a piece of the $30 billion that these commands have to spend on contracts annually.
This multifaceted approach includes the construction of several business parks designed with military contractors in mind, and a campaign to connect Fort Bragg with I-295. Last month, the state announced that it would spend $240 million to build that highway infrastructure.
With the new command, Fort Bragg will house over 10% of the entire army's forces as well as numbering in generals second only to the Pentagon.
Because of the expected growth, companies such as Booz Allen Hamilton have recently announced plans to build a 300-person operation in Fayetteville, N.C.
"Booz Allen Hamilton's expansion into our area marks a transformation of the types of companies looking to relocate to our community," said Doug Peters, President and CEO of the Fayetteville-Cumberland County Chamber of Commerce. "Proximity to so many decision makers is important to companies who contract with the government. We are expecting BAH to be the first of many who will choose Fayetteville to relocate."
As the BRAC 2005 mandates continue to come into fruition, Fayetteville's military business community, along with its existing industries, will continue to expand and flourish, transforming it into what is now affectionately, and rightfully so, being called 'the Pentagon of the South'; creating an entirely new definition for the term "All American Hometown."