SPECIAL ADVERTISING SECTION
WORK-FORCE TRAINING PROGRAMS
From Site Selection magazine, September 2010
SHARE THIS ON SOCIAL MEDIA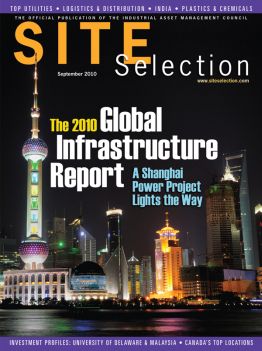 The True Value of
Work-Force Training
A
ny site selector will tell you that labor is among the most significant of all location investment variables, so much so that according to a recent survey labor-related factors accounted for seven out of the top 20 location considerations factors and included labor availability, labor quality and the cost of labor, among others.
This should surprise no one as labor is the intellectual asset of a company. When an employer is considering a possible relocation, expansion or consolidation of any kind, the discussion inevitably turns to the work force. How will companies recruit, replace, retrain? How will their current work force be impacted? Labor can pose a very real risk or create tangible financial, operational and strategic benefits for companies and their stakeholders.
Companies that recognize the value of talent also appreciate the inherent benefits of employee development. Today, a wide range of training opportunities are available for both blue- and white-collar workers, including everything from basic skills such as reading comprehension and oral communications to more advanced skills such as blueprint reading, CNC and PLC operation, problem solving, leadership and management techniques. As a result, states have responded with new and different job training incentives to help reduce the time and defray the cost of these efforts.
Key Reasons Why Companies Rely Upon
Work-force Training Incentives:
Skilled employees will always be needed: The recession may have dampened debate about expected labor shortages and the impending retirement of baby boomers. However, there is no argument that a skilled work force will always be in demand, particularly as competition increases in markets around the globe.
There is increasing complexity in the workplace: With technological advancements, local and global competition and a greater emphasis on the bottom line, the workplace has changed significantly, impacting nearly every industry and pushing employers and employees to do more with less, produce faster, streamline and multi-task.
Skills upgrades can help develop a richer work force, fulfilling short and long terms needs: Training can help employees grow intellectually and make their company more competitive.
The upfront costs to train and prepare the work force are considerable: According to the American Society for Training and Development, US companies spend an estimated $134 billion annually on employee training. The data speaks for themselves. Training is costly, in time, money and resources.
How States Are Responding
All states understand that one of the keys to attracting and retaining jobs and investment is having the right blend of skills and experience available in the work force. More attuned states also understand that training programs are an integral part of their state's incentive "toolbox" and that effective training programs better position their state when a new or existing employer needs to ramp up quickly.
The most sought after are training incentives that go right to the bottom line via cash grants and direct reimbursement for eligible pre-employment and on the job training expenses. Florida, for instance, has tailored separate training incentives around the needs of incumbent and new employees. The Quick Response training program is structured as a grant administered through the local community college network or area technical center. The program covers instructors' salaries, the cost of curriculum development and text books.
Florida's Incumbent Worker Training program is aimed at a somewhat different demographic — employees who must adapt to new technologies or processes on the job. Assistance takes the form of an outright grant, though the amount is limited to $50,000.
On the other hand, Georgia's highly-regarded Quick Start customized employee training was designed to address the needs of new or expanding employers and delivers training at no cost to employers via the state's technical colleges and satellite campuses.
Louisiana's new FastStart program was modeled after Georgia's and combines that program's very best features with very reasonable eligibility requirements and benefits that address the needs of specifically targeted industries such as digital media. Quick Start, FastStart and similar programs are highly favored by companies, as they help to defray up-front project related expenses and go right to the bottom line.
North Carolina adds a wrinkle found in several other state training programs. The state's Customized Job Training program will reimburse up to 50 percent of employee wages for training involving elderly, economically disadvantaged and dislocated workers.
Which is not to say that state programs designed around state income tax credits are not valued as well. Georgia's Retraining Tax Credit also targets workers who need to adapt to new technologies. The credit cannot exceed $1,250 per employee but may be used to offset as much as 50 percent of a company's state income tax liability.
Evaluating the Effectiveness
of Job Training Incentives
As with any incentive program, work-force training programs need to be reviewed against a company's specific needs and situation. The most effective incentives are generally those that are flexible, accessible, manageable, and backed by a stable source of funds. Most importantly, such incentives must respond to a company's most pressing needs (such as saving time and conserving resources) while also contributing to the public good.
Here are some tests that can help gauge the effectiveness of almost any job training incentive program:
Flexibility: Tax credits may sound great, but if a company projects that it will have insufficient state tax liability the credits could be worth far less than it appears, or perhaps nothing at all. The most useful tax credits can be sold, refunded or assigned to related entities that have the ability to utilize them.
Accessibility: The earlier that assistance is delivered, the better. Training grants and cost reimbursement that are supplied at the outset of a project will have the greatest potential impact on the project's financial feasibility and work to mitigate project-related risk at a time when a company can be most vulnerable.
Manageability: Some programs make compliance and administration so arduous that employers may simply opt out. Failure to enjoy the benefits that had been so carefully negotiated can damage the reputations of the project team and the area's economic development organizations.
Funding: The lack of a stable and reliable source of funds for job training incentives can turn an asset into a very obvious liability. Even where funding is limited, projects often can "reserve" an appropriation prior to an actual announcement.
Serve the Public Good: Work-force skills upgrades are among the most fundamental locational assets. They are portable, deployable and will remain available long after a project has concluded.