SPECIAL ADVERTISING SECTION
ALTERNATIVE ENERGY HOT SPOTS
From Site Selection magazine, January 2011
SHARE THIS ON SOCIAL MEDIA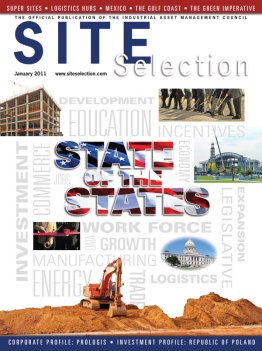 Clean Energy Seeks
Customer Access
W
here are this year's alternative energy hot spots? Some may question whether there will be any hot spots, but despite concerns over government plans and competition from China, activity will continue. Look for that activity to occur where companies can:
Reach natural resources and consumers (population and industrial centers),
Benefit from markets created by governmental mandates and incentives,
Be philosophically and politically supported by local government and the general public,
Innovate, and
Avail themselves of a well-trained work force, low-cost operating structure and competitive incentives.
Where's the Market?
As with all industries, proximity to customers is preferred. Defining the location of the clean energy customer base, however, is challenging.
At its heart, the market is delineated by population and industry centers, the users of energy. But demand for alternative energy is driven largely by government mandates and incentives. New Jersey and Ontario, Canada, have achieved hot- spot status by aggressively incentivizing installations requiring local content. Technologies relying on natural resources, such as wind and solar energy, must also consider the location of those resources.
The confluence of consumer markets and natural resources has driven the growth of locations like Albuquerque, Las Vegas, Phoenix, Boise and Tucson, which have both tremendous natural resources and reasonable operating costs while still being close to California, the largest consumer market for clean energy in the United States.
In Boise, Micron's downsizing of microchip production has created opportunities by making available a skilled work force and specialized facilities.
Passion Meets Profitability
The Portland, Ore., and Denver regions were "green before green was cool." They are now combining their environmental passion with business profitability.
Greater Denver is virtually assured of continued activity due to the presence of the National Renewable Energy Lab, ConocoPhillips' alternative energy R&D and training center, and a strong base of existing companies like Vestas Wind Systems, SMA Solar Technology, Ascent Solar and Abound Solar.
Companies like Iberdrola, SolarWorld, Sanyo North America and Suzlon are attracted by the Portland region's high-tech work force, proximity to Silicon Valley, relatively low operating costs and access to Asia. Oregon also has one of the most lucrative incentive programs in the country for renewable energy companies.
Innovation Centers
Innovation will continue to drive the industry.
Areas like Boston and Silicon Valley, rich in technological expertise and venture capital financing, will reap R&D labs and pilot facilities. Silicon Valley, ranked No. 1 in the nation by Clean Edge for clean-tech job activity, is especially popular among foreign companies establishing beachheads in the U.S.
Austin, Texas, is home to the Clean Energy Incubator, a strong high-tech and semiconductor industry, and Texas' attractive tax and incentive structure. SunPower will soon join AMD and HelioVolt by opening a large office in the region.
Many areas have entered the race to create innovation clusters around smart grid technology. GE Energy recently chose Atlanta for a 400-person smart grid center of excellence. Meanwhile, Raleigh, N.C. is home to ABB's newly announced Smart Grid Center of Excellence and the co-located National Science Foundation's Future Renewable Electric Energy Delivery and Management Systems Center. Sandia National Laboratories in Albuquerque is also active in the sector.
California
Considered by many to be the epicenter of the clean energy industry, California boasts natural resources, a culture of innovation and a large, environmentally conscious population. Its high electric rates stimulate a market for clean energy by making it easier to compete with traditional sources.
Silicon Valley, Sacramento, San Diego and Los Angeles have the advantage of critical mass and will continue to see clean energy investment, especially for management locations. Cathryn Connolly of The Profound Group, a talent acquisition firm focused on the clean energy sector, says her clients perceive a benefit in locating near other alternative energy companies. "It's easier to attract talent to an area where there are multiple potential employers," according to Connolly.
Traditional Manufacturing Strongholds
The same characteristics that made the Midwest and Southeast strong industrial centers will draw alternative energy manufacturers, who — when all is said done — are not dissimilar from other heavy manufacturers.
Ohio, Michigan, Indiana and Illinois are leveraging traditional manufacturing expertise and advanced engineering skills to win new projects as well as help existing companies retool and become suppliers to the clean energy industry. Additionally, these states have benefitted from an influx of DOE stimulus funding.
GM announced 1,000 new jobs in Michigan (approximately half destined for the greater Detroit area) to support development of electric vehicles and battery technology. A123 Systems has opened the largest lithium ion automotive battery production facility in North America in Livonia, close to Detroit.
The Indianapolis region is also making a strong run at the sector, with EnerDel planning to significantly expand its lithium-ion battery operations in the area and the Project Plug-IN demonstration project enjoying synergy with Elkhart-based Think Automotive.
Iowa's cost-competitive manufacturing environment combined with the second largest wind generation capacity in the country make it a favored location for manufacturers such as Trinity Structural Towers and Clipper Wind. If Nebraska's generation market takes off as some predict, it might enjoy similar success.
While the Southeast has not been a hot spot for large generation projects, strong incentives climates, right-to-work legislation and competitive operational costs should attract future clean energy manufacturers.
Tennessee has a strong foothold in polysilicon manufacturing, landing Confluence Solar in the Knoxville region, Wacker Chemie in the Chattanooga area and Hemlock Semiconductor just outside Nashville. Once completed, these plants will be a magnet for component manufacturers. Oak Ridge National Laboratory's work in renewable energy will complement private sector activity.
Arkansas has seen a rash of investments from the wind energy industry, including Nordex, LM Wind Power, Mitsubishi Power Systems Americas, Inc., and Beckman Vollmer. Suppliers to these companies can't be far behind.
Aggressive Incentives
Not to be confused with incentives directed at generation projects are those intended for clean energy manufacturing and office operations. States like Oregon, New Mexico and Michigan have been offering large incentive packages, although their financial and political ability to continue remains to be seen. Meanwhile, the Phoenix area is seeing the benefits of Arizona's new Renewable Energy Tax Incentive program, attracting companies such as Rioglass Solar, Power-One and Suntech.
Emerging Areas
Oklahoma, well-known for its wind-generation potential, should see increased manufacturing activity — especially in Oklahoma City and Tulsa — due its access to the wind belt, recently adopted RPS of 15 percent by 2015, reputation for cost-competitive manufacturing, and strong incentives.
The nascent offshore wind sector will initially gravitate toward geographies that support it, and areas with strong maritime industries will be well-positioned to attract manufacturing investment. It's too early to identify favored locations for tidal energy.
For some clean energy sectors, hot spots have yet to emerge — and may not given the ability of the technologies to be deployed virtually anywhere. Waste-to-energy, fuel cell and geothermal heat exchange projects will follow wherever populations and policies allow. Bio-energy is experimenting with so many feedstock choices that locations as diverse as Kansas City, Mo., Iowa, Louisiana and Maine are competing for the sector's investment and jobs.
Widespread Opportunities
Alternative energy companies will be looking for a qualified work force, low operational costs, incentives, proximity to customers, favorable governmental policies, capacity for innovation and strong natural resources. No one area can possibly be a superstar in all categories, especially for all technologies. Consequently, opportunities still abound for communities to carve their own niche.
Tracey Hyatt Bosman is a director of Grubb & Ellis Company's Strategic Consulting Group and a co-leader of the Clean Energy practice group. She is a certified economic developer and specializes in business location consulting and incentives negotiation.